Shimano BL-R400 Bracket Covers - 86C 9810
Manufacturer :
SJS Cycles part number :
Manufacturer part number :
Details
These bracket covers can also be used with Shimano BL-1055 levers.

Genuine Shimano replacement part.
Related products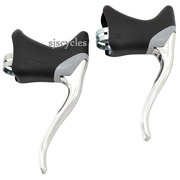 Shimano BL-R400 SLR Aero Road Brake Levers
£39.99 Inc VAT
Quick view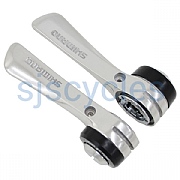 Shimano SL-R400 8 Spd Braze-On Down Tube Shifters
£39.99 Inc VAT
Quick view
Product Reviews (1)
Overall Product Rating 5 / 5
Shimano Bl-R400 Bracket Covers - 86C 9810
13 Oct 2012
Shimano BL-R400 Bracket Covers - 86C 9810
I recommend this product
These brake hoods are a perfect fit as replacements for tired Exage brake lever hoods.
A cycle build around an unused 1980s Reynolds 501 Competition frame using (AFAP) age appropriate components was being spoiled by tatty sticky white brake hoods on the Exage levers.
Thes fit just right and changed the whole look of the front of the bike.
Will these hoods fit a 1994 Shimano 600 Tricolor Aero Brake Lever?
22 Jun 2018
I have torn my brake lever hoods for my Shimano 600 brakes. I am wondering if these are a suitable replacement for OEM hoods. Thanks
Hi there,

It is possible, but we have never tested fitted them so could not say so!

Thanks
Will these hoods fit the Shimano BL-1051 SLR brakes
06 Nov 2017
Hi,

Do you have any idea if these hoods will fit the Shimano BL-1051 SLR brakes from the same era? They look very similar but I need to make sure as I'll be buying from South Africa. Your feedback would be appreciated.
Cheers
Brett
Hello,

It does seem as though this is the part you need, However we have never tried this so we cannot say for certain im afraid.

Thanks.
Exage sport
By
Arthur John Plant Plant
23 Aug 2017
Are they available in tan?regards arthur
Hi,

Unfortunately we can only get these Shimano hoods in black.

Thanks.
Will this fit Holdsworth Criterium?
10 Jul 2017
Hi, I've got a Holdsworth Criterium with white brake hoods that are falling apart a bit and very dirty. I was told in a bike shop that these Shimano ones would probably fit my bike. Are you able to confirm that? Also, do they slip on or would I need to remove brake lever? Thanks very much.
Hello,

As we do not stock your bike we cannot confirm whether they will fit or not. If they do indeed then you will need to remove the brake lever.

Thanks.
Have You Got Any Shimano Exage 300Ex Black Hoods
27 Feb 2017
I have searched high and low and cannot find any new replacement hoods for my shimano exage 300ex aero hoods. (black)
Pedlar had some exage 300nos new ones but they are out of stock.
Have you got any maybe hidden away that have been forgot about or could you source me a new black set for a reasonable price?
Hi,

These levers have been discontinued for well over 20 years so unfortunately this means that all of the spares including the hoods have long been discontinued as well so we won't be able to source any for you I'm afraid.

Thanks.