Tektro RL520 Aero V Brake Levers - Black
Manufacturer :
SJS Cycles part number :
Manufacturer part number :
Details
For road drop bars with V brakes. Forged alloy and road racing lever, -compatiable with linear pull brakes (MTB V brakes), designed for adult bikes with quick release and return spring, - for handlebar diameter of 23.8mm or 24.2mm.
Related products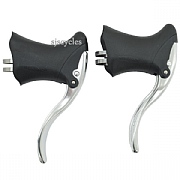 Tektro RL520 Aero V Brake Levers - Silver
£24.99 Inc VAT
Quick view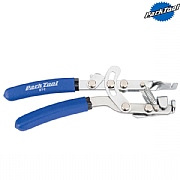 Park Tool BT-2 Fourth Hand Cable Stretcher
£54.99 Inc VAT
Quick view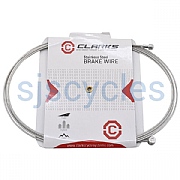 Clarks Stainless Steel Universal Brake Inner Cable - W5089SS
£1.99 Inc VAT
Quick view
Product Reviews (13)
Overall Product Rating 4.7 / 5
good kit
17 Sep 2021
I recommend this product
Cons
hoods might be too big for small hands
Pros
cable tension release, nice big hoods
Big hoods, grippy rubber, nice shape to broad levers work v well with XT V brakes.
Cable tension release button proved to be very usefull.

Impressive
03 Jun 2019
I recommend this product
I tead that I should expect a slight decrease in brake performance when trying to get drop bar levers to work with V brakes but was I wrong! These Tektro levers are more powerful that the Shimano straight bar levers. From the hoods I easily lock the wheels if I wanted. Very impressed. Doesn't come with any cable or housing so you'll need to buy that on top.
Very good and cheap
22 May 2018
I recommend this product
Pros
Price, grip and shape, QR mech.
Very good levers for V brakes. Better grip and shape than SRAM levers for my hands.
So far so good..
15 Mar 2018
I recommend this product
Cons
Fiddly to get on the bars.. Not the most comfortable on the market.
Pros
Value and lever action and the Q/R Feature button
Bit fiddly to attach to bars. Needed to detach the Clip from the lever to slide it on before Re attaching the Lever in position.. Plain sailing otherwise,cable feeds though easy enough..Not as comfortable as Cane Creeks but still good value.. easy to tape around the hoods as well.. the Q/R button is excellent . Very handy if using the mini V Brakes..
Very good product
28 Nov 2017
I recommend this product
Cons
Hoods a bit hard compared with other but more expensive products
Pros
Works, reliable, cheap
Does the job well allowing me to use v brakes on drop bars. Hoods could do with being a little wider for more comfort.
Powerful and ergonomically comfy
13 Oct 2017
I recommend this product
Cons
Needs a long allen key to fit, a pocket tool wont cut it
Pros
Great design, positive and powerful
These are powerful and ergonomically comfy, brake with confidence just using finger tip control and equally good from the hoods.
Do The Job Well
31 Oct 2016
I recommend this product
Pros
Relatively cheap & good quality
Fitted some quasi drops to a straight bar hybrid & decided to use these with bar end shifters. They work perfectly, enough said really!
Great Levers
15 May 2016
I recommend this product
Cons
Cable routing could be better
Pros
Quality, value, usability
The choice of drop bar levers to run full size V brakes is very limited, but having fitted these to three different bikes over the years, I wouldn't bother looking elsewhere, as these are so good.

For £17 these are terrific value for money and, well they just work and work very well!

Fitting is a doddle, the mounting bolt won't strip out at the first sniff of an allen key going near it (unlike the stupid alloy T25 bolt on Campagnolo ergo levers!), the hoods feel ok, the braking power is as strong from the hoods as it is from the drops and the Campagnolo inspired QR release button is a superb touch.

There is of course no barrel adjuster and you'll soon need one as the pads wear, so I would either combine it with a Jagwire adjustable noodle (available from SJS) or better still, pair the levers with the Tektro RL940/941 cross levers that come with barrel adjusters. If you're doing this, bin the whole gunky nightmare that are V brake noodles and use the Origin 8 noodles.

If I was being picky, I would say the cable routing angle out of the back of the levers could be better......
Best Choice For Me
03 Dec 2013
I recommend this product
Pros
best you can get for the money
Unfortunately there are very few levers for VBrakes on the market. This one is real value for money and defenitely more than you can expect for 20 Euros. They are a little large for smaller hands but do their job quite well. I hope they last for a few years.
Mr
08 Mar 2013
I recommend this product
Pros
Price, looks, function.
These levers are unbelievable value, build quality is solid , they are very comfortable. They also look very cool.
Fantastic Value
05 Feb 2012
I recommend this product
Pros
Price,performance,looks
I only ordered these because the Cane Creek equivalents on a different site were out of stock,and blimey was I glad I did.For a start they are a third of the price of the CC items but work perfectly with my hybrid set up of a BB7 disc on the front and V brake at the rear.They don't fade and don't need anymore lever pressure than the Avid speed dials I was using before on a flat bar set up.The hoods are comfortable and they look good,far better than the Dia Compes.Only downside is needing a 5mm hex T bar to tighten the bolt,a multi tool will be too short.
These Work!
09 Jun 2011
I recommend this product
Pros
Good value, light, strong
I have a Moulton TSR9 which I wanted to convert to drop bars. The bike has Avid Single Digit V brakes, so I needed to pull more cable than normal drop bar levers. I looked at the Travel Agent type adapters but wasn't convinced, so thought I'd try these. I mounted them on Nitto Randonneur bars, and I am pleased to report that they work very well. Please note the body is plastic (which I was initially disappointed with), but my thoughts after a couple of big rides is that this is NOT an issue they appear to be robust and are not squidgy at all. I'm pleased with them.
Tektro V Brakes
19 Nov 2010
I recommend this product
Your service was excellent, I think the levers arrived next day, they are now attatched to my bike, a 2009 Kona Smoke now converted to drop bars from hybrid.

I read a number of reviews on possible brake levers to allow drop bar use with V-brakes for good braking power, I can however tell you I have found the performance and finnish excellent, the only viable alternative appeared to be from Dia Compe and the reports on those were very mixed, despite costing considerably more, therefore I am very happy with all aspects of this product, and would recommend it to anybody considering using V brakes with drop bars.

Will they work with TRP Spyre Disk brakes? Thanks
09 Feb 2021
Thank you for your enquiry, no these will not be suitable these are for v brakes only

WD: 10/02/2021
Are these levers compatible with TRP Spyre disc brakes?
06 Nov 2020
NO, as these are long pull- whereas the spyres require short pull levers.

JK 06.11.20
Can these be used with side pull brakes?
10 Mar 2019
And if not, why not?

Thanks
we would need more information than "side pull brakes" - if you are referring to side pull calipers, no these would pull too much cable.

Thanks - 11/03/19
Do these work with Cantis (specifically Tektro CR710s)
07 Mar 2019
These work with direct-pull cantilever brakes such as the v-brakes found on many MTB bikes, as well as MTB cable disc brakes, but not center pull cantilever.

Thanks - 08/03/19
Road cable or MTB cable?
25 Jan 2019
Do you have replacement hoods for this brake lever?
26 Nov 2017
Hi,

Unfortunately I cannot see that Tektro produce replacement hoods for these levers.

Thanks.
Will These Brakes Fit To A 22.2Mm Drop Bar? Thanks.
30 Mar 2017
Hi,

These levers should be fine for use on your drop handlebar.

Thanks.
Do You Stock The Bands And Bolts That Hold The Leavers On The 'Bars?
16 Jun 2016
I've damaged the threads on the bolts and nuts of my exisitng brakes
Hi,

We don't have these available as spares form Tektro I'm afraid.

Thanks.
Do These Come With Adjustable Noodles Like The Dia Compe
24 Jan 2015
or are they extra (you sell for £3 each, not a pair?). If not, how does one adjust vee brakes with these levers?
Hi,

No I'm afraid these are just the levers. We normally recommend using in-line cable adjusters when using this type of levers.

Thanks.
Compatibility
03 Nov 2013
Are these levers compatible with your Zoom Anatomic Alloy Drop Handlebars 25.4 mm Clamp Black ?

Thanks
Hi,

Yes these levers are compatible with those handlebars.

Thanks.