Suntour Self-Energising SE Cantilever Brakes - Rear
Manufacturer :
SJS Cycles part number :
Manufacturer part number :
Details
Using the Pedersen designed 'self energising' system, these brakes take the rotation of the rim and turn it into braking energy. As the pads contact the rim, they 'energise' the canti arms, dragging them slightly forwards and further inwards, thus creating extra braking power. Made in Japan, 240g per pair. 50mm brake pads use plain stud fitting.
Related products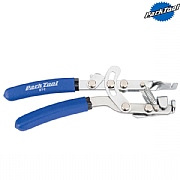 Park Tool BT-2 Fourth Hand Cable Stretcher
£52.99 Inc VAT
Quick view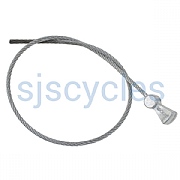 Suntour Extra Thick Heavy Duty Straddle Wire for Cantilever Brakes - Each
£1.99 Inc VAT
Quick view
Product Reviews (8)
Overall Product Rating 4.6 / 5
Excellent brake at a bargain price!
19 Aug 2020
I recommend this product
Pros
Good fit on old touring frames. Powerful.
On my mid 80's Nishiki tourer the brake bosses are too close together for most mtb cantis. These brakes fit nicely. I found them easy to mount and the performance is very good. Adequate power even on steel rims. And good looking too. I'm really pleased.
gimmicky cult item that works, and inexpensive
20 Mar 2020
I recommend this product
Cons
a tad heavier than plain cantis but not by much
Pros
Looks nice, inexpensive, does the job
My Trek 970 had Deore LX canti (identical to current Altus CT91) and it was already very powerful that locked rear wheel so I did not have anything to complain about. However, this Suntour was so cheap so out of curiosity I ordered a pair (one wheel's worth).
It's a little heavier than the LX. The finish is really good and movement smooth. In my case the yoke that came with the LX was perfect match for this Suntour that it did not take time to set it up. The manual is very informative and you can easily achieve the most optimal angle.
Works the same or better than the LX and it easily control and even locks rear wheel. It's an NOS item so the brake pads could be a tad hardened but mine was still as fresh as new. If you want even better braking you can invest in new pads.
I have not tested in wet weather so I cannot comment.
Old tech, but Gold. Completes my retro-neo build
16 Oct 2019
I recommend this product
Cons
Clunky. Requires more effort to mount than other brakes.
Pros
Will work like any other form of brakes. Perfect for lifestyle builds
I just got mine in the Philippines. They look badass on my Chromo SS cyclo-cross. Millennial riders find it weird but the gentlemen in their 40s-50s with decades of cycling experience loved them. Old but Gold.
Brilliant cycle shop! Cheers!
17 Feb 2019
I recommend this product
Cons
More cyclists hate them. Now archaic, obsolete.
Pros
Some cyclists like them
Many cyclists mock and hate these obsolete brakes but decided to give em a try.
Excellent Bike shop. No option for cheap shipping ($33 from UK to USA) but shipped super-fast. Excellent customer service.
Bargain!
29 Jun 2017
I recommend this product
These may be old tech, but admirably suited to bringing braking on an '80s canti equipped tourer just about up to an acceptable standard. I like to be able to lock up the back wheel as a last resort (put it down and slide!) and the SE will do that. Buy one while you still can.
18 Sep 2016
I recommend this product
Unfortunately they didn't includes cable hanger
Suntour Cantis
06 Feb 2012
I recommend this product
Pros
Easy set-up, work really well front or rear. Cheap as chips!
Great brakes! Easy to set up (if a little quirky, but a great idea really!) Can't fault them on price. Despite these being billed a 'rear only' I've got a pair up front as well on my tourer. Work brilliantly. Buy some now!!
Good Stopping Power If Fiddly To Set Up
19 Aug 2011
I recommend this product
Pros
Good braking if you can't fit V brakes
I wouldn't use these if I could get a 'V brake' on the rear but with my frame and carrier these are the best stopping power I can fit. Not too bad setting up if you follow the instructions carefully but they need resetting once the blocks wear a bit (you can't just adjust the cable and get the same performance). The cable clamp is a weak spot and the thread strips eventually. I drilled straight through and clamped with a suitable nut and bolt which worked fine but not as elegant! Bargain at this price!
Do you have the front breaker?
05 Jul 2020
I'm interested in this brand and model beaker but I need the front one no the rear no. Do you have this item? Thanks. Waiting for your answer. Best regards.
Hi, unfortunately not. We only have rear left in stock. Thanks
So ok with Pace fork that has bosses behind blades?
22 Apr 2020
Hi, yes they will work if the bosses are on the rear of the fork. Thanks 22/04/2020
Why can't these be used o the front?
18 Apr 2020
Because it uses the force TOWARDS the boss forward to increase the force on the rim, fitted to the front it would hgave the opposite effect (unless the bossses were on the REAR of the front fork blades. RT 22/04/2020
Will this be suitable for my 80's touring bike fram with 62mm c/c spacing between the brake posts?
23 Jan 2020
Post diameter is 8mm.
Yes, these should be suitable.

Thanks - 24/01/20
Hi, Is Straddle Cable And Hanger Included?
17 May 2017
Hello,

The only thing that is included is the brakes themselves.

Thanks.
10Mm Cantilever Brake Bosses
27 Nov 2014
Cantilever studs are mostly 8mm diameter, but exist also as 10mm (like mine) and even 12mm. If you can confirm that the Suntour is for 10mm studs then great! Do you have an equivalent for the front brake?
Hi,

Please ignore my previous message, the Suntour brakes do in fact fit to 8mm cantilever studs, so will not fit your bike. I'm sorry for providing the incorrect information previously.

Thanks.