Avid Shorty Ultimate Cantilever Brake
Colour / Type
Manufacturer :
SJS Cycles part number :
Manufacturer part number :
Details
Offering the ultimate balance of power, control and weight, the Avid Rim Brake Shorty is a cyclocross brake that can be adjusted to a wide or narrow stance and has an open design for mud.

- Large centre hole and thin wall design allows use without removal of cones and locknuts
Related products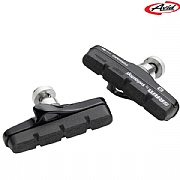 Avid Shorty Ultimate Cantilever Brake Blocks
£29.99 Inc VAT
Quick view
Product Reviews (1)
Overall Product Rating 4 / 5
Beautifully made
14 May 2019
I recommend this product
Cons
Measure your bike carefully if old
Lovely piece of kit. I may have to do a small amount of work on it to get it to fit my elderly frame with quite narrow forks but it really is a very nice stylish brake with lots of adjustment.
wheel, brake and frame compatibility
28 May 2020
I am looking at these brakes to go with wheels (24923) to upgrade my old Cannondale t700. Brake mounts are 78mm and 83mm apart (centre to centre) - my tyres are probably c. 32mm

Would they be compatible with these brakes in the narrow setting?
Hi, without attempting to fit we can't say for sure but we would expect them to be fine. Thanks
Spare brake shoes and pads
04 Mar 2020
When trying to get the old pads out one of the little threaded pins stripped and I don't want to use it in case it falls out. So I'm looking for both the brake shoes as well as pads which I am hoping can be sourced from SJS. Really don't want to cough up 100 quid for new brake pads by buying a whole new set of brakes!
We sell Avid Shorty Ultimate Cantilever Brake Blocks already, (SJS Cycles part number : 39560)
Recommended STI
18 Oct 2017
Would you recommend Shimano STI's for these? Or would I be better served by buying Sram instead?
Hi,

Both Shimano STI levers and Sram levers will be absolutely fine for use with these brakes so you can just choose which levers you would prefer.

Thanks.
Cantilever Brakes
06 Apr 2016
I have a 20 year old tourer with quite a narrow fork, and am looking to replace the front brake. I'm looking at the Avid Shorty 4 or Shorty Ultimate but need some reassurance that the brake would work without snagging the tyre, which is the issue with come other brakes I was hoping to fit, even at the limit of the setting. The pivot centres are 70mm apart and I'm running a Mavic A319 rim, which I think is 25mm wide. Any suggestions? Thanks in anticipation.
Hi,

After inspecting the Avid Shorty Ultimate brakes it does appear that they will fit and work with your bike without fowling on the tyre, but without having your bike here there is no way I can say for definite I'm afraid.

Thanks.