Problem Solvers Sheldon Fender Nuts - 10 & 13 mm - Per Pair
Manufacturer :
SJS Cycles part number :
Manufacturer part number :
Details
See links below for alternatives.
The Problem Solvers Sheldon Fender Nut was designed to replace the standard brake nut and allow convenient fender (Mudguard) mounting on steel and aluminum road frames and forks. Product Uses:
Essentially, this is a long brake nut for road forks, as it allows the road brake nut to thread into it for brake mounting. But, it also has threading inside so that a fender (Mudguard) mounting bolt can be threaded into the back of the fork. Sheldon Fender Nuts are supplied as a pair: 13mm length for front fork crowns, 10mm length for rear bridge.. The fender nut will work with all steel and aluminum frames and forks; it also will work with some carbon forks, but check first. It will not work with forks requiring an extended brake nut or a narrow brake nut (such as Reynolds). Technical details: PS Sheldon Fender Nut is a standard 6mm brake nut with longer internal threading and an extension on the back side for a 6mm mounting bolt
Simply install your brake as you would normally then with a 6mm bolt (not supplied), mount the fender (Mudguard) to the back side of the nut and to your fork or frame
Related products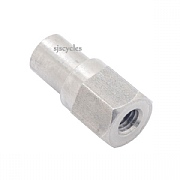 Gilles Berthoud Brake Spindle Screw for Mudguards
£2.99 Inc VAT
Quick view
Product Reviews (9)
Overall Product Rating 4.2 / 5
Excellent but expensive
14 Sep 2018
I recommend this product
Cons
Expensive and internal hex is less sensitive to torquing than an external nut
Pros
Does what it says on the tin
Nicely manufactured - but only comes in short and really long for the front. Shorter enlarged part than others may be what you need in tight spaces or to conventionally mount mudguards.
Solves a couple of issues
17 Aug 2018
I recommend this product
Cons
M6 mudguard bolts not included
First issue - before a club-mate put me onto these extended nuts I had installed the front mudguard bracket in front of the fork with spacers, so the top edge of the bracket did not foul the lower headset bearing. Not ideal as this not only moved the mudguard forward from the ideal position but also moved the caliper further away from the fork. It just didn't look right.
Second issue - I no longer need a third hand to align the mudguard and caliper with the front wheel as these operations can now be done separately.
Comment - although other reviewers think these nuts are expensive, I would pay extra for the M6 mudguard bolts to be included as I had to spend time sourcing suitable bolts.
Prefect solution
27 Sep 2017
I recommend this product
Works as described for my vintage bicycle. Very neat solution. I used brake pad mounting bolts for the mudguard fastening

Great Solution
12 Jun 2016
I recommend this product
These work perfectly. Nicely made, and very good quality. Very expensive, but you get a nice bit of laser-engraving on the side. You'll need some bolts for the ends, though.
Simple And Ingenious Solution.
22 Feb 2015
I recommend this product
I initially fitted flimsy and ultimately annoying clip on mudguards which I recommend people should avoid and felt a better solution was required, these fender nuts proved to be the answer. They allow secure mounting without interfering with the brake assembly as is often the case when fitting mudguards. These fender nuts are a great idea from the late cycling guru Sheldon Brown.
Value
18 Nov 2012
I recommend this product
Cons
No 6mm bolts and washers
A great solution to fitting mudguards to my fixer. Easy to use, though as has been said at the price a couple of 6mm bolts and washers would have been a great finishing touch?
At Last An Easy Solution!
17 Nov 2012
Excellent product and excellent service.
Problem Solved!
07 Nov 2012
I recommend this product
A simple solution to an annoying problem. For the price I'd've hoped that the required 6mm bolts and some washers for actually fixing the mudguards would have been included, to save me rummaging around in my old biscuit tin of nuts'n'bolts. Still, I now have neatly mounted mudguards on both my wife's and my own bikes so I'm happy.
A Great, If Somewhat, Expensive Solution To Fitting Mudguards On A Racing Bike
14 Sep 2011
I recommend this product
Cons
Expensive for what they are
Pros
Do the job brilliantly, if you have mudguard clearance
I wanted to fit 'proper' mudguards to my racing bike, as it has clearance for them, as I don't like the flimsy clip on versions, which don't provide much coverage. But I could not fit the guard behind the fork at the front because the caliper bolt was not long enough and in quite the right position. These widgets replace that bolt, and allow you to screw the mudguard into the back of the bolt. Pricey, but effective. I will know keep dry in winter.
Dimensions of front nut
27 Nov 2018
Please could you let me know overall length and how this is divided between thinner front section and fatter rear section.

The reason I ask is because my carbon forks (Enigma Etape) have a quite deep bolt recess and also two raised portions at the rear that may cause problems with the mudguard touching these when the mudguard bolt is clamped up.

Many thanks
Hi there,

The approximate dimensions are as follows:

Overall length - 24mm
Fat part - 11mm
Thin part - 13mm

Thanks.
29/11/18
Will These Work With Sks Mudguards On A Cannondale Cad 8?
29 Aug 2016
Gavin
Hi,

These can be use with SKS mudguards but as we don't sell Cannondale bikes I don't know how well they will fit with your bike I'm afraid.

Thanks.
Diameter Of The Nut
17 Jan 2015
What is the outer diameter of the part that goes into the frame?
Hi,

The outer diameter of the part that fits into the frame in 8mm.

Thanks.