Problem Solvers Sheldon Fender Nuts - 10 & 32 mm - Per Pair
Manufacturer :
SJS Cycles part number :
Manufacturer part number :
Details
The Problem Solvers Sheldon Fender Nut was designed to replace the standard brake nut and allow convenient fender (mudguard) mounting on steel and aluminium road frames and forks.

Product Uses:

Essentially, this is a long brake nut for road forks, as it allows the road brake nut to thread into it for brake mounting. But, it also has threading inside so that a fender (mudguard) mounting bolt can be threaded into the back of the fork. Sheldon Fender Nuts are supplied as a pair: 32mm length for front fork crowns, 10mm length for rear bridge.The fender nut will work with all steel and aluminum frames and forks; it also will work with some carbon forks, but check first. It will not work with forks requiring an extended brake nut or a narrow brake nut (such as Reynolds). Technical details: PS Sheldon Fender Nut is a standard 6mm brake nut with longer internal threading and an extension on the back side for a 6mm mounting bolt
Simply install your brake as you would normally then with a 6mm bolt (not supplied), mount the fender (Mudguard) to the back side of the nut and to your fork or frame
Related products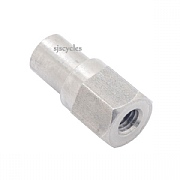 Gilles Berthoud Brake Spindle Screw for Mudguards
£2.99 Inc VAT
Quick view
Product Reviews (2)
Overall Product Rating 5 / 5
Fast delivery
02 Mar 2021
I recommend this product
did not tried but seems excellent
Sheldon Fender Nuts
13 Jan 2017
I recommend this product
Pros
extra clearance. Leave brakes in situ if removing guards
The selling point for these seems to be that you can fit brakes and guards independently which you can. As these are for my winter bike that didn't attract me as I leave the guards on all year. However what they did is give more clearance because the bracket is no longer under the forks. This extra clearance has stopped guards getting clogged with mud which is exactly why I bought them. I think they're expensive for what they are and should come with the bolts for the guards but would buy them again
Can you recommend which specific bolt I need to buy, to attach to the end?
08 Oct 2021
(Planning to attach a steering stabiliser to my recessed brake nut)
An M6 bolt is needed- we cannot be specific as you may want a button or socket head depending on the clearance.

JK 11.10.21


For the front 13mm is too short, but 32mm too long. Is it ok to cut the 32mm down to size?
20 Sep 2019
Yes you could cut these to size.

Thanks - 24/09/19
Trek Domane
03 Jun 2018
Hi my recessd nut which i use with ultegra brakes in carbon fork is 28mm will these bolts work?
Hi there,

Yes the 32mm version should work.

Thanks
Is the head the same outer diameter as a recessed nut?
18 Jan 2018
I have carbon forks with a recessed brake nut. For the Sheldon Fender nut to work, it would have to sit inside the fork.

Does the outer diameter of the head allow this?

Thanks
Hi there,

Yes it should sit snug into the back of the fork.

Thanks
For The Front 32Mm Can You Please Tell Me The Head And Shank Lengths Thanks
29 Apr 2017
Hi,

The shaft length is the 32mm and the head is an additional 10.5mm.

Thanks.