TRP Spyke Mechanical Front/Rear Disc Brake Caliper Only
Manufacturer :
SJS Cycles part number :
Manufacturer part number :
Details
Finally a mechanical disc brake for mountain bikes and fat bikes that offers superior performance and is a snap to set up.

The TRP Spyke is a dual sided mechanical brake where both pads actuate providing even and precise clamping force. This translates into even pad wear and, with the addition of a simple cable barrel adjuster, the pads can be adjusted easily and hassle free. No frustration at completely adjusting the whole caliper, only to have it continue to drag the fixed side, adding wear! All of this in a 169g package that works with any of the linear pull levers on the market. The TRP Spyke mechanical disc brake can be used with a 160mm or 180mm rotor. Rotor and mounts sold seperately. One brake caliper for front or rear use per pack.
Related products
TRP SPYRE/SPYKE PAD ADJUST SCREW
£6.99 Inc VAT
Quick view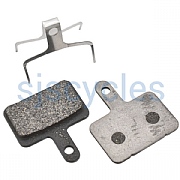 EBC Deore Hydraulic M525 TRP Spyre TRP Spyke Green & Spring
£6.99 Inc VAT
Quick view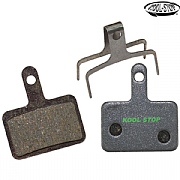 Kool Stop Shimano Deore Hydraulic / Mech E-Bike Disc Pads - KS-D620E
£29.99 Inc VAT
Quick view
Product Reviews (1)
Overall Product Rating 5 / 5
Powerful modular braking, easy to set up
13 May 2020
I recommend this product
Cons
Les powerful than hydraulics for certain needs
Pros
Mechanical, powerful, easy to set up and maintain
I've had a set of Spykes on my Roughstuff Lite for a year now as a replacement for the original BB7s with 160 mm rotors which I really liked.
The Spykes are progressively powerful and easy to modulate and seem to have more bite when pushed hard. The double sided caliper movement means even pad wear and no disc warping which the single sided BB7s were prone too if used aggressively.
These brakes are easy to set up for someone with a little bit of mechanical experience
I'd hesitated with the HR/HD hybrids but these are perfect for my needs
Hydraulic brakes may well offer superior power etc but at the cost (in my view) of vulnerable hoses and connections and more difficult maintenance - you can always carry a spare cable to repair these on the go so ideal for touring and trekking
What is the distance from the inside face of the disc to the part of the caliper nearest the Hub
03 Mar 2022
I have an application where the distance from the hub to the disc is tight and am looking for a slim caliper to fit as I cannot space the disc out due to frame constraints. What dimension is this from the disk to the part of the caliper nearest the hub/spokes? Do you have any calipers thinner than this one?
Sadly we cannot provide these measures as it very much depended on what hub you have, spoke pattern, etc. in your case the only thing to do Is test fit and check clearance.

JK 03.03.22
Would I be able to fit these to IS mounts? If so what adaptor would i need?
10 Jan 2022
Yes, however, please email sales@ sjscycles.com so we can direct you to the right adapter :)
My fork mount is described as PM 6" (160 mm Direct Mount)
22 May 2020
What extra mounting parts would I need to fit this brake? I mean besides the obvious disk, cable, lever.
SJS Cycles part number : 13390
SJS Cycles part number : 51516

Thanks - 22/05/20
Compatible with standard v-brake lever?
11 Feb 2020
Hi, will these function just as well with my current Avid v-brake levers or do I need the specific TRP lever to get the best out of the caliper?
Spyke calipers will be absolutely fine with any standard V brake lever.

Thanks - 14/02/20
Replacing Avid BB5s
28 Jan 2020
Looking to replace Avid BB5s on my Boardman MX Sport which is fitted with 160 rotors. Apart from the Spyke units themselves what else do I need to purchase to ensure I have all the things I need to set the brakes up?
You may wish to think about replacing the cables to ensure the outer is long enough / inners often fray when removed.

Thanks - 28/01/20
Will these fit a Orbea F10 Gain Hybrid?
21 Aug 2019
Have Shimano M315 HY discs on it now.Thanks.
Hi there,

As we do not stock that particular bike we would have no idea if these would fit or not I'm afraid

Thanks.
spare replacement brake pads
29 Apr 2019
Hi, please, which suitable spare replacement brake pads can You recommend, organic and sintered? Thanks!
We would recommend SJS Cycles part number : 33173

Thanks - 30/04/19
I have BB7 rear disc brakes what do I need to change to the spyre rear disc brake?
08 Apr 2019
You simply need this caliper and a new mount - SJS Cycles part number : 47572 (assuming 160mm rotor)

Thanks - 09/04/19
Cacle routing? Installation?
05 Apr 2019
Hi, please, which cable routing of this brake would You recommend for a Nomad Mk II ? Thanks!
You can use either the top or the bottom routing, it is not bike specific.

Thanks - 08/04/19
How to mount?
20 Aug 2018
The product listing says that this is only the caliper and it lacks "mounts". What other part needs to be ordered along with this in order to install it on the rear of a Thorn Nomad Mk2 frame?
For use with a 160mm rotor you will need SJS Cycles part number : 47572

Thanks