Manufacturer :
SJS Cycles part number :
Manufacturer part number :
Details
Designed for mixing Shimano 11 speed road STI with Shimano 11 speed MTN derailleur.
To use the other way ie Shimano 11 speed MTN shifter with Shimano 11 speed road derailleur, fit the Shiftmate at the shifter.

- CNC machined.
- Sealed ball bearing.
- Hard Nickel plating.
- Reduces cable friction and cable housing length.
- Small compact design only 17 grams.
- Save money by upgrading over time or using components and wheelsets you already own.
Related products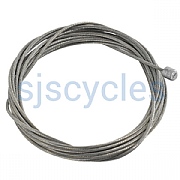 Shimano SIS 1.2 mm Gear Inner Cable Wire
£2.29 Inc VAT
Quick view
Product Reviews (7)
Overall Product Rating 4.9 / 5
Pretty handy
07 May 2020
I recommend this product
Allowed me to go 1x without having to replace levers, using with xt mech and sram 10-42 cassette. Setup and shifting are great.
27 Aug 2019
I recommend this product
Pros
Solid build , neat and compact
Nice piece of kit , installed in minutes and does the job perfectly.
Completed alomst 200 miles since installed with no issues at all.

Great Solution!
15 May 2019
I recommend this product
Pros
Simple, yet effective
A great solution for what is becoming a more common problem.
Great
09 Aug 2018
I recommend this product
Great product it was what we needed to get the job done

A great piece of engineering!
25 Oct 2017
I recommend this product
I read about this product in a few places where riders were gearing a 1x11 for cyclocross with mountain bike cassettes, e.g. Dirty Kanza. I bought it and it was easy to install, and worked flawlessly once the cable was tight! I have been riding in rain and dirt all week and no adjustments or issues...I matched an Ultegra road shifter with SRAM 11-speed derailleur. The cassette is an 11-speed Shimano 11-42T MTB cassette.
It Works As Intended
06 Jun 2017
I recommend this product
Now that I have had the widget on the bike for a while, it is clear it works well, as intended. Cable action remains quite light, unlike the main competitor. A bit pricey!
Works Well
05 Jun 2017
I recommend this product
Cons
not sure if it handles riding on muddy roads...
Pros
works great on sealed roads
SJS sent the item with no delay. The ShiftMate works great. Using 11sp 11-40 Shimano cassette on the road because I aways need more gears :)
What can I say. I bought another one from SJS for my other Audax bike.

Can I use this to run shimano 11 speed Road shifters with XT front mech please
22 Dec 2019
Hi,

this part is designed to be fitted to a rear derailleur so wouldn't be suitable for what you are wanting to achieve.

Thanks.
Front shifting
26 Jan 2019
I have used this on the rear of my bike and works perfectly 5800 shifters and xt rear Mech.
But I'm of on a tour soon and thinking of an mtb double on the front.
Will I again need one of these to correct ratios between 5800 f shifter and xt fmech
please consider product: 49429
many thanks
28/01/19

Tiagra 4700?
25 Oct 2018
As 4700 has the same cable pull as 11-speed Shimano components, would the 8a work with 4700 ×10 shifters, a x11 XTR M7000 mech, and a Shimano x10 11-42 cassette?
Hi there,

It does not look as though we have a shiftmate that will allow this combination im afraid.

Thanks.
Shiftmate 8 Vs 8a
14 Mar 2018
What's the difference or benefit of the Shiftmate 8a over the 8? I'm currently using the 8 to convert 11 speed STI (ultergra) to 11 speed XT 11-40 cassette. It works ok but regularly needs cable retensioned and wondered whether the more "fixed" configuration of the 8a plus barrel adjuster makes this a more stable set-up?
Hi,

Both options work well, it really depends on the bike itself as to which will work better. As you note, the 8a has an integrated barrel adjuster and sits direct into the top of the derailleur.

Thanks
Do I need to purchase cables to install this item?
23 Oct 2017
Hello,

You should be able to use the cable that is already going from the shifters to the derailleur, given that it is long enough t thread through the shiftmate.

Thanks.
Anything Like This Exist For 10 Speed Set Ups?
05 Nov 2016
Hi,

The 10spd version is the Shiftmate 6, these are SJSC part number 19044.

Thanks.