Manufacturer :
SJS Cycles part number :
Manufacturer part number :
Details
Designed for mixing SRAM 11 speed road shifter with SRAM 11 speed MTN derailleur.
To use the other way ie SRAM 11 speed MTN shifter with SRAM 11 speed road derailleur, fit the Shiftmate at the shifter.

- CNC machined.
- Sealed ball bearing.
- Hard Nickel plating.
- Reduces cable friction and cable housing length.
- Small compact design only 17 grams.
- Save money by upgrading over time or using components and wheelsets you already own.
Related products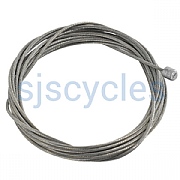 Shimano SIS 1.2 mm Gear Inner Cable Wire
£1.99 Inc VAT
Quick view
Product Reviews (1)
Overall Product Rating 5 / 5
Rad Gadget
18 Jun 2020
I recommend this product
Cons
A tiny bit finicky to set up but worth it
Pros
Way cheaper than an AXS mullet setup
I was looking to get a wider gear range on my gravel bike without dropping lots of coin on a whole new drivetrain and this little doohickey did the trick!
It lets me run a GX Eagle rear derailleur with my Sram Force shifters flawlessly and isn't that hard to set up.
Shout out to Bikepacking.com for writing this process up.
Can it work with internal shifting cable routing ?
02 Dec 2020
I'm trying to mount a SRAM Force 1 with eagle read derailleur
Yes, you will just need to mount the shiftmate externally onto the rear derailleur as pictured.

JK 03.12.20
When will these be back in stock?
28 Nov 2020
In the next couple weeks or will it be months? Thanks!
We expect these to be back in stock mid to late December 2020.

JK 30.11.20

Can I use this with SRAM force 22 shifters & an old Shimano CS7700 9 speed cassette?
11 May 2020
Can I use this with SRAM force 22 shifters, force 22 rear mech & an older Shimano CS7700 9 speed cassette? I want to make use of an old v. low mileage cassette if I can.
Hi, yes this is the correct Shiftmate. If you get shifting issues it may be down to chain / cassette wear. Thanks
On ebay but not here?
21 Nov 2019
Hi, i inquired recently on ebay about needing one of these and would rather buy direct if possible thanks.
Yes, these are in stock, you can order from here our website or eBay.

Thanks - 22/11/19
Can I use a shimano 105 11 speed shifter and SRAM XO1 11 speed rear mech?
25 Aug 2019
Hi there,

This one wouldn't work, unfortunately. The part that you need is Shiftmate 4. This can be found under part #19049.

Thanks.
Can I use this with Shimano 9s dt levers
03 Jan 2019
Want to use with the following:
* Shimano 9s D/T levers
* Shimano 9s hub/cassette
* Campag 9/10 rear mech.

My instinct tells me that it won't be needed, as my bikes all work flawlessy with Campag 10s ergo levers (mated with Shimano 9s hub/cassette & Campag 9/10 rear mech), but want the simplicity of d/t levers on one of my bikes.
Jtek do not offer a suitable option for that set up, please see here - http://www.jtekengineering.com/shiftmate/shiftmate-compatibility-charts-choices/

Thanks - 08/01/19
Is this part susceptible to rust or other damage from water ingress?
08 Jul 2018
I typically ride rain or shine. I'm concerned about this part rusting or otherwise being damaged by rain, since the pulley and cable is exposed.
These are generally absolutely fine in the rain, the bearing is sealed and the main parts are hard nickel coated. The exposed cable is much the same as many bicycles with exposed gear cable and we just recommend the user keeps an eye on it.

Thanks
Will this work with a 10spd SRAM mountain bike mech?
05 Feb 2018
I have a 10spd Rival shifter mated to an XO1 DH 10spd rear mech. Shifting is generally good but cable routing is really bad due to the frame exit point and the mech entry point so I'm looking for something to straighten it up. thanks!
Hi there,

This is a pull ratio adapter, if you were to run this it would mean you cable routing may be better but the pull ratio would no longer be in sync.

Thanks
Hi,
20 Apr 2017
Does it work with ultergra 11s shifter and Xtr m9000 derailleur?
Thanks
Hello.
The Shiftmate 9 will not work it is for SRAM. You need a Shiftmate 8 or 8A.

Thanks.
Jtek Shiftmate 9
29 Sep 2016
the expected stock date for the Jtek ShiftMate 9 keeps getting further in the future. Is there any realistic chance that you will ever have any of these in stock?

Thanks
Hi,

We definitely will be getting these into stock, they are a brand new product that we're just waiting on the initial shipment of. Production has taken slightly longer than expected.

Thanks.