Jtek Double Control Brake Cable Splitter
Manufacturer :
SJS Cycles part number :
Manufacturer part number :
Details
This is a double input, single output, DoubleControl cable splitter. It weighs just 12 grams and is super small and compact. It's versatile in that it can be mounted in a variety of locations including: inline, on top of the brake calliper, or at cable stop locations. It requires no internal springs and allows both brake levers to operate totally independent of each other while maintaining the same feel and function of a single brake lever system.

Please note that this model is designed to only be installed with road caliper style brakes which use shorter cable pull operation and is NOT designed for mountain bike style brake calipers, which require our longer version (item # 19040).

- Maximum cable travel 12mm
- Offers clean cable routing.
- Great for team time trials and holding tight drafting situations.
- Ideal for triathlons where position controls is critical to avoid drafting situations.
- Huge benefits for racing technical courses and more efficient corner braking.
Related products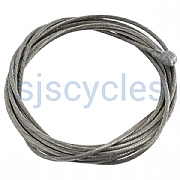 Shimano Pear Nipple Brake Inner Cable Wire - ROAD
£1.99 Inc VAT
Quick view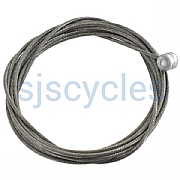 Shimano SLR 1.6mm MTB Brake Steel Inner Wire - 2050mm
Now from

£1.99

Inc VAT
Typical RRP: £5.99
Quick view
Product Reviews (3)
Overall Product Rating 4.7 / 5
Great problem solver!
19 Nov 2017
I recommend this product
Pros
Works well, small, tidy.
I use this to control a front caliper brake from both left and right drop bar levers on a fixed gear bicycle. Build quality and finish seems excellent and installation was straightforward with clear included instructions.
27 Jul 2016
I recommend this product
Good!~
One Brake Two Levers
19 Sep 2011
I recommend this product
Pros
small, light, well engineered
I had been looking for ages for a product to solve this issue, and this not only solves the problem, but does so elegantly.

How do I specify colour choice with the part?
11 Jun 2019
We do not have any colour choices with this item.

Thanks - 11/06/19
How is the feel of the brakes after installation? Don't they become a bit too spongy?
27 Aug 2018
I am planning to completely revamp my current cockpit on my tourer/commuter. I want to go with Velo Orange Crazy Bar, so I would like to have secondary brake levers installed on the bullhorn part of the handlebars to have the ability to brake in more aero position. I am however worried that the adaptors would compromise the breaking power. Could your ensure me that it would not be the case and from both secondary and primary brake levers I would have similar ability to stop my bicycle, please?
Hi, the brakes will not feel any different to a single lever setup with this device. Thanks
Do This One And #19040 Come With A Spacer For Mounting Directly On Caliper Brake?
19 Jan 2017
Hi,

This product (19041) comes with a spacer to allow for fitting directly onto a caliper brake. Please note the longer version (SJSC part 19040) is not compatible with caliper brakes.

Thanks.
Would This Work For Gears Too?
10 Jul 2016
I have aero bars on my road bike and would like to fit shifters on the bar ends, but also keep the existing main shifters on the handlebars.
Hi you need Jtek DoubleControl L Cable Doubler #19040
Does This Work On Road Bike?
20 Dec 2015
Hi,

This is the correct version for use with a road bike.

Thanks.
Will This Work For Cable Disc Brakes
12 Aug 2015
I am currently running Shimano Ultegra 6870 STI levers with TRP Spyre mechanical disc brakes.
Would I use this, S, or the L model.
Hi, the S model provides 12mm of pull whilst the L model has 26mm of pull available. We don't stock the TRP Spyre disc brakes so you will need to check how much pull is required to engage the caliper & then select the most appropriate model. Regards
Will This Work With V Brake?
27 Aug 2014
Or is there another product that will do the same job? Note the comment about road caliper style brakes. Thanks
Hi,

No but you can use the Jtek DoubleControl L (long) for brakes that require a longer cable pull. Our part number 19040.

Thanks.