Manufacturer :
SJS Cycles part number :
Manufacturer part number :
Details
This model is for mating different speed shifters to different speed drivetrains.
Most notably Campagnolo 12 speed Ergopower to work with Shimano or SRAM 12 speed MTN rear mech and cassette.
The ShiftMate is a shifting interface device for mating different bicycle shifting components and wheelsets. Using a ratio changing pulley, the ShiftMate adapts different component brands and models to make the proper correction in the amount of cable pull needed for perfect shifting. There are no comprimises when using a ShiftMate. Your shifting will perform equally or better than original factory components.

- CNC machined.
- Sealed ball bearing.
- Hard Nickel plating.
- Reduces cable friction and cable housing length.
- Wide range of component mates and interfacing.
- Small compact design only 12 grams.
- Save money by upgrading over time or using components and wheelsets you already own.

*Except Shimano Tiagra 4700 10 speed shifters and rear derailleur
Related products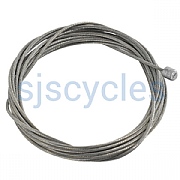 Shimano SIS 1.2 mm Gear Inner Cable Wire
£1.99 Inc VAT
Quick view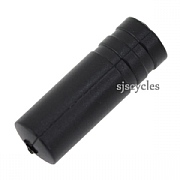 Clarks Plastic Gear Ferrule for 4 mm Gear Outer Cable - Each
£0.20 Inc VAT
Quick view
Product Reviews (4)
Overall Product Rating 4.5 / 5
Great little device.
27 Nov 2019
I recommend this product
Cons
Installation diagrams could be better.
Pros
Works incredibly well.
Bought this to run Campy 10 speed shifters with shimano 9 rear mech. Installation was pretty straight forward but the way the cable crosses over the pulley wheel seemed weird, but after one ride I was sold, shifting is smooth, accurate and silent, what a great blessing this little device is, as I can use the best parts of Campagnolo and Shimano simultaneously.
Jtek Shifmate 2 Equals Great Results
15 Oct 2012
I recommend this product
Cons
Expensive (but cheaper than a new gearset!)
Pros
Works well, good quality, easy to install
I bought this so that I could use the 10 speed shimano shifters that came with my new aerobars with my exisiting 9 speed shimano set up. It was very easy to install and the shifting is accurate. In fact the shifting is also so much smoother than before that I would recommend this, not only to people trying to match different speed shifters and rear gear but also anyone after smoother gear changing. Very impressed. My one grumble, like other reviewers, is that it is a bit pricey for what it is.
Jtek Shifmate 2 Working Well
16 Feb 2011
Pros
accurate, positive, well made
I tried different cable paths to adapt my Shimano 9 spd to my new Campag Ergo 10spd shifterswith unreliable results. This oojamaflick works well & was easy to install. Seems reliable so far & well built. A bit pricey but worthit for the results.
Jtek Shifmate 2 Good For Shimergo
10 Jan 2011
I recommend this product
Cons
Expensive, adds bends to cable
Pros
Works well, excellent quality, easy to install
I used this to get Campagnolo Veloce (2011) 10 speed shifters to operate a Shimano 9 speed derailleur. It was simple and straight forward to install and so far is working very well. The shifting seems accurate and positive. Over all a very good product. Very good quality construction.
Can I use this with a 9 speed Shimano mtb shifter linked to a Campag Daytona 9speed
09 Oct 2020
I have 9 speed Shimano shifters (MTB) a Campagnolo Daytona 9 speed rear mech and either a10 speed or 9 Speed Campag cassette
Which shiftmate might sort out the gear change on this hybrid setup?
Hello, for this we would suggst a Shiftmate 2,

For further information for Shiftmate compatibility please refer to:

http://www.jtekengineering.com/resources/shiftmate-compatibility/

JK 12.10.20
Would a 2x12 spd Campy XTR combo work?
21 Jan 2020
Hello,

I see in another question that a Campy 12s shifter will work with XTR 12s rear mech and cassette, but I want to extend that question. Would a Campy Chorus 12s brifters work with XTR 12s setup and 2x Campy/Shimano chainring? Has anyone tested it? Thanks in advance.
Hi, we would expect this combination to work. However we have not tested it, we do not have the kit. Thanks 29/01/2020
I have 10spd RAM Rival levers and a XT 10spd derailleur & cassette
17 Dec 2018
Is there a shiftmate that will work?
Unfortunately not, the closest available is Sram 10 to Shimano MTB 9.

Thanks - 17/12/18
Ergopower 12 speed with XTR rear mech and cassette
29 Oct 2018
Hey

since you mentioned, that would work with the shiftmate 2. How can I add a adjuster barrel for the rear derailleur, since the MTB rear mech do not have one?

Kind regards
Sandro
We would recommend using - SJS Cycles part number : 47368

Thanks - 30/10/18
Ergopower 12 speed with XTR rear mech an dcassette
28 Oct 2018
Hey

you mentioned that it will work with 12 speed Campagnolo Ergopower and with Shimano 12 speed MTN rear mech and cassette. Did you all ready test it? It would be so perfect for my Gravel bike.

Kind regards
Sandro
Yes, we have tested this combination.


Thanks - 29/10/18
Will This Mate Campy 10 Speed Shifters With A Deore 9 Speed Shadow Derailleur?
30 Dec 2016
Hi,

This Shiftmate 2 will indeed allow you to use your 10spd Campagnolo shifters with a 9spd Shimano Deore rear derailleur.

Thanks.
Shimano 11Sp Shifters, 10Sp Casette, 9Sp Rd?
30 Sep 2015
I'm currently running 10sp Shimano 105 shifters with a SRAM 10sp 12.36t cassette, and a long cage 9sp Shimano mtn derailleur (Deore w/ barrel adjuster).

Is there a Shiftmate that would let me upgrade to Shimano 11sp shifters on the same setup? (with a 'dead' gear shift at the top/bottom). I keep eyeing up the new hydraulic STI's.
Hi,

I'm afraid there is not a ShiftMate that will allow you run that set up, there is a different type of cable pull between 10spd and 11spd Shimano stopping them being inter-compatible even with a ShiftMate.

Thanks.