Manufacturer :
SJS Cycles part number :
Manufacturer part number :
Details
This model is for mating newer 2001+ Campagnolo 9 & 10 speed components with Shimano 9 & 10 speed components.

- Shimano 9 & 10 speed shifters to Campagnolo 9 & 10 speed cassettes & derailleur
- Campagnolo 9 & 10 speed shifters to Shimano 9 & 10 speed cassettes & derailleur

Using a ratio changing pulley, the ShiftMate adapts different component brands and models to make the proper correction in the amount of cable pull needed for perfect shifting. There are no comprimises when using a ShiftMate. Your shifting will perform equally or better than original factory components.

- CNC machined.
- Sealed ball bearing.
- Hard Nickel plating.
- Reduces cable friction and cable housing length.
- Wide range of component mates and interfacing.
- Small compact design only 12 grams.
- Save money by upgrading over time or using components and wheelsets you already own.

*Except Shimano Tiagra 4700 10 speed shifters and rear derailleur

For installation you will require a gear cable end cap with an external diameter of 5.3mm.
The Clarks Plastic Gear Ferrule for 4 mm Gear Outer Cable meets this specification (SJSC part 5269)
Related products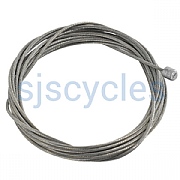 Shimano SIS 1.2 mm Gear Inner Cable Wire
£2.29 Inc VAT
Quick view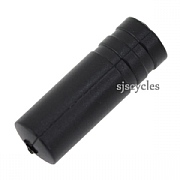 Clarks Plastic Gear Ferrule for 4 mm Gear Outer Cable - Each
£0.20 Inc VAT
Quick view
Product Reviews (9)
Overall Product Rating 4.9 / 5
10 Feb 2018
I recommend this product
Cons
Cierta dificultad de montaje
Pros
Correcto funcionamiento
Un producto que resuelve perfectamente la incompatibilidad entre unas manetas Campagnolo 10v con un cambio y un cassette Shimano de 10v haciendo que el conjunto funcione correctamente.
Tiene cierta dificultad de montaje al no ver las instrucciones en español.
Mi caso era poner un cassette con un piñón de 34 dientes lo cual no es posible con Campagnolo.
Para ello junto a este elemento he precisado colocar una pieza que suplementa la patilla del cuadro y colocar un cambio Shimano105 de caja larga

A Dream Come True!!
04 Jul 2017
I recommend this product
Being a true Campagnolo nut forever, I am so happy to be able to now have a way to use my older Mavic wheels with Shimano HG freehub body with Campy spacers. With the Shiftmates I can now use any cassette and it works perectly.
Superb Answer For Matching Campag And Shimano
19 Jun 2017
I recommend this product
Cons
Price until you realize how good it is.
Pros
Easy to fit, works perfectly.
Due to age and injuries I can no longer stand on the pedals so need a very low bottom gear which is not possible with Campag, I have an Italian frame with Mirage 3 x 9. By using the Shiftmate I have been able to fit a Shimano long cage rear mech and 12-36 cassette which gives me all the gears I need and I still have the excellent Campag levers, chainset and front mech.
Very Cool Solution.
10 Jun 2017
I recommend this product
Pros
Nicely engineered solution which works perfectly
I use the shiftmate 3 to match my shimano sora 9 speed shifters to my campagnolo mirage and chorus cassette. I did have it shifting reasonably well on a straight cable. After hours of adjusting.

But with this neat device my shifts are super crisp and I was able to dial in the indexing in a few minutes.
Unique, Well Engineered
14 Apr 2017
I recommend this product
Cons
less than perfect output connection to derailleur adjusting barrel
Pros
Inexpensive, well finished
A simple, elegant solution, giving users the ability to cherry pick components. I use the Shiftmate on our two tandems to link Campagnolo shifters (whose shift action I prefer) with old SRAM and Shimano Ultergra derailleurs (because Campagnolo derailleurs don't provide the range we need.)
14 Aug 2016
I recommend this product
Cons
Should add microshift in the table
Pros
It works well save a lot to upgrade
My combination is campy 10s shifter microshift 10s rear Dee & XT 10s cassette 11-36 but need to replaced the top jockey wheel to 10t then it works well
A Very Nifty Piece Of Kit
18 May 2016
I recommend this product
Used this to pair campag shifters with a Shimano drivetrain. Easy to install and shifts perfectly. Great product and excellent service by sjs cycles.
Shiftmate
18 Feb 2013
I recommend this product
I ordered the #3 to mate my shimano 10 speed ultegra set up to campagnolo centaur shift/brake levers and this little gadget works wonders, really smooth gear changes, it looks a little awkward perhaps
10Sp Xt Users Beware
15 May 2012
I recommend this product
If you want to use one of these with a new XT derailleur that has a near straight cable run it may not fit. I swapped mine for a straight Shiftmate (SRAM flavoured) and a Shimano pulley wheel #3.

It is possible to use this model, but the cable run with the Shiftmate straight works better because both ends of the cable outer terminate in a 'socket' giving a smoother route.

As to shifting performance, it works a treat, 10sp Campagnolo ergo levers to a XT derailleur and 10sp XT cassette, no problem.


Can use this to mix Shimano flatbar shifters with campagnolo centaur 10sp. derailleur ?
28 Jun 2022
Hi,
For Shimano 10 spd mountain with Campagnolo derailleur and Campagnolo 10 spd cassette use the Shiftmate 5.
Thanks
Shiftmate and 6-speed Suntour?
26 Dec 2018
I need new a derailleur for my old 6-speed freewheel and was looking Shimano Sora (9-speed).

Does 9-speed shifter and Sora derailleur work with my 6-speed freewheel if I choose Shiftmate 3?

Hi there,

This combination will work absolutely fine.

Thanks.
Compatibilidad Campagnolo Shimano
By
MIGUEL ANGEL con LOPEZ DE SABANDO
16 Jan 2018
Tengo unas manetas Campagnolo Record de 10 velocidades del año 2007 o 2008 con un cambio Shimano
105 de 10 velocidades referencia (RD-5701-GS) y un cassette Shimano Deore Dyna Sys de 10 velocidades y desearía saber si con la colocación de un Jtek Shiftmate conseguiría que el conjunto fuese compatible y funcionase correctamente.
¿En caso afirmativo que número de Jtek Shiftmate sería el adecuado?
¿Sería conveniente colocar un Jtek FERRULE CURVED o STRAIGHT?
Mi biicleta es de carretera

Hi there,

You will require Shiftmate 3 to convert a Campagnolo 10spd shifter to work with Shimano 10spd derailleur and cassette.

Thanks.
Do It Require The Cable Piping To Be Shortened?
08 Jun 2017
Hi we would shorten the cable outer for both better looks and performance.
Shiftmate 3 With Xt Rear Mech
01 Dec 2016
Will the curved shiftmate 3 work with the straight cable feed into an XT derailleur? If not, is there a straight equivalent shiftmate for Campag 10sp shifters, XT mech, and Shimano 10sp cassette?
Hi,

There isn't a straight version of the the ShiftMate 3 I'm afraid, but the curved version should still work. The cable routing may not be ideal, but it should still work.

Thanks.