Manufacturer :
SJS Cycles part number :
Manufacturer part number :
Details
This model is for mating older Pre-2001 8 & 9 speed Campagnolo components with Shimano 8 & 9 speed components. You can also match newer Campagnolo 11 speed with Shimano 10 speed components. Please check the link above for all suitable combinations.

Using a ratio changing pulley, the ShiftMate adapts different component brands and models to make the proper correction in the amount of cable pull needed for perfect shifting. There are no comprimises when using a ShiftMate. Your shifting will perform equally or better than original factory components.

- CNC machined.
- Sealed ball bearing.
- Hard Nickel plating.
- Reduces cable friction and cable housing length.
- Wide range of component mates and interfacing.
- Small compact design only 12 grams.
- Save money by upgrading over time or using components and wheelsets you already own.

*Except Shimano Tiagra 4700 10 speed shifters and rear derailleur

2001 and newer Campagnolo shifters and derailleurs are not compatible with older versions.
Related products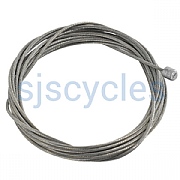 Shimano SIS 1.2 mm Gear Inner Cable Wire
£1.99 Inc VAT
Quick view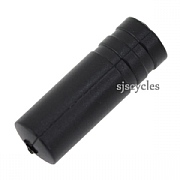 Clarks Plastic Gear Ferrule for 4 mm Gear Outer Cable - Each
£0.20 Inc VAT
Quick view
Product Reviews (2)
Overall Product Rating 5 / 5
What Seemed To Be Impossible Runs Perfect
01 Mar 2017
I recommend this product
The Shiftmate works perfect and was very easy and quick installed. Campa 8 speed shifters with an old Shimano derailleur. Great performance.
Order processing and delivery quick and friendly, thank you Josh!
Great Product, "Extra-Mile" Service
01 Feb 2017
I recommend this product
Shiftmates are clever magic, and this, my third, is no exception. A shout-out to Josh for prompt attention to my e-mail noting some minor binding and roughness in the pulley bearing. He dispatched a perfect replacement across the Atlantic in no time.
Which Jtek I need?
12 May 2020
I have a shimano deore 9 speed trigger and a new sram X0 9 speed derailleur. What kind of shiftmate do I need to get them working? Thanks!
Hi, you need a Shiftmate 6 with a SRAM or Shimano 9 speed cassette. Our part 19044
Can I use this with campag and shimano
25 Apr 2020
Please could you tell me what shiftmate I need to work with a Campagnolo 9 speed Volece shifters to work with Sram 9 speed cassette and Shimano 9 speed rear derailleur. Many thanks.
Jtek ShiftMate 3 (SJS Cycles part number: 19048) does this: - Campagnolo 9 & 10 speed shifters to Shimano 9 & 10 speed cassettes & derailleur RT27/04/2020
Sora STI Levers 3500 9 speeds WITH SHIMANO RD-M772 XT DERAILLEUR. Which JTEK shiftmate do i need ?
By
Carlos Alberto Urbano Martin
19 Apr 2020
I have SHIMANO Sora STI Levers 3500 9 speeds and SHIMANO RD-M772 XT Derailleur. Which JTEK shiftmate do i need to make it work ?
Hi
Thank you for your enquiry. No Jtek shiftmate is required, Road & MTB are compatible at 9 speed so this set up will work together.
Kind Regards
Shimano 11spd road shifter with sram 11 speed mech
13 Nov 2018
I want to run Shimano 105 11 speed shifters with a Sram Apex 1 (11 speed) rear mech and an 11speed cassette up to 40t, is ShiftMate 4 what I need?
Hello,

The shiftmate that you need is shiftmate 4.

Regards 14/11/18
I think I have the correct one
20 Oct 2018
I have 10 speed Shimano 105 shifters, and derailleur, and I have just aquired a really nice 10 speed campy rear wheel with campy cassette, I think I am right in assuming that a shiftmate 4 with the small setting would be the way to go, can you confirm this for me please.
Hi there,

You would require shiftmate 1, SJS Cycles part number : 19046

http://www.jtekengineering.com/shiftmate/shiftmate-compatibility-charts-choices/

Thanks - 22/10/18
Shiftmate
02 Oct 2017
Please could you confirm which Shiftmate I would need to couple Shimano 11 speed road levers to 11 speed Sram force CX1 derailleur. Thanks.
Hello,

The shiftmate that you need is shiftmate 4.

Thanks.