Manufacturer :
SJS Cycles part number :
Manufacturer part number :
Details
This model is for mating Campagnolo 2001+ shifters with SRAM 1:1 derailleurs. - see compatiblity guide.

The ShiftMate Straight is an inline shifting interface device for mating different bicycle shifting components. Using a ratio changing pulley, the ShiftMate Straight adapts different component brands and models to make the proper correction in the amount of cable pull needed for perfect shifting.

- CNC machined.
- Sealed ball bearing.
- Hard Nickel plating.
- Ideal for straight cable run mounting or mounting at cable stop locations.
Related products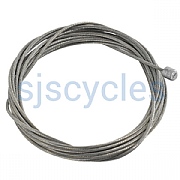 Shimano SIS 1.2 mm Gear Inner Cable Wire
£2.29 Inc VAT
Quick view
Be the first to write a review
Feel free to leave a review of this product, good or bad it helps other customers with their buying decision.
11sp shifter and derailleur with 7 sp cassette
17 Dec 2020
Hi,

When using a 11 speed shimano shifter with derailleur and a 7 speed cassette plus shiftmate 5 will 1 shift/click on the shifter move the chain over one position on the cassette or are 2 clicks/ shifts needed?
When installing should one have the 5 phantom gear out of 11 on the granny gear side (largest side of cassette) or the other way around?

Thank you!

Ben
1 shifter click = 1 gear change, there will be no phantom clicks.

Thanks
11SP SHIFTER AND DERAILLEUR WITH 7SP CASSETTE
15 Dec 2020
HI!
Can I use a shimano 11 speed shifter and 11 speed derailleur with a 7 speed cassette with the help of a shiftmate 5 ? On the JTEK homepage the compatibility chart mentions it works with 7 speed road cassettes but does it work with mtb cassettes? Since to the best of my knowledge with 7 speed cassettes the spacing is the same with road and mtb version.

Ben
Hi, 7-speed road and mountain use the same spacing.

Thanks, 15.12.20
Shiftmate 5 for Campa 10 speed deraileur and Shimano 10 speed MTB shifter
18 Nov 2020
Hello!
Can I kindly ask, whether can I use Shiftmate 5 for Campa 10 speed derailleur and Shimano 10 speed MTB shifter?
Do you deliver to Czech Republic?
Thanks for info
Tony Stepanek
Hi, yes Shiftmate Will allow a 10-speed Campag Derailleur to work with a 10-speed Campagnolo cassette with a 10 speed Shimano Mtb shifter using the small pully groove. We do ship to your location- please add your delivery address at checkout for postage to be calculated.

JK 23.11.20
Will this mate Campagnolo Veloce Ergo Brifters (10sp) to a Shimano MTN bike rear derailleur?
20 Apr 2020
Rear derailleur in mind is the 10 speed Shimano M6000 Long Cage Deore, for use with a 10 speed cassette.
Hi, yes it will match Campagnolo 10 speed shifters with Shimano 10 speed derailleurs. But not Shimano 4700 series. Thanks 22/04/2020
Campag 10sp Shifter, Shimano11MTB Derailleur, S10 cassette
16 Jun 2019
Hi There,

Looking to mate Campag 10sp (Centaur) with a 10sp Shimano MTB cassette using an 11sp Shimano MTB derailleur. As Shimano 11sp derailleur looks like the same ratio as SRAM 1:1 - will a shifter 5 work?
- Matthew
Hi,

it should work but as we haven't tried this ourselves we cannot say for certain if it will.

Thanks.
Can I convert a jtek 11sp bar end lever to a thumb shifter?
20 May 2019
They are the same shifter with a mount - SJS Cycles part number : 40234

Thanks - 21/05/19
Is the a JTek for this ?
02 Feb 2019
I need to go from Shimano 11sp road shifters to an SRAM XO 11 spd derailleur with XD SRAM 11 Speed Cassette - possible with JTek ?

Kevin
Hi there,

Using shiftmate 8, you can convert from Shimano Road 11 to Shimano MTB 11, Shimano / Sram MTB 11 Shifting ratios both linear and SO close that these just work together without the need for a Shiftmate.

This is the only option we know!

Thanks - 04/02/19