Manufacturer :
SJS Cycles part number :
Manufacturer part number :
Details
This model is for mating Shimano shifters with SRAM 1:1 derailleurs or SRAM non-road shifters with Shimano derailleurs.

It will also let you run Shimano 10 speed road STI with Shimano MTN 10 derailleurs and Shimano or SRAM 10 speed cassettes.

The ShiftMate Straight is an inline shifting interface device for mating different bicycle shifting components. Using a ratio changing pulley, the ShiftMate Straight adapts different component brands and models to make the proper correction in the amount of cable pull needed for perfect shifting.

- CNC machined.
- Sealed ball bearing.
- Hard Nickel plating.
- Ideal for straight cable run mounting or mounting at cable stop locations.

*Except Shimano Tiagra 4700 10 speed shifters and rear derailleur
Related products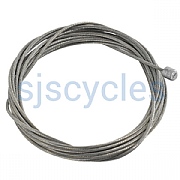 Shimano SIS 1.2 mm Gear Inner Cable Wire
£1.99 Inc VAT
Quick view
Product Reviews (8)
Overall Product Rating 4.8 / 5
Does what it says on the tin
08 Dec 2020
I recommend this product
Pros
Good supporting information about which model to choose
Not cheap. I am able to run a Shimano MTB rear derailleur on my home-built gravel bike with a more reasonable amount of travel from the downtown tube shifter which otherwise went through 180 degrees.
Great Product!!!
21 Jul 2019
I recommend this product
It's now been a couple years since ordering and having the SJ6 shiftmate installed on my touring bike and it's still working flawlessly. I only wish I had known about the simple part in 2009 for my first touring bike with Shimano shifters coupled with mountain bike gearing as it would have eliminated almost all the mechanical difficulties I had with that product. Thank you SJS Cycles for providing a much needed product that Shimano doesn't care to remedy.
excellent
18 Sep 2017
I recommend this product
Excellent service after I asked some questions about a component. Fast detailed reply enabled me to buy the part I needed, to get my bike rideable again.
Fast delivery good instructions and easy to install. The part enabled me to use Shimano gears with a Sram derailleur. Perfect setup for steep hills. Excellent quiet gear changes. Top piece of engineering.

Will use Sjscycles again.
10Sp Sti To 10Sp Shimano Mtb
21 Feb 2017
I recommend this product
Pros
well made, in-line fitting
I built up a Monster CXer based on a 10sp MTB. The Jtek 6 allowed me to run Ultegra 10sp STI shifters with the existing MTB rear mech and cassette. The inline mounting allowed it to be mounted on the chainstay & away from interference by the mech. Works perfectly
Jtek Shiftmate 6
07 Feb 2017
I recommend this product
Pros
Very Easy to Setup, Follow Instructions, Adjust Cable Tension When Needed
Very easy to setup and install as per the instructions, followed step by step, I used the inline version and mounted the shiftmate up toward the barrel adjuster by the fork tube, then routed the shift cable in the normal way I used a brand new cable and knew I had to stretch the cable before shifting would work correctly, Once everything settled in place "shifting is awesome"!! Using it on my Road Bike with a shimano dyna-sys 10s MTB RD 11-40 cassette talk about low gearing triple crankset up front "No Hill to Steep"!
Does The Job
24 Jan 2017
I recommend this product
Used to pair shimano sti shifter with sram rear mech on monster cross build. I now have a full range of gears available. Excellent build quality and delivered as per. *****
Item Should Be Labeled With The Model Number
25 Oct 2016
I recommend this product
Cons
Not easy to identify what type of agent I have in hand.
Pros
All of these have worked perfectly
I have a few of these now and I am not sure how to differentiate between the different models.
SJS Customer Service:
Thanks for the feedback. We are currently (2016) using unlabelled stock produced by Jtek in the USA, however we will note this for future UK managed production runs.
It Really Does Work
20 Oct 2016
I recommend this product
Cons
Quite expensive, no barrel adjuster
Pros
Easy to set up, good quality
I'd tried a Lindarets Tanpan SH10 (1st generation) to make a 10 speed 105 shifter work with a 10 speed Deore clutch mech, but it was a complete failure due to a product flaw.

I was therefore a little hesitant to try the Jtek Shiftmate, thinking that all ratio-altering devices may be somewhat temperamental. I was wrong. The Jtek Shiftmate 6 was easy to set up, and worked straight away on the stand and on several off-road rides since. I mounted the device close to the handlebar to keep it away from the muck.

It would have been nice if the housing was curved like some of the other Shiftmate models, but the only niggle I have is that it has no barrel adjuster, so had to use a separate in-line adjuster.
Can I use this with 10spd bar end shifters?
11 Jan 2021
Would like to use the shiftmate to allow me pair 10spd shimano bar end shifters with a 10speed mountain bike cassette and derailleur for a touring bike project.
Will this work?
Cheers
Yes this will work as its converting a ROAD 10-speed shifter, for use with a 10-speed Mtb cassette and derailleur.

Thanks!
Shimano road shifters to Shimano MTB rear mech
27 Nov 2020
Would this let me run my Shimano Dura-Ace SL-BS79 10 speed bar end shifters with my Shimano XT RD-M781 rear mech?
Yes this the part you need to use 10-speed road shifters with 10 speed mtb rear derailleur with a 10-speed cassette.

JK 27.11.20
Is running it with a Deore M5120 possible?
13 Nov 2020
Hi! A couple of questions - losing my mind here :) Trying to set it up with the above and Tiagra 4600 brifters (11-34). RD is a bit of a weird one, since it's compat. with 10 & 11. Is it possible that that's an issue? (Q1) Does the cable need to be absolutely dead-centered on the flat bit (just bought threadlock for it not to move)? (Q2) Seems like any tension whatsoever on the cable makes it not shift 11cog, yet the slack is too much to shift and stay correctly in lower gears. It sort of works but it doesn't :)
Hello, without having your bike here in the shop to work out what the issue is we cannot advise- we suggest you take your bike to a cycle mechanic for diagnosis. If you are not using a Shimano MTN 10 Dyna-Sys derailleur this could be the cause of the problem.

JK 16.11.20
4600 Tiagra brifter with MTB derailer
12 Nov 2020
I want to run a 11-36t cassette on my Crois de Fer which had 4600 10 speed brifters using a Shimano MTB derailer, is this Jtek suitable for that job? Cable run doesn't look like the pictures. What would be a good derailer to choose?
Yes, this would work well, and you could use - SJS Cycles part number : 46428 - or just fit a hanger extender - SJS Cycles part number : 46570


Thanks - 13/11/20
compatibility between SRAM Force 22 shifters/ SRAM GX 2x11 Rear derailleur
23 Oct 2020
Can I use this Jtek Shiftmate to get compatibility between SRAM Force 22 shifters and a SRAM GX 2x11 Rear derailleur
No, you would need a Shiftmate 9- SJS part: 41501

Thanks,

JK 27.10.20
Which ShiftMate to get?
06 Sep 2020
Hi! I have SRAM X7 10 speed shifter, which ShiftMate should I get to make it work with a 10 speed Shimano rear derailleur? Thank you.
For this you would need a SRAM shiftmate 6 and would need to use the large pully wheel and use only a 9 speed cassette. All Shiftmate compatibility can be found here: http://www.jtekengineering.com/resources/shiftmate-compatibility/
Will this match Campy Veloce Ergopower 10 Speed Shifters to a Shimano Deore 10 speed long derailleur
18 Apr 2020
Will this match Campagnolo Veloce Ergopower 10 Speed Shifters to a Shimano Deore 10 speed long cage rear derailleur?
no, you need Jtek ShiftMate 5 (SJS Cycles part number : 19043) does Campagnolo 10 speed shifter, Shimano 10 speed MTB rear mech, Shimano 10 speed cassette. RT 20/04/2020
Can I use a Shimano grx rd-rx400 and 4600 STI?
07 Sep 2019
Can I use the new Shimano grx rd-rx400 derailleur on my road bike equipped with Tiagra STI-4600 levers and this device? Would a different ShitMate work?
From what we can see, no shiftmate will allow this.

The GRX works on the same pull as Tiagra 4700 - no compatible with older 10 speed.

Thanks - 11/09/19
Sram mtb 9s
28 Nov 2018
Hello,
I belive i can use this to match a ultegra 10s sl-r780 flatbar shifters w/ a 9s Sram x0 derailleur. Thats correct?
Thank you
Hi there,

Yes this would be the one that you need.

Thanks.
shiftmate 6, 8 spd road to 10spd mtb
26 Nov 2018
just to clarify though, the shiftmate 6 will mate 8speed road shifters to a 10speed mtb rear mech.. right?
thankyou.
That is correct - http://www.jtekengineering.com/shiftmate/shiftmate-compatibility-charts-choices/

Thanks. - 26/11/18
will 8 spd shimano road shifters work with 11 speed shimano mtb rear mech?
25 Nov 2018
i have 8spd shimano road shifters and want to run a clutch derailleur. i know this will work with a 10speed shimano derailleur, but will it mate my 8 spd shifters to a 11spd shimano mtb rear mech?
Unfortunately there are no Shiftmate options for 8 speed road to 11 speed mtb.

Thanks - 26/11/18
Will the Shiftmate6 allow the use of Shimano 9-sp derailleur with SRAM X0 twist shifter?
30 May 2018
I need a SRAM Attack 3x9 twist shifter for my bike build, but because those are now next-to-impossible to find, I am exploring the possibility of using SRAM X0 twist shifters with a triple chainrin and Shimano 9-speed derailleur cobination. (The cassette is a Shimano Capreo 9-26 and chainring is 30-47-60, if that info needed to answer my question). Would the Shiftmate 6 allow the SRAM X0 shifters to work with this system?
Hello,

This should work without any issues.

Thanks.
I can use this to control an xt ?
29 May 2018
I can use this to control an xt 10X rear shifter with Shimano Ultegra ST-6703 STI 3x10 controls?
I can also use it for the front derailleur?
thank you for your answer.
Andrea
Hi there,

This will allow you to use an XT derailleur with Ultegra shifters. Unfortunately you cannot use this with the front derailleur.
Does the Shiftmate 6 come with the Jtek ferrules?
04 Jan 2018
If not, are they needed for all installations?
Hi,

These is a Jtek ferrule supplied but it is not always required for instillation. It is only require if you're fitting the Shiftmate directly into the derailleur and not between two sections of outer cable.

Thanks.
What About The Tiagra 4700?
12 Mar 2017
It says it's not compatible with the Tiagra 4700 10-speed shifters, but I have these and am looking to change the rear gearing to a 40 tooth cassette and new derailleur. Is there a shiftmate that would work? Thanks
Hi,

Unfortunately there is not a Shiftmate that will work at all with the Tiagra 4700 shifters or derailleur as they do not use equal jumps between the gears. The shifter pulls a different amount of cable between gears 1 and 2 as it does between gears 2 and 3 unlike the rest of Shimano's 10spd line up that has even jumps across the board.

Thanks.
Shiftmate
21 Nov 2016
Is There Any Sihftmate That Works Shimano 11S Road Sifter And Sram Rival? 1 X-Horizon? Rear Derailleur ?
Hi,

As the Rival 1 derailleurs still use the same cable pull as the 11spd Sram road groupsets the Shiftmate you need is the number 4.

Thanks.
Hello, Is This Shiftmate Compatible With A Shimano Deore Xt Rd-T780 Rear Derailleur? Thanks
08 Aug 2016
Combinatión:
SHIFTER: Shimano 10 speed road
DERAILLEUR: deore xt rd-t780 rear derailleur
CASSETTE TYPE AND SPEED: Shimano 10 speed
Hi, Yes this is the correct Shiftmate for you.