Manufacturer :
SJS Cycles part number :
Manufacturer part number :
Details
This model is for mating Shimano & Campagnolo triple road shifters with mountain bike front derailleurs and cranks or mountain bike front shfiters with road triple cranksets.

For matching Campagnolo 11s Ergo Shifters with wide Shimano 11s cassettes using the 10s Shimano mech which was originally designed for max 36t.
In practice with some adjustment of the 'B' stop screw 40 and probably 42 are achievable.

The ShiftMate Straight is an inline shifting interface device for mating different bicycle shifting components. Using a ratio changing pulley, the ShiftMate Straight adapts different component brands and models to make the proper correction in the amount of cable pull needed for perfect shifting.

- CNC machined.
- Sealed ball bearing.
- Hard Nickel plating.
- Ideal for straight cable run mounting or mounting at cable stop locations.
Related products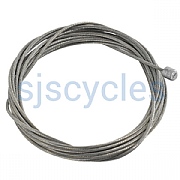 Shimano SIS 1.2 mm Gear Inner Cable Wire
£2.29 Inc VAT
Quick view
Product Reviews (6)
Overall Product Rating 5 / 5
Excellent for mtb conversion
27 Oct 2020
I recommend this product
Cons
None. But get the right Shiftmate model and install as instructions.
Converting a flat handlebar hybrid bike (mtb components) to drops with Shimano RSX gear / brake levers. Needed this nifty part so that the shifter would pull the cable the right amount (the usual pull of RSX is too small for mtb components). Put this on the front derailleur cabling. Works like a dream! NOTE that there are lots of different Shiftmates depending on what you are trying to do.
Bridge for gravel bikes
12 May 2019
I recommend this product
Pros
solution for Shimano disease
With default setup of my gravel bike I was forced to use casette (9sp, 11-34) with big stepping. Thanks to this converter I could mount MTB crankset 44/32/22 and then choose more tight casette (12-26) which is great for taking care of your knees/cadence. Great product and I recommend it for any custom setup mixing road brifters and MTB FD/crankset.
Just What I Was Looking For!
08 Oct 2016
I recommend this product
Cons
A little expensive. It cost less from SJS than from a US distributor.
Pros
I did not have to replace my shift levers or derailleur. The international shipping was fast!
I have an Easy Racer Goldrush long wheelbase recumbent with a 9 speed drivetrain, SRAM twist grip shifters, and Shimano Ultegra triple crank and front derailleur. The front derailleur has never shifted well because the cable pull of the shifter didn't match the derailleur. Now it does!
Great Product
01 Oct 2016
I recommend this product
Pros
Does the job perfectly
Unfortunately, my current order for this item has not yet arrived. However, this is my second purchase of the Shiftmate, and as the first is perfect for the job, I presume this second one, for another bike will be just as good.
Shiftmate #7 Straight
10 Jan 2013
I recommend this product
I built a Salsa Fargo and I live in Brisbane Queensland. You're just not going anywhere around here without a full range of gears. It's just too hilly, particularly for a heavy, loaded bike. I also wanted to run Shimano XT as I've always had great life out of it.

I used 105 10 speed shifters with 10 speed cassette, chain and triple cranks. 9 speed front and rear derailleurs and the Shiftmate #7 made it all possible sorting out the front deraileur for me.

It was what made my prefered build possible and works very well. SJS dispatched quickly and it was delivered soon after. I have to recomend the shop and the Shiftmate.
Shiftmate #7 Straight
08 Apr 2011
I recommend this product
Cons
A bit pricey for what you get, but its a niche market
Fantastic piece of kit. A bit pricey, but was the only option when converting my Rockhopper to drop bars for comfort when covering longer distances. Allowed me to keep my old crankset and front derailleur and still convert to STI levers. Now shifts flawlessly.
Had previously tried a road front derailleur but the 52mm chainline prevented changing to the largest cog. This little device was my last chance and worked a treat!
see below
09 Sep 2020
is shiftmate 7 the right solution for STI 105 ST-5703 3x10 (road) working with crankset Shimano Deore triple (MTB)? or there is something better?
Hello- to know what shift mate you need we need to know:
1- what shifters you have
2- what crankset you wish to run
3-what shifter you wish to use
Please email
[email protected]
for further assistance.
Can I use Shiftmate 7 to pair Sora 3x9 road shifters and Altus Front derailleur?
30 May 2020
My chainring is 44-32-22 my cassette is 9 speed 11-34. I was under the impression that it didn't work on those chainring sprocket sizes. I'll be upgrading the FD soon too so if you know one that will work better. Thanks.
With 9 speed you can use MTB or Road derailleur! so just pick one that is suitable for the cable routing/ size / chain rings.
SJS Cycles part number : 46079 will probably work.

Thanks - 01/06/20
Jtek.. Do I need pulley for front and rear derailleur?
22 Jan 2020
I have a ten speed campagnolo centaur group set on my road bike I was looking to change it to a flat bar. Do I need a jtek pulley for front and rear derailleur in order to use shimano shifters. Will the brakes be compatible with any levers? Thanks
Hi!

Yes, probably a shiftmate three? then you can use Shimano Road 10 shifters - http://www.jtekengineering.com/shiftmate/shiftmate-compatibility-charts-choices/

Campagnolo & Shimano triple road use the same pull.

Campagnolo/Shimano braking is not cross compatible.

Thanks - 24/01/20
Can I use this with 10spd ultegra and a 10 SPD xt rear mech ?
28 Nov 2019
Hi,

If you are using 10spd Ultegra shifters then it would actually be the Shiftmate 6 that you would require to match them with a 10spd XT rear derailleur. The Shiftmate 6 is SJSC part number 19044.

Thanks. 29/11/19
Will it work with Ultegra double shifter and xtr double deraileur?
19 Jan 2019
Is that a stretch?
Yes this combination with the S7 will work!

Thanks - 21/01/19
23 Jul 2018
Shimano 105 triple 10spd STI shifter with MTB triple front derailleur.
As long as the shifter and derailleur are triple, you can use shiftmate 7.

Thanks
Campagnolo 11 speed shifters with a Shimano XT MTB triple Front Derailleur (9 speed)?
03 Mar 2018
Can I use this to make a current generation (2015 ) Campagnolo Chorus 11 speed shifter set work with a Shimano XT MTB triple Front Derailleur (9 speed)? AFAIK 11 speed Campag is already compatible with a Shimano 9 speed rear mech without an adapter, but the front derailleur is a different issue...,
Hi there,

Yes this is designed to work for the Campagnolo shifter to the Shimano MTB front mech / chainset.

Thanks
Mtb Twist Grip Shifter With Shimano 105 Road Der & Rings
12 Jul 2015
I am trying to adapt my wife's road bike from drop bar with Shimano 105 road shifters (3x9) to a riser handlebar with twist shifters (Microshift). Everything works fine except shifting in the front. The twist shifter moves the derailleur much too far, skipping the middle chainring when shifting from position 1 to 2. The description of this Straight 7 adapter suggests that it is just what I need, but I want to be sure before placing my order.
Hi,

You are correct in thinking this ShiftMate straight 7 would be the correct model required to match your Microshift twist shifters with your road front derailleur.

Thanks.