Manufacturer :
SJS Cycles part number :
Manufacturer part number :
Details
This model is for mating Shimano 11 road STI levers with Shimano 11 MTN rear derailleur and cassette or 11 speed MTN rapidfire levers with Shimano 11 speed road rear derailleur and cassette.

The ShiftMate Straight is an inline shifting interface device for mating different bicycle shifting components. Using a ratio changing pulley, the ShiftMate Straight adapts different component brands and models to make the proper correction in the amount of cable pull needed for perfect shifting.

- CNC machined.
- Sealed ball bearing.
- Hard Nickel plating.
- Ideal for straight cable run mounting or mounting at cable stop locations.
Related products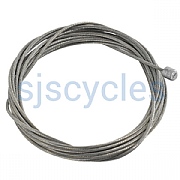 Shimano SIS 1.2 mm Gear Inner Cable Wire
£1.99 Inc VAT
Quick view
Product Reviews (4)
Overall Product Rating 5 / 5
Natty little device
10 Mar 2018
I recommend this product
Just bought one of these to mate an 11sp Dura Ace bar end shifter with a Deare STX 11 sp rear mech. I was worried that a) it was going to look like a botch job, but actually it's neat and discrete and b) it was going to add drag to the shifting, but I can feel no difference. Took me 10 mins to fit (use a new cable). For what it is, physically, its expensive, but for what it actually achieves, its a fair price. Clever gizmo.
It Works!!
11 Apr 2017
I recommend this product
Easy to install and effortlessly converts road shifters to MTB mechs. A much easier process than I thought it would be.
Perfetto
12 Nov 2016
I recommend this product
funziona perfettamente nessun problema.montato cambio MTB provato senza Jtek ShiftMate 8 non funzionava, messo Jtek ShiftMate 8 ed era perfetto le marce salgono e scendono senza problemi.si possono montare cassette 11-42 con compatta 50-34 facendo tutti gli incroci possibili.sono veramente soddisfatto lo consiglio. grazie al team
Perfetto
12 Nov 2016
I recommend this product
funziona perfettamente nessun problema.montato cambio MTB provato senza Jtek ShiftMate 8 non funzionava, messo Jtek ShiftMate 8 ed era perfetto le marce salgono e scendono senza problemi.si possono montare cassette 11-42 con compatta 50-34 facendo tutti gli incroci possibili.sono veramente soddisfatto lo consiglio. grazie al team
Will it work with an 11spd MTB front derailleur?
27 Jul 2018
I'd like to use Ultegra 6800 STI levers with an XT M8000 front derailleur and crankset. Will this do the job?
Hi there,

You will need Jtek Shiftmate 7 threaded into the small side.

SJS Cycles part number : 19045

Thanks
10 spd 105 brifter to 11sp MTB deraileur?
15 Mar 2018
Hi, Would this work to allow a 10 speed 105 brifter to work with an 11 speed long cage shimano MTB derailleur so that I can use an 11-42t cassette? Or is there a better option.
Thanks
Hi there,

There is no way of combining a Shimano 10spd shifter with Shimano 11spd road or mtb as the 10spd shifting is linear with equal shifting gaps, the 11spd is not.

Thanks
Compatibility with internally routed frames.
06 Nov 2017
Hi, planning a switch to an SLX rear derailleur to use with either a Shimano or SRAM 11-42 cassette and swap the chainring size around depending on whether road or CX use. I realise I may need to swap the chain lengths about as well if swapping to a much smaller ring. My question is really about positioning of the device. My frame has internal cable routing with the rear mech cable exiting the end of the chainstay. If the device was placed into the derailleur stop / frame stop from this position, would the cable angle be too acute for it to function properly ?
Hi,

This will completely depend on your frame and how much space there is, it is however quite likely that the cable will end up with quite an angle in it. It may be worth looking at the Shiftmate 8a as this does the same conversion but uses a curved housing so may help with the cable management.

Thanks.
Jteck Shiftmate Compatibility
02 Feb 2017
Hi
I currently run a 6800 Ultegra road set up with a short cage Ultegra derr. Can I use the existing shifters, with a Lindarets road link to drop the rear derr lower, the existing Ultegra rear mech and a MOUNTAIN 11/42 cassette? Will a Tech shift mate be needed and if so will it work with the road rear mech this trimming it allowing for the different cassette cog spacing?

I'm trying to get the lowest inches down towards 20 inches without resorting to a Deore chainset with the uncomfortably wider Q factor.

Thanks
Hi,

The idea behind the road link is that you can keep your existing drivetrain components and just fit a wider ratio cassette. The Shiftmate 8 is designed to allow you to fit a MTB 11spd rear derailleur (which was designed with a wide ratio cassette in mind so will shift better) and use it with your Ultegra 6800 STI levers.

Thanks.
Is There A Shiftmate That Will Match Tiagra 4703 Sti Levers (10 Speed) With Mtb Chainset?
17 Jan 2017
Subsequently to buying a frame I have discovered that it will not take a road chainset. Having bought Tiagra 4703 STI levers, F & R dérailleurs (and triple chainset) I would like to use what I can to build a touring bike. (My reason for 4703 STI levers was the "clean" cabling under the tape.
Hi,

As long as you fit a touring type chainset so the ratios are 26-36-48 or larger then you don't actually need a Shiftmate as your front derailleur will be able to cope with the range without any issues. We fit this sort of set up to our Thorn bikes all the time.

Thanks.
Shiftmate 8 Component Compatability
09 Sep 2016
Hello,
I want to extend the gearing on my road bike using the Shiftmate 8 and a Shimano M8000 rear dérailleur. The bike has a 50/34 crankset and 11 speed Shimano ultegra STI shifters. Which M8000 RD should I use with an 11-42 cassette (medium cage gs or long cage sgs). Also, which Shimano 11 speed chain is recommended for this setup? What changes would you recommend for the dérailleur (gs vs sgs) or chain if a larger range cassette is used such as a Shimano 11-46 or SRAM 11-50? Can I expect shifting to be a lot rougher with these larger cassettes? Thanks for your advice.
Hi,

The SGS would be the recommended option as it will be able to take up all of the additional slack in the chain. Any Shimano 11spd chain should be suitable as the Ultegra and XT groupsets actually come with the same chain. We would not recommend using anything bigger than a 42t largest cog when using a 50/34t front chainset as it is unlikely the chain will be long enough and the derailleur may not be able to cope.

Thanks.
Compatability
20 Aug 2016
If I use the shifmate 8 can I use 11s shimano STI levers with a 11s XTR derailleur can I then put a Sram xg-1150 Cassette? I am using a 50/34 crankset at the front. Another question is if I do use this setup can I then go on the big ring at the front while being on the big cog at the back without snapping the rear derailleur, I know it's not good for chain alignment but id rather not spend 100 euros on a derailleur and have it broken because of an accidental shift.
Thanks in advance.

Hi,

The Shiftmate 8 will indeed allow you to use 11spd Shimano STI levers with an 11spd XTR derailleur and a Sram XG-1150 cassette. We would not recommend using the big cog on the rear when in the outer chainring, the chain won't be long enough to cope with this so could end up damaging the rear derailleur.

Thanks.
Jtek Shiftmate 8 - Compatibility With Shimano St-Rs505?
05 Aug 2016
Dear Sirs,

I am interested in combining the Shimano ST-RS505 shifters with a Shimano MTB derailleur (11 speed). Is Jtek ShiftMate 8 compatible with these shifters and will it work correctly with an 11-speed derailleur like Shimano XT Shadow Plus RD-M8000?

Moreover, if these components are compatible, what is the biggest cassette that I can use given that I will use a compact 50-34 Shimano 105 crankset (e.g. FC-5800)?

Thank you very much in advance.

Best regards,
Spyros Zoupanos

Hi,

The Shiftmate 8 is the correct part to use those shifters with the XT M8000 rear derailleur. There is no limitation to the cassette size, you could fit either an 11-40T or an 11-42T cassette. You'll just need to be sensible with your gearing selection (so not crossing the chain too much).

Thanks.