Problem Solvers Cable Doubler 2.1
Manufacturer :
SJS Cycles part number :
Manufacturer part number :
Details
Cable Doubler 2:1 The Problem Solvers Cable Doubler 2:1 allows two brake levers in different locations to independently operate one brake.
Product Uses: The Cable Doubler 2:1 was designed for triathletes, tandem riders, and urban cyclists.
For the triathlete with time trial bars, the Cable Doubler 2:1 allows the rider to brake while staying positioned on the aero bars.
A tandem rider might want to install a second brake lever on the back of a tandem for the stoker.
There are numerous urban applications where the Cable Doubler 2:1 might be handy. Some riders will put two brake levers on their fixed gear bikes and run them to one brake.
At Problem Solvers, we keep your options open.

The Cable Doubler 2:1 works only with cable operated brakes: calipers, cantilevers, V-brakes, drums or cable disc brakes.
It works with road and mountain applications.

Technical details: Low profile machined aluminum tube hard anodized with Teflon® allows low friction movement of the internal slider pieces Internal pieces include sliding wedges with precision counterbalance springs that allow for independent operation of brake levers without feedback from each other.
Set up requires three standard cables (at least two road cables) and housing. Cable type is dependent on application Installs easily with common tools including a cable and housing cutter, a 2mm Allen wrench for the set screws in the internal sliding parts, light grease, and optional zip-ties.
Related products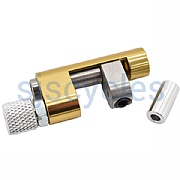 Jtek Double Control Brake Cable Splitter
£39.99 Inc VAT
Quick view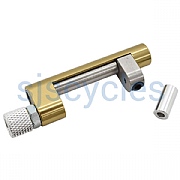 Jtek Double Control Brake / Gear Cable Splitter
£44.99 Inc VAT
Quick view
Product Reviews (1)
Overall Product Rating 5 / 5
Expensive but works brilliantly
16 Dec 2020
I recommend this product
Cons
Eye watering price. Superfluous part included for 1 to 2 usage.
Pros
Works very well. Fairly easy to fit.
If you are in the tiny minority that needs 2 brake levers operating one cable brake (in my case where both riders want to operate the rear brake on a tandem) this device does the job very well and there are few if any alternatives.
It is fairly easy to fit if you are equipped for cutting inner and outer cables to length. Once fitted each lever operates the brake as if the adapter wasn't there.
For some reason an extra part is included to make one lever operate two brakes but there are plenty of alternatives for achieving that so it seems superfluous.
Suitable with restricted grip in one hand?
29 Aug 2017
Hi

My wife has limited grip in R hand. Currently has a twin lever on L side that operates both cable calliper brakes, but that isn't legal. If she put extra lever on R side to also pull on front brake would your product enable that?

Cheers
Hello,

This will work fine with what you want to do.

Thanks.
Are These Available In Black?
19 Jun 2017
Hi, they are only available in grey.