SJSC 5mm Black 200m Reel Brake Outer Cable - Workshop Roll
Manufacturer :
SJS Cycles part number :
Manufacturer part number :
Details
Teflon lined spiral wound brake outer cable, used by Thorn for brake and Rohloff gear outer
Related products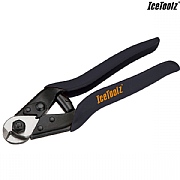 IceToolz Cable Cutter
£20.99 Inc VAT
Quick view
Be the first to write a review
Feel free to leave a review of this product, good or bad it helps other customers with their buying decision.
You say you use this for Rohloff gears. Why not use standard gear outer cable?
22 Feb 2022
Rohloff cables are under much lower tension as all the indexing is done within the hub, the shifter simply pulls the cables to and fro.
The brake outer allows the inner to move with far less friction and the housing itself travels around the bends of the a frame much easier.

Thanks!
Is the outer smooth or 'ridgey'?
24 Aug 2021
Is the black outer surface smooth or is it 'liney' and 'ridgey' whereby the black material is thin enough to see the metal coil underneath?
I have bought cheap cable in the past where the black outer is really thin and prone to splitting more.
Cheers!
Thank you for your enquiry, it is smooth

WD 24/08/21
When will this be available again?
09 Apr 2020
It said it would be available yesterday but it still shows out of stock. Are you still open for business right now?
Hi, yes we were expecting 10 rolls yesterday, however they have been delayed in transit coming from Asia like most things. Hopefully sorted late next week. Yes we are still open. Thanks. 09/04/2020
Is this available in shorter lengths? I want to stick with original spec on my Thorn
03 Apr 2020
Only 200m, we would recommend - SJS Cycles part number : 11345

Thanks - 03/04/20
When will this item be back in stock? It said 1st of May. Now says out of stock.
02 May 2019
Hi, there has been a delay in delivery of this item, we are now expecting it at the end of next week. Thanks 02/05/2019