Eiosix Travel Agent with Adjuster - Black
Manufacturer :
SJS Cycles part number :
Manufacturer part number :
Details
Includes cable adjuster.

The Problem Solvers Travel Agents allow the use of any non-linear pull lever, STI or Ergo lever with any linear pull brake.

Product Uses:
Designed at the time when the industry was shifting from cantilever to linear pull brakes, the Travel Agent allowed customers to keep using their integrated cantilever brake shift levers while upgrading to new linear pull mountain brakes. Today, the Travel Agent still solves problems as it allows the rider to use road drop bars and road brake / shift levers and the stronger linear pull brakes.

Technical Details
- Allows non-linear pull, STI or Ergo levers to be used with linear pull brakes
- Can increase cable travel or can be used as a low friction roller to replace the noodle on linear pull brakes
- Machined and anodized 6061-T6 aluminium

THIS IS FOR ONE AGENT.
Related products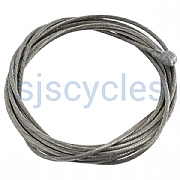 Shimano Pear Nipple Brake Inner Cable Wire - ROAD
£1.99 Inc VAT
Quick view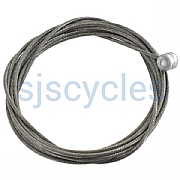 Shimano SLR 1.6mm MTB Brake Steel Inner Wire - 2050mm
Now from

£1.99

Inc VAT
Typical RRP: £5.99
Quick view
Product Reviews (5)
Overall Product Rating 4.2 / 5
Just FANTASTIC
28 May 2020
I recommend this product
Pros
Sharp, easy to mount, ideal to use road levers with V-Brake.
Rebuilding an old MTB as a gravel bike, I mixed a lot of not matching pieces. In exemple Ultegra lever with XT V-Brake. This Travel Agent just lighten my life as it made the use of V-brake easy, sharp and powerful !
Easy to mount, easy to use, seems sustainable.
So glad it exists!
23 Nov 2017
I recommend this product
I love this thing, it's allowed my to fit v-brake and front suspension forks to my road bike while retaining the original brake levers. Only gripe is that it makes it more difficult to tighten the brake line on the fly.
Travel Agent Looses Mechanical Advantage
02 May 2016
Cons
have to keep them adjusted weekly.
Pros
looks like it will work
Experience with Quality Bicycle Products' Travel Agents only:
installed on my tandem when upgrading to Ergo and dropped bars. I found the cables would creep around the pulley. The cable entering the "bridging hole" moved from parallel to the housing/ adjusting barrel, to "3o"clock." Result was effectively lengthening the cable, resulting in loss of mechanical advantage. The brake levers would bottom out! I tried new cables, super gluing the cable at the bridging hole, tightening the brake return springs, nothing worked. Finally replaced the V brakes with short pull cantis. If anyone has a suggestion I'm wide open....
Problem Solved By Problem Solver
01 Dec 2011
I recommend this product
Cons
complex cable path maintenance
Pros
powerful, only solution
A great solution! Being used to hydraulic disc brakes on my theree mountain bikes, I was getting fed up of the poor performance of the cantilevers on my cross bike, I decided to give these a go. Running Shimano STI levers set up with Avid vbrakes and these allow the best function possible. Great modulation allows me plenty of control through the braking ark. They do take a little care to set up, but the instructions are very clear and easy enough to follow. I can see that amount of exposed cable, which curves round the cam, will need attention and be kept clean and lubricated more than an enclosed system, but a little maintenance is small price to pay for confident braking.

The unit seems a little pricey, but they're worth every penny, especially when I consider that I don't have to invest in another set of discs to get reasonable braking on my crosser!
Travel Agent
21 Sep 2011
I recommend this product
Pros
works, neat, easy to use
Wanted to use STI levers with V brakes. While front (with short cable) worked fine rear was very spongy. This neat piece of kit , which replaced the brake noodle, made all the difference and now hav
Can this product be used inline, instead of at the brake?
18 Nov 2020
My brake setup leaves no room for a travelmate at the brake - but I need one somewhere, so I'm wondering if I could use one elsewhere in the cable run, e.g. at the junction between handlebar and stem, where it would actually be very convenient. Any words of advice?
This product can only be used at the brake itself, as placement anywhere else may result in degraded performance.

JK 18.11.20

Do these come as a complete set?
11 Jan 2019
Can you please comfirm is the price £29.99 for adjusters for front & back brakes or is it £29.99 per brake?
I require adjusters to allow me to use sti levers with vbrakes both front & rear. If you can confirm whether I need to order 1 or 2 and reserve them until I receive a reply and get a chance to order.
Much appreciated
Lyndon
As stated, these are singles.

Thanks - 14/01/19
Do you stock a cable adjuster I could use with the travel agent I already have?
04 Apr 2018
Hi there,

Unfortunately we do not have a cable adjuster to suit this alone.

Thanks