Tubus Clamp Set - Rack Eyes for Seat Stay Mounting
Size
Manufacturer :
SJS Cycles part number :
Manufacturer part number :
Details
A high quality luggage carrying solution for frames without specific braze ons. These are better than regular P clips, and allow bikes to safely carry luggage, but be careful to not overload the frame. Simply choose the relevant size for your frame.
Related products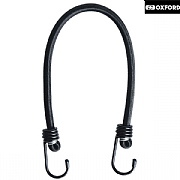 Oxford Bungie Elasticated Strap 75cm / 29.5 Inch Long
£2.99 Inc VAT
Quick view
Product Reviews (8)
Overall Product Rating 4.9 / 5
Excellent, nice bracket, well made
24 Sep 2020
I recommend this product
Excellent,nice bracket,well made
Well Made and Solid
14 Oct 2017
I recommend this product
Pros
Excellent quality, makes for a solid fixing.
I bought two pairs of these to fix racks to a couple of bikes with no built in fixings. Having read earlier reviews I ordered a set a little bit larger than the stay. In my case I used amalgamating tape to avoid a metal on paintwork join.

They're well made, strong and the fitting instructions are clear.
Rock Solid
09 Jun 2012
I recommend this product
After using flimsy P clips and seriously scratching the paintwork on my seat stays, I realised that solid clips are vital. Even though the final cost for 4 clips totalled £20.48, they are worth it, especially if you need to carry heavy loads.

I recommend buying a set which are a few mm too large, so you can wrap some used inner tube around the stay, as the set up in the picture would scratch your paintwork.


Royal Fit
06 Dec 2011
I recommend this product
Pros
Well made and functional
Bought these to secure a twin leg rack to my Raleigh Royal which previously had been secure to the brake bridge. These are well made clamps and may not be suitable for people I meet out and about cycling who prefer everything loose and hanging off their bike. Makes for a very stable and secure fitting. Probably only bettered by having 'braze ons' brazed on.
Excellent Accessory
06 Sep 2011
I recommend this product
Used to secure a rack to an old Claude Butler mtb. Very secure and robust fitting, but the bolts supplied with the 18/19mm set are not long enough to connect the inner part of the clamp, I'd suggest buying a size larger. Otherwise, very easy to attach and use.
Tubus Clamps
08 Mar 2011
I recommend this product
Pros
Superb value and strong
Rebuilt a old Dawes Horizon for touring. Big surprise when no brave ons on seat stay. These are real quality, superbly strong and spread the load all around the stay as oppose to a braze on. They are a little fiddly but 10 mins and your done.
Excellent Clamps To Fit Rack To Frame With No Eyelets
19 Feb 2011
I recommend this product
I used these to fit one rack to a frame with no eyelets, and ended up doing more than one bike. These are excellent clamps to fit rack to frame with no eyelets. Very secure. Just take your time making the initial fitting.
Tubus Clamps
07 Feb 2011
I recommend this product
Having previously used the plastic coated P Clips I was after a more secure method of attaching a rack to my GT Zaskar. These are very robust and there is no detectable movement of the rack irrespective of what I pack in my Ortlieb panniers
What rear rack should I buy with these?
01 Jun 2018
Is any rear pannier suitable or does it have to be a Tubus?

I want to add 2 rear panniers for clothes and camping equipment and place my tent on the top of the rack.
Hi there,

These should fit other racks.

Thanks
Tubus Seat Stay Clamps
11 Aug 2014
this may be a dumb question but what does the stated size of the tubus seat stay clamps refer to? Is it seat stay diameter?
Hi, yes that is correct it refers to the seat stay diameter. Regards, Jamie