Surly Nice 2.0 Cro Mo Front Rack
Colour
Manufacturer :
SJS Cycles part number :
Manufacturer part number :
Details
The Surly Front Rack is fully adjustable to accommodate most forks. It works on forks that have 26-29" wheel with or without fenders, including all Surly forks. . . Except the Pugsley fork and Moonlander forks (due to the offset of the Pugsly fork's driveside blade and the width of the Moonlander fork).

The stock rack and hardware is designed to fit Surly road touring forks. Additional hardware is need to accommodate other forks, and can be found by contacting Surly or your local bike shop. The height of The Surly Front Rack can be fine tuned to keep the weight of your cargo as low as possible. And, you can get the angle of your rack parallel to the horizon, regardless of your fork rake, curve radii, or braze-on locations. Your panniers can ride high or low.

Keeping your weight low keeps your bike stable. But, in some cases you'll want to run your panniers high to keep them out of the tall grass or mud (if you're riding on heavily rutted roads or trails). This rack is truly versatile.
Related products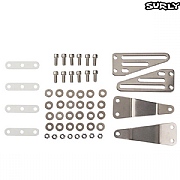 Surly Front Rack Plate Kit 2 for Unicrown Forks / MTB
£24.99 Inc VAT
Quick view
Product Reviews (2)
Overall Product Rating 5 / 5
Very sturdy
27 May 2023
I recommend this product
Pros
Build quality and fittings
This is a brute of a rack, build quality is very good, looks like it will serve for many years. It is supplied with a selection of fittings and attached to my adventure forks with no problems, plenty of adjustable to get a perfect fit.
The daddy of front racks!
19 Sep 2019
I recommend this product
Cons
Possible difficulty with fender compatibility
Pros
Bomb proof, beautifully finished, infinitely adaptable, last forever
The best out there! Difficult to fit fenders underneath on 700c 44mm wide tyres.

As with all Surly stuff, it looks the biz. They now have an add on called the Surly TV Tray which bolts to the top and turns it into a Porteur style rack top (to use with the aptly named Surly Porteurhouse bag). This will also make the top of the rack easily big enough for a 24 pack of beer bottles

Don't waste money on trying to save money. If you want a well made rack that's suitable for touring, cargo biking etc then just buy this and have a partner for life!
Is this rack compatible with a Focus Atlas 6.7 EQP?
30 Jul 2023
I have a Focus Atlas 6m7 EQP, will this rack be compatible?
Thanks
James
Looking at the fork design I would say no, it does not have a distinct mid and lower mounting point, only fixing for an anything cage mount. SK 31/07/23
will this fit my Raven Tour steel forks?
20 May 2023
Provided your forks have full rack mounts then it ill fit the bike. 22/05/23
Front light mount
30 Jul 2021
Could you recommend a front light mount for this please?

I have a SON edelux 2 and would like it to not protrude too much.
Something like SJS part 23928B58 would likely suit for this.

JK 30.07.21
Can I use this with a 2019 Felt Broam 60?
21 Sep 2020
It's about 140mm between the mount point below to the thu axle to the fork eyelet, thanks!
No, those forks are designed to fit mudguards only.
The mounts are definitely not suitable to have any load from a rack on, and are too low.

Thanks
can i use this
18 Sep 2020
.I have a voodoo marasa hybrid with 20" frame and disc brakes would this work as looking to turn it into a touring bike
As we do not stock your bike, we cannot confirm if this will fit your bike.
Compatibility with Soma CrMo Road Fork
31 Jul 2020
Hi, does this rack fit this fork?
https://southerndistributors.co.uk/product/soma-road-fork-theaded-1-cp-140mm/
Thank you very much.
Yes, it is compatible!

Hope this helps
hi any idea if this will fit a nomad disc fork
06 Mar 2020
We have not fitted, but on paper, yes this would fit.

Thanks - 06/03/20
Son Edelux II
23 Feb 2019
Hi,
I have a SON Edelux II light fitted to the crown of my forks. Will it work as it is this rack, or will it need mounting on the rack itself?
Kind regards. -)
You will need to mount the light elsewhere as the rack will not fit to the bike with the light on the crown of the fork.

Thanks - 25/02/19
Can use this rack on a 700c gravel bike with disc brakes on?
10 Feb 2019
Hello,

I am looking for the right front rack onto my Jamis Renegade Exile 2016. The frame size is 56 cm.
Looking at the bike in question, we would not recommend that any front rack would be suitable on the stock forks. Your options could be using a handlebar mounted or steerer tube mounted bag / rack.

Thanks - 11/02/19
Can I use this with Fuji Touring (2018) forks? Thanks, Michal
05 Sep 2018
HI there,

As we do not stock that particular bike we would'nt have anything to refer to in terms of fitting im afraid.

Thanks.
Cantilever fork
25 Jul 2018
Hello, does this rake fit an old mountain bike fork with cantilever brakes? Does it need additional hardware?
Thanks, Andrea
Hi there,

This rack is designed to fit most forks as it is fully adjustable. In terms of needing extra hardware it would be hard to say without knowing which forks you have.

Thanks.
Technical drawings...
17 Jun 2018
Hi

Is there any technical drawings for this rack. There is non on surly's website and it would help a lot for checking compatibility.
Thanks.

Tamas B.
Unfortunately there are no technical drawings produced, this may help you though - https://surlybikes.com/uploads/downloads/Surly_Front_Rack_Instructions.pdf

Thanks
Is it possible to fit this on a NOT Surly bike with unicrown fork
11 Feb 2018
Hi there,

Yes this will fit many different forks that are not Surly forks.

Thanks
Is the hardware kit included in the price?
29 Jul 2017
Hi, yes a fitting kit is included with this rack. Thanks.
So Surley Front Rack Works With Lht With 700C Wheels? Thanks Nick
24 Apr 2017
Hi,

This Surly front rack will be fine for use on a 700c LHT fork.

Thanks.
What'S New With Version 2.0?
02 Apr 2017
What's different with the 2.0 version of the Surly Nice Front Rack compared to the old one?
Hi,

The 2.0 racks have different hardware and plates to make them better as disc compatible out of the box. The general construction of the main rack has not changed.

Thanks.
Will I Need A P-Clamp To Mount?
28 Mar 2017
Hi, will I need a P-clampt to mount it to a front suspension 26" mtb that does not have brake bosses? Thanks
Hi,

You will indeed need P-clips to fit it to a fork without brake bosses or rack mounts. We have never tried to fit one of these racks to a suspension fork at all though so we don't know how the rest of the clearances will line up I'm afraid.

Thanks.
Do You Have A Bracket For Attaching A B & M Lumotec Iq-X To The Front?
11 Feb 2017
Hi,

The mounting point on the front of this rack is designed to work with normal fork crown fitting brackets that come supplied with dynamo lights. The bracket that came with your light will fit directly to this rack or if you require a new one practically any fork crown fitting dynamo light bracket will work with this rack as well as your light.

Thanks.
Fitting With Dynamo Light
03 May 2016
I have a Disc Trucker fitted with a BUSCH & MÜLLER Lumotec IQ2 Luxos U at the moment (50cm frame=. Was wondering whether this rack would work with the light fitted as it currently sits (just at the crown of the forks), or would it need some bodging...and if so where do you reckon the light would go?

Not so keen popping the light right at the front of the rack, as that looks a bit fragile! Thanks!
Hi,

Fitting this front rack would interfere with the front light if it is mounted to the fork crown. Fitting a light to the front of this rack is possible and is quite stable, other options though would include running a longer cable and fitting the light to the handlebars.

Thanks.
Surly Nice 2.0
20 Jan 2015
Hello,

is in this case the carrier mounting hardware?

Best Regards
Mike

Hi,

all of the mounting hardware required to fit this rack is included with the rack.

Thanks.