Thorn MkV Cro Mo Steel Lo-Loaders - Black Powder Coat
Manufacturer :
SJS Cycles part number :
Manufacturer part number :
Details
- Set of 2 (Left and Right)
Perfect for adventure touring, cycle camping, carrying the shopping, whatever you need to do.
We believe that our Thorn carriers are the strongest carriers on the market, they have been used in extreme conditions, with massive weights and nobody has broken one yet that we know of!
Our carriers are made from 10mm seamless, cold drawn, heat treated, aerospace Cr-Mo steel.
We have our tubes heat treated which makes a significant difference to the Ultimate Tensile Strength but can cause some slight imperfections in the straightness. – when fitting, please be aware you make need to tweak the rack slightly but we can assure you this does not affect the strength in any way.

Dimensions;
Height 305mm
Top rail width 215mm - of which 180mm is useable
Weight 560g.

Max load when used on surfaced roads;
When fitted with 6mm screws - 18kg per side
When fitted with 5mm screws - 12kg per side
These figures should be halved when being used on South American Ripio etc.

These will fit onto all standard Thorn forks with low loader bosses.
They will also fit onto other forks with the 165mm between top & lower fork bosses. The top boss needs to be accessible from both sides.
Related products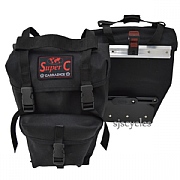 Carradice Super C Front Panniers - Black - 28 Litre
Now from

£78.99

Inc VAT
Typical RRP: £99
Quick view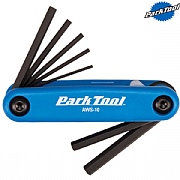 Park Tool AWS-10 Fold Up Hex Wrench Set - 1.5mm to 6mm
£14.99 Inc VAT
Quick view
Product Reviews (3)
Overall Product Rating 5 / 5
19 Jun 2018
I recommend this product
Cons
maybe ebst with Thorn forks
Used it for 7 years. Most of te time in Denmark. Also at wintertime. It works super nice. No problems on trips across US, Europe and Australia.
Fits Neatly On A Surly Ogre Fork
29 Jan 2016
I recommend this product
Even with two Salsa Anything Cages mounted on the same fork! Awesome. I only needed two extra thick washers on the lower screws, because the fork is rather thick as well.

Looks good, and feels very solid and strong.
Solid Performer
22 Feb 2013
I recommend this product
Cons
A little fiddly to fit first time
Pros
Strong, Well Made, Quality Steel
A good strong rack, well designed and well made. A bit of a fiddle to fit initially but too much of a problem when you get started. The effort is worth it. Front panniers are held solidly in place without any movement of the rack.
Add over wheel loop variant?
14 Mar 2022
As the then Ctcs Technical Officer thought even thru mid fork eyelet racks like this should have a connecting overwheel hoop, have you considered making a hooped version to suit non thru midfork eyelids?
For any information or advice on any of Thorn bikes, frames and forks or parts, please contact our dedicated Thorn bikes sales team either on 01278 441505 or
[email protected]
and they'll be able to provide you with all of the information you need.
Bolt hole size? Fit Raven Sport Tour?
02 Feb 2021
Will this fit my Thorn Raven Sport Tour (2005) which has M5 bolt holes? There is a pair spaced 165 mm apart and they are double-ended, like an egg timer, which looks promising. Does the rack have M6 bolt holes?
Thanks for enquiry, yes will fit fine

WD 02/02/2021
Does it come with the bolts needed?
26 Feb 2020
Hi, no you need to get them separately depending on your fork thread hole spec. Thanks
Fit for a Troll ?
11 Nov 2019
Hello SJS, I'm wondering if this rack will fit on a 2019 Surly Troll (26" wheels). Thanks, Finn
Designed for Thorn forks, they will also fit onto other forks with the 165mm between top & lower fork bosses. The top boss needs to be accessible from both sides. I don't have a Surly Troll Fork to measure but looking at the pictures online the upper boss looks far too high to accept this rack, BUT you have one so you can take the measurement.
Measured 163mm center to center on older Dawes galaxy, good chance it will work?
16 Jun 2019
Hi,

these are designed to fit forks with 165mm between top & lower fork bosses so it is possible this won't work judging by the dimensions you have given.
Is there a prop stand that works with this rack?
09 Apr 2019
Hello, I was wondering if a low rider kickstand exists for this rack? With our tandems fully loaded it would be much more stable to have 2 points of stabilisation with a rear and front kickstand. Thank you.
Hi
Thank you for your enquiry, we've spoken to our Thorn team & they are not aware of any stand available that could be fitted to their low rider rack & it is not something that they have tried as yet.
Regards. 11/04/19
can you tell me if the thorn MkV can be fitted with disc brakes?
04 Apr 2019
Yes, depending on the fork and disc brake caliper.

Thanks - 05/04/19
Can you tell me if the Thorn MkV Lo-Loader can mount and sit level on Surly LHT forks? Thanks.
29 Aug 2018
Hi, we do not have any Surly LHT forks so can not confirm if the Lo-Loader will fit and sit level. Thanks
Will this interfere with the front mudguards?
19 Dec 2017
Will I still be able to fit this to the front fork, without it interfering with my SKS Chromoplastic 700c mudguards?
Hi,

It depends how many bosses you have, in an ideal world you would not double up, but you could. You could also attach the mudguard stay to the lowrider, or to the fork using a P-clip.

Thanks
Will This Work On A Mt Tura Fork?
22 Aug 2016
Is this a bolt on rack for the Mt Tura fork?
Hi,

The front low loader will mount onto the Mt Tura fork absolutely fine.

Thanks.