Tubus Airy Titanium Rear Rack for 26" , 559 & 700c , 622 Wheels
Manufacturer :
SJS Cycles part number :
Manufacturer part number :
Details
Here is what Tubus say of their new AIRY Rear Rack:

With the AIRY tubus introduces the first carrier made of titanium. With a maximum load of 30 kilos and a weight of 230g, AIRY breaks every record. Titanium is a very difficult material to work with. It can only be cut & processed with special tools & machinery. The material titanium is extremely corrosion resistant & strong, which makes the AIRY carrier nearly indestructible. Due to its limited length the AIRY works best with Front Panniers & is not compatible with the Ortlieb Backroller pannier.

Material - Titanium
Weight - 230g
Max Load - 30 kg
Wheel Size - 26" (559) & 700c (622)
Similar products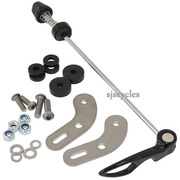 Tubus Adapter Set for Quick Release Axle Mounting
£24.99 Inc VAT
Quick view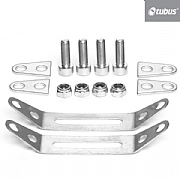 Tubus Clamp Set - Rack Eyes for Seat Stay Mounting
£9.99 Inc VAT
Quick view
Product Reviews (2)
Overall Product Rating 3.5 / 5
Nice
30 Apr 2015
Tubus Airy Titanium Rear Rack for 26" , 559 & 700c , 622 Wheels
Cons
poorly designed mounting system
Pros
light, looks nice, high quality
Nice bit of kit indeed. The rack itself is simple but well executed. The top part is very narrow so dont expect to carry much there and the rack is sort of short/small.

however i do think the mounting kit is very poorly thought (although the pieces are very nicely machined and of excellent quality). Why dont rack manufacturer, especially for their top range product, dont include some spherical joint attachment. That would make the process of fitting the rack so much simpler.

So overall 10/10 for quality but really, 4/10 for innovation and engineering of the mounting system.
Made in China
27 Jul 2009
Tubus Airy Titanium Rear Rack for 26" , 559 & 700c , 622 Wheels
A bit expensive for a Chinese made rack
Does It Fit Lynskey Supportive With Disc Brakes
01 Nov 2014
Dors it fit a Lynskey supportive road Nike with disc brakes?
SJS Customer Service:
Hi,

Your bike has suitable mounting point to accept this rack so it should fit fine, but that being said as we have never tried to fit one of these racks to that particular bike I can't say for definite I'm afraid.

Thanks.