Wheels Manufacturing 7 Speed Cassette on 8 Speed Hub Body Spacer - Each
Manufacturer :
SJS Cycles part number :
Manufacturer part number :
Details
4.5 mm spacer for allowing a 7-speed cassette to be installed on an 8 or 9 speed freehub body
Machined from 6061 aluminium
Related products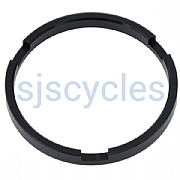 Jtek 7 Speed Cassette on 8/9/10 Speed Hub Body Spacer - Black
£2.99 Inc VAT
Quick view
Product Reviews (1)
Overall Product Rating 5 / 5
Wheels Manufacturing 4.5Mm Spacer - 7Sp Cassette On 8Sp Hub
14 Jul 2011
I recommend this product
Worked just fine, with just a minimal amount of adjustment to make the new setup shift sweetly. Used on a new hub to replace a 7 speed freewheel.
Does a shimano 8 speed cassette require a spacer if using a shimano freehub
26 Mar 2018
If you are using a 8 speed cassette on a 10 speed freehub you need - SJS Cycles part number : 44782

Thanks
Will this work on a screw type freewheel
14 Nov 2017
Will this fit the screw on type 7 speed shimano freewheel. I have an 8 speed screw on type wheel and a 7 speed freewheel.
Thank you
Hi,

This is designed for cassette hubs only so would unfortunately not be suitable for your wheel. You should not need a spacer to fit a 7spd freewheel to your wheel though, all that will happen is the chainline spacing will be slightly closer to the wheel than the frame.

Thanks.
Did Not See Groove Mark On Spacer, Will It Fit Shimano Freehub?
18 Dec 2015
Hi,

This spacer is designed for Shimano freehub bodies, there is no grooves because it sits over the top of the splines on the freehub body.

Thanks.
Inner/Outter Diameter
05 Oct 2014
Could you please provide the inner and outer diameter of this spacer ring?
Hi,

The inner diameter of this spacer is 35mm and the outer diameter is 38mm.

Thanks.