Thorn 110mm BCD 5 Arm Reversible Single Chainring 3/32 Inch - Black
Teeth
Manufacturer :
SJS Cycles part number :
Manufacturer part number :
Related products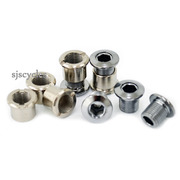 I.D. Chainring Bolts
£5.99 Inc VAT
Quick view
Product Reviews (5)
Overall Product Rating 4.4 / 5
Indestructible chainring
09 Apr 2020
I recommend this product
After 10,000 miles I replaced the chainring like for like, together with a new chain. Amazing wear quality
Pretty good
01 May 2018
I recommend this product
Cons
Just a little too thick for a Hebie Chainglider cover
Pros
Durable, good chain fit. No flex.
Have ridden about 10k miles with this chain ring (42T) on a bike with Rohloff hub. Rear sprocket std 16T. Hardly any wear at all on this ring. I do use a Hebie chain cover though which keeps the chain nice and clean. Also negligible chain wear as well - KMC X1. It is good that this chain ring is thicker so the chain sits a lot snugger on the teeth but the down side is that being thicker the Hebie Chainglideris a little too tight for it so has worn away half the surface of the chain ring where the Thorn logo and ring details are written 7075T6/42T so you can just about still read them.
A Stainless Version Please.
24 Apr 2016
Pros
Rigid, strong, great chain engagement
I'm running these chainrings on both my hub geared recumbent trikes & also a fixed gear bike. The tooth profile is perfect. It engages smoothly but is deep enough so that on my trikes I don't need any chain management to prevent chain dumping on bumpy high speed corners. It also means that you can run the chain aa little more slack of fixed gear for an even smoother pedal motion. They also absolutely refuse to warp even after 10k miles of use even on a log chained trike with high chain tension.

My issue with them is that after 10k miles they're worn out on both sides. With my fixed gear bike this perfect as you swap the direction of the chainring for its second chain & sprocket pair at 5k miles. However, with a 270 link chain this limits chain life to about 10k miles, with stainless chainrings I get 15k out of a chairing/chain/sprocket set.
Chainring For A Fixie
17 May 2012
I recommend this product
Cons
Other colours would be nice.
This is the third Thorn chainring I have bought, with more teeth as my leg strength improves. Good strong part, would like colours other than black for road use just 'cos it's more on trend. Good value.
Tuning My Rohloff Gear 11
03 Feb 2012
I recommend this product
Pros
Quality, longlasting, reversible
I altered my sprocket and chainring to get gear 11 just right for level road fully loaded riding.
The old chainring looked perfect after a couple of thousand miles. The replacement is a duplicate apart from having more teeth.
Easy to fit, especially with a chainring bolt spanner to hold whilst tightening the other allen key end of the fixing bolts.
Could this replace a single Stronglight chainring?
02 Feb 2022
Stronglight is 46T-10/9 speed 7075 CNC. Compact Concept 110mm. Used with Rohloff 19 tooth sprocket.

Looking at replacing with 40T.
Thank you your enquiry, yes this will be fine
Can I use this chain ring with shimano XTR FC-M960
02 Apr 2021
Is it possible to use this chain ring with shimano XTR FC-M960 crank set? I want to use with Rohloff hub if it compatible.
No, the 960 uses a 146mm outer BCD, and 102mm Middle so we have absolutely nothing to fit!

Thanks 06/04/21
What Square tapered crankset do you recommend for use with this Chainring on my Rohloff bike?
30 Dec 2020
What Square tapered crankset do you recommend for use with this Chainring on my Rohloff bike?
We suggest SJS part: 43221 for the 175mm crank length.

Hope this helps 30.12.20
1x11 use.
22 May 2020
Hello,
Is this a narrow/wide fit? I am looking at fitting it to a 5 arm sora crank 110 pcd/bcd running an 11 speed.
No, this is a single ring. Look at - https://www.sjscycles.co.uk/chainrings/34-hope-retainer-ring-110mm-bcd-5-arm-black/
Thanks - 22/05/20
can i us
17 Oct 2019
ecan i us the 50t and 40t chainrings on your thorn150 mm 110 bcd crankst and alsow will i need any spacers and bolts with it being a double chainring
Yes, but they wont shift between each other as they are SS rings with no ramps or pins. You may need spacers, definitely longer bolts, this depends on your set up.

Thanks - 21/10/19
Can I use this on a Brompton 6 speed?
14 Sep 2018
Yes this will work on a Brompton.

Thanks
Will this fit on an FSA Vero 110mm spider?
01 Jun 2018
I'm looking to do a simple 1x conversion of my 2014 Trek 7.6 FX. It's fitted with a 50/34 FSA Vero crankset. Can I install this on the same spider?
Hi there,

We would recommend using this chainring as it will gold the chain much better - SJS# 47863T34

Thanks
36T availability?
27 Sep 2017
Hi there, do you have 36T of this chain ring? I only see 38T and 36T on your website! Thanks!
Hi,

We do have the 36T version of this chainring available, you can select this size from the drop-down menu.

Thanks.
Would This Be Ok For A 1 X 10 Road Setup ?
06 Jul 2015
Hi,

Unfortunately this chainring would not be suitable, this chainring is designed for 3/32" chains which are a much wider gauge than 10spd chains so a 10spd chain would not sit properly onto this ring I'm afraid.

Thanks.