Thorn 130mm BCD Double to Triple Conversion Chainring - 38T
Manufacturer :
SJS Cycles part number :
Manufacturer part number :
Details
Any 74mm PCD chainring will fit to this adaptor ring, making 130mm PCD double chainsets into triple chainsets.
Related products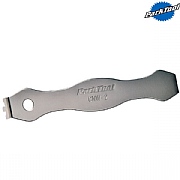 Park Tool CNW-2 Chainring Nut Wrench
£5.99 Inc VAT
Quick view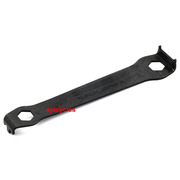 Shimano TL-FC21 Chainwheel Peg Spanner
£5.99 Inc VAT
Quick view
Product Reviews (1)
Overall Product Rating 2 / 5
Not Suitable For 10 Speed Setups
08 Aug 2016
Pros
Good well made product
Bought ring to replace a Stronglight ring which was worn. First impressions were of a solid well made product. That solidity (thickness) was its downfall. The teeth are machined towards the inner side of the ring leavind a wider champer on the outside. The gap so created between the middle ring and outer ring teeth are sufficient for a 10 speed chain to slip between.
It will fit a duraace 7803 set but you have to but a 74bdc inner ring as the DA one is a 90bdc
What Is The Weight?
15 Mar 2016
What is the weight?
Hi,

This chainring weighs 80 grams.

Thanks.
What Is The Actual Colour Of This Chainring?
15 Mar 2016
What is the actual colour of this chainring?
Hi,

The colour of this chainring is a dull grey.

Thanks.
Is It Made Of Alluminum Alloy?
14 Mar 2016
Any bolts and nuts included for the 74 BCD chainring?
Hi,

This chainring is indeed made from alloy. There are not bolts or nuts supplied I'm afraid, so you'll need to purchase those separately. The correct bolts would need to be standard single chainring bolts and nuts.

Thanks.
Re Answer To Previous Question
30 Dec 2013
Thanks. It sounds as though this may be a solution to obsolete middle ring for Dura Ace triple. Just one more thing, is this ring ok for 10 speed chain.
Hi,

Yes the ring should be okay for 10spd.

Thanks.
Re Reply 30Th Dec.
30 Dec 2013
Re your reply of 30th December, on a Dura Ace 7803 triple chainset, the inner ring bolts to the middle ring and ther are no mounting points for the inner ring on the crank.
Hi,

As your chainset is a triple I assumed it would have normal triple ring fittings, if this is the system that is already in place then this ring should be a suitable replacement.

Thanks.
Is This A Suitable Replacement For A Dura Ace 7803 Ring
29 Dec 2013
As Dura Ace 7803 middle rings are no longer available, would this be an alternative and also buy a new 74 mm bcd inner ring to suit this middle ring.
Also, is this ring suitable for 10 speed chain.

Hi,

I'm afraid this won't fit your chainset, it designed for double chainsets, if it is used with a triple ring chainset the extra long arms will not fit past the mounting points for the small ring.

Thanks.