Shimano CN-HG40 6 / 7 / 8 Speed Chain 116 Links
Manufacturer :
SJS Cycles part number :
Manufacturer part number :
Details
- Hyperglide (HG) series 6, 7, or 8-speed compatible chain, recommended for Altus and older Alivio / STX drivetrains.
- HG technology has chamfered inner plates to optimise shifting performance on HG sprockets.
- Comes with quick and easy to use connecting link.
- Durability is assured through the heat treatment of rollers, pins, and plates.
- Mushrooming of the pins gives unsurpassed side-plate retention, enabling the chain to far exceed the BS/ISO standard for breaking force.
- 7.3mm chain width, optimised for 7- and 8-speed HG drivetrains.
- 116 links, 335 grams.
-Compatible with Shimano SM-UG51 Quick Links.
Related products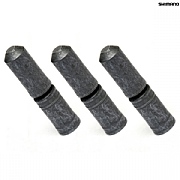 Shimano 8 Speed Chain Connecting Pins - Pack of 3
£7.49 Inc VAT
Quick view
Product Reviews (5)
Overall Product Rating 4.8 / 5
Good Quality Chain
09 Sep 2021
I recommend this product
Good Quality Chain at a reasonable price. You cannot ask for much more.
Good product
18 Aug 2017
I recommend this product
Delivered as promised. Fitted OK. Expect same life as previous Shimano chains.
Shimano Cn-Hg40 Chain With Connecting Link 116 Link 6/7/8 Speed
04 Nov 2011
I recommend this product
Pros
More than long enough. Connecting link is great.
Does exactky what it says on the tin (well box). Very good chain with a few links to spare compared to the one being replaced. Obviously you need a chain tool for the initial sizing and removal of the old chain.
The inclusion of the connecting link is fantastic as it made reassembly much easier and gives you an easy removal point for future cleaning, without the need for the chain tool.
Shimano Cn-Hg40 Chain With Connecting Link 116 Link 6/7/8 Speed
26 May 2011
I recommend this product
Shimano have come a long way in the past thirty five years, the quality of their products ls now very good and this component reflects this.
Shimano Cn-Hg40 Chain With Connecting Link 116 Link 6/7/8 Speed
15 Apr 2011
Pros
Easy to put on the bike
I found this very easy to install on my bike. After removing the old chain and comparing the sizes, I found that they were almost identical in length and did not have to remove any links from the new one. It was then just a case of threading it through the gears/derailleurs and joining the two ends with the snap on link component. A low cost but good quality item which will get you mobile again easily and quickly.
Compatibility with Raleigh Record Ace
01 Mar 2021
Hello. I have a Raleigh Record Ace bought early 1980s. Rear cassette is 6 speed, gears are Shimano 600. Would this chain be compatible? If not, please could you recommend one which would be? Thank you and best regards.

Thank you for your enquiry, yes will be fine

WD 02/03/21
Hi. Is this suitable for a Acera CS-HG41-8 (11-30T) cassette sprocket?
23 May 2020
Thanks very much.
This vs HG71?
17 Dec 2018
Is there much difference?

I am running a deore m591 9spd with a 7spd cassette on a 1987 Raleigh Royal.

Thanks SJS!
The HG71 is slightly higher quality.

Thanks - 18/12/18
Shimano CN-HG40 6 chain - can I use this with...
05 Jan 2018
...the 6 speed 14-28 Shimano hyperglide freewheel?
If not, do you sell a chain that'll work with that block?
Thanks
Jo
Hi there,

Yes this chain will be suitable.

Thanks
Chain Confusion
04 May 2017
Back when the dinosaurs roamed the earth, there was a standard width chain because there were 5 cogs on every freewheel which went onto a 120mm OLN rear hub. There was, briefly, a narrow 6 speed freewheel which required a narrow chain but that fell by the wayside when the standard 6 speed freewheel which went onto a 126mm OLN rear hub was introduced (then, later, a 7 speed which went onto a 130mm OLN hub). My question is this. If this chain is suitable for 6 and 7 speed freewheels, why isn't it suitable for 5 speed ones. Surely the sprocket spacing is the same, the hub is just wider? By the way, I'll be using a Shimano MF-HG22 SIS 6 speed freewheel on my current build but my next project will be using an old school 5 speed Suntour CX freewheel.

Hello,

This chain is compatible with a 5 speed but when Shimano bought this product out they no longer produced anything 5 speed, hence why it was not advertised.

Thanks.
Suitability For Ird Classica 6 Speed Freewheel
30 Dec 2015
I am looking to replace the 6 speed freewheel on my 1987 Dawes Galaxy with the IRD Classica. Will this Shimano chain be suitable to go with the new freewheel? The derailleur is the original Suntour ARll with friction shifters.
Will I Be Able To Remove Links With A Ct7 Chain Tool?
26 Aug 2015
Hi,

Unfortunately you will not be able to use that tool with this chain or any geared chain. That chain tool is only compatible with single-speed chains and is not compatible with 3/32" (7/8Spd) or narrower chains.

Thanks.