Fietsen op Maat Crank Shortener - Left or Right - Each
Manufacturer :
SJS Cycles part number :
Manufacturer part number :
Details
The Crank Shortener is designed for people who have different length legs or for those who cannot reach the pedals in the most downward position. This cycling device neutralizes any problem or inconvenience in leg length. For all other problems related to knee bending / flexing or lower leg prostheses / implants, Fietsen op Maat recommend to use their eccentric pedal device.

Features:
- It compensates all problems related to leg length
- Easy and quick installation with the use of your existing pedal
- Suitable for all bikes, tandems and exercise bikes including electric
- Universal solution for either side, left and right (one unit containing both left and right threads supplied only, if you require crank shorteners for both left and right cranks, two units will be required)

The crank shortener is made of high-quality aluminum and anodized in a neutral finish.

Contents:
- 1 x Crank Shortener
- 1 x Back Plate
- 2 x Back Plate Fixing Screws
- NOTE: This product WILL mark your crank it is not suitable for carbon cranks
Related products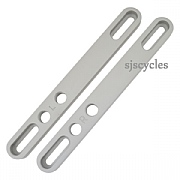 Thorn Crank Shorteners
£59.99 Inc VAT
Quick view
Product Reviews (4)
Overall Product Rating 5 / 5
25 Jun 2020
I recommend this product
Pros
Adjustable for each leg
Having had two total knee replacements and not regained my full knee bend in either knee I was unable to cycle. These crank shorteners work, they can be adjusted for differences in each knee and I am now using them daily on a turbo trainer so i can regain strength. What is great, is if my knee bend improves they can be adjusted.
Excellent product
26 May 2020
I recommend this product
Pros
Does what its supposed to.
Simple design, but an absolute godsend after weeks of trying to obtain shorter cranks, SJS advised me of this product and me and my replacement knee have not looked back. Highly and unconditionally Recommended.
18 Oct 2017
I recommend this product
Have knee replacement heel only on pedal now now sole as normal on both pedals struggles gone enjoyments back
Helps with knee replacement
25 Aug 2017
I recommend this product
Saw a different product at SJSCYCLES when I rang about was given a link to this. It's actually better than some others on market because it's infinitely adjustable.
I have used this to shorten by 47mm, the only issues I've had are cramps behind knee, found the answer was to drop my heel down at bottom of the pedal stroke just enough to stretch the back of knee.
As my knee improves I'll start to lengthen it again, one thing I've noticed is the difference on the down stroke. It's on 128mm just now, I'm considering getting another to shorten the other side to 160-165mm to see if it helps reduce fatigue on inclines.

If you see this and it interests you ring and ask for Jamie in sales as they have a different types for different cranks.

Used 3 times after 12hr shifts, works ok, couldn't use it on 175mm unless just woken & used ice. Definitely a cycling life saver for me.
Does this item fit a modern Shimano crank ?
10 Nov 2021
Yes it should fit most cranks all ok.
Are there 2 distinct L/R threaded versions?
10 Nov 2021
No, this one item can we used for left and right

JK 10.11.21
Will this increase Q factor?
14 Jun 2021
Suitable for Peloton?
10 Apr 2021
Hi there, are these crank shorteners suitable for the original Peloton bike? Standard Peloton cranks are 170mm.

Thanks
This works with most cranks- while we have not tested with Peloton it's unlikely that this would not suit.

Thanks, 12.04.21
Can this be used on shimano hollowtech crankset
16 Jan 2021
Yes it can, however, we would not recommend it for superlight Shimano cranks- XTR/ Dura Ace.

Thanks 18.01.21
Hi, I am interested in the above product but am not sure whether it will fit securely on my cycle.
01 Jul 2019
Can this product be adapted to fit my crank which has a slightly curved front face ? It is flat at the back.Thank you.
Regards Peter
Hi,

we have never tried this ourselves so couldn't say for certain if it would work. It could possibly but it would depend on how curved the crank was.
What stops pedal shortener slipping down?
23 Apr 2019
what is there to stop the pedal shortener slipping down the the crank shaft under heavy cycling
Hi, they do not slip when the bolts are tight. They rely on metal to metal friction to stop slipping. Thanks 24/04/2019
What weight is this?
25 Jul 2017
Hi,

This crank shortener weighs 180grams.

Thanks.
I Have Limited Bend In My Right Knee
20 Sep 2016
as a result I am unable to bend sufficiently at the top of the pedal revolution can you recommend a product which will allow me to cycle. I use a mountain bike
Hi,

Something like this crank shortener would be the best we'd be able to recommend, as it will reduce the amount the knee needs to bend. For a more in depth analysis and a better idea what length you should be shortening it too we would recommend speaking to a cycling specific physio therapist as they would be able to offer a scientific insight.

Thanks.