Shimano Acera FC-M361 7/8 Speed Triple Chainset - Black - 42/32/22T
Length
Manufacturer :
SJS Cycles part number :
Manufacturer part number :
Details
- Entry level 7-/8-speed chainset offering slick hyperdrive shifting performance for off road enthusiasts
- 7-/8-speed compatible steel chainrings
- For use with square taper bottom brackets 122.5mm
Related products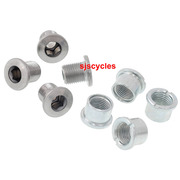 Shimano FC-M540 Double Gear Fixing Bolt & Nut Set - M8 x 8.5mm - Y1FM98020
£11.99 Inc VAT
Quick view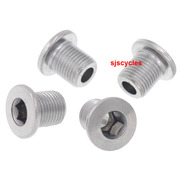 Shimano FC-M540 Inner Chainring Fixing Bolts - M8 x 8.5mm - Y1FM98030
£8.99 Inc VAT
Quick view
Product Reviews (1)
Overall Product Rating 5 / 5
02 Jan 2021
I recommend this product
This was to fit on my sons MTB and as they say in the description it did need a 112.5 BB, this was the only site that mentioned this, its Shimano sold at a fair price what more can you say.
Great shop with lots of hard to find parts that no one else stocks in this country.
could this replace shimano fc m151
03 Jul 2021
could this replace shimano fc m151? I am not sure of bb size for the FC-M151...
Thank you for your enquiry, yes will fit fine

WD 06/07/21
What does the length refer too 170/175?
02 Jul 2021
Thank you for your enquiry, the measurement is the crank length center to center

WD 05/07/21
Can I get a spare bolt for this crank set?
07 Sep 2020
I've lost one of the bolts for this crank set. Can I get a replacement?
Depending on which bolt you have lost we can direct you to a replacement- Please Email
[email protected]
and we can assist you from thereon.
Can I use this with the existing 110.5 bottom bracket?
27 Apr 2020
Hi
Thank you for your enquiry. As per the description you will need a bottom bracket that is 122.5mm.
Kind Regards. 27/04/20
Stronglight 100 replacement
23 Apr 2020
Will this work with the same BB on at present on a 1987 Dawes Super Galaxy and with a 13-34T cassette.
Hi, we don't know what BB is fitted to your 1987 Dawes Super Galaxy so can't confirm compatibility. The cassette will be fine. Thanks 29/04/2020
9 speed
09 Apr 2020
I have the 9 speed version of this which doesn't have removable chainrings would this chainset work with a 9 speed setup?
It is not recommended, if you have index front shifting the spacing will be bigger plus the narrower 9s chain MAY skid over the top of the teeth RT 100420
Shimano STX replacement
24 Mar 2020
Hi, is this an option to replace my old worn Shimano STX crankset. If not, could you suggest an option.
Thanks Stephen
As long as the speeds match, yes this will work in most cases.

Thanks - 30/03/20
Hi is this compatable as a replacement for a M171 chainset thanks Russ
05 Jun 2019
The M171 uses a 122.5 mm b/b this chainset seems to need 123mm (according to Shimano PDF) but this doesn't appear to exist, the answer is then: yes, probably! sorry. RT070619
Compatible with previous 7spd Shimano Front Chainwheel ?
30 Apr 2019
I purchased this a couple of days ago and it arrived today (30/04) - thank you, great service as always ! The problem I have is that the mounting surface of the driveside crank is recessed (approx level with middle ring). However, on my old Chainwheel, the mounting surface to tighten down onto the BB is just above the small ring. This is similar on all my older GT MTB's. How do I overcome this problem ? When researching the part prior to ordering, there was no mention of this potention issue either on Shimano's or SJS's tech info. Thanks, Mike
From Shimano's tech doc, this chainset needs a 123mm b/b, which is odd because the nearest shimano length is 122.5mm(!), in 68mm shell that's our part # 38569L1225 and in 73mm 26973S122
Are the chainrings removable and can this be used with a single ring?
18 Feb 2019
Yes these rings are removable, so yes you could run this single ring.

Thanks - 18/02/19
Octalink version?
25 Sep 2018
Any chance you will ever stock the Shimano Acera FC-M361 7/8 Speed Triple Chainset - Black - 42/32/22T as an Octalink version?
Hi, the Shimano Acera FC-M361 in Cctalink is not available from the UK Shimano importer so we will not be stocking it. Thanks
Bottom Bracket Size
24 Sep 2018
Do I need a different size bottom bracket axle length when changing from octalink to square taper? The original octalink BB size is 68x118 to give a chainline of 50mm.
For 50mm chainline you will need a 122mm axle.

Thanks
What is the bolt centre diameter?
08 Jun 2018
Hi

Thank you for your enquiry. The BCD of this chainset is 104mm for the Outer & Middle chainrings & 64mm for the inner chainring.

Kind Regards
Can you recommend a chain guard that works with this chain set?
07 Apr 2018
Hi there,

Unfortunately our supplier does not import this chainguard (Y-1KN98070) and we d not have anything else suitable.

Thanks
Can you recommend me a bottom bracket width that will achieve a chainline of 50mm
15 Feb 2018
The frames 68mm, english thread.
Hi there,

122mm should achieve a 50mm chain line.

Thanks