Hebie Chainglider Chainguard - Front - Black
Size
Manufacturer :
SJS Cycles part number :
Manufacturer part number :
Details
The unique 'floating' chainguard fits to most single speed or hub geared transmissions. It requires no special brackets on the bike and fits in seconds without tools. It will keep your transmission and your clothing clean, thus reducing maintenance requirements and prolonging the life of your chain and sprockets. No hub gear commuter is complete without one!

Please note, Chaingliders are now offered as separate front and rear sections (see other listing). Size options available are 38, 42, 44 & 48T.

- Does not fit to the frame, thus fits virtually any bike
- Fits and disassembles in seconds without tools
- Due to the exact fitting of the system each model fits a specific range of ring and sprocket sizes
- Max. chain wheel width: 3 mm
- Max. chain width: 9 mm
- Black
Related products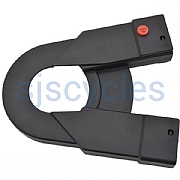 Hebie Chainglider Chainguard for Rohloff 15-17T - Rear - Black
£19.99 Inc VAT
Quick view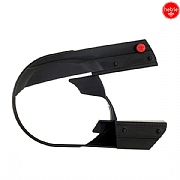 Hebie Chainglider Chainguard for NuVinci Harmony 16-22T - Rear - Black
£19.99 Inc VAT
Quick view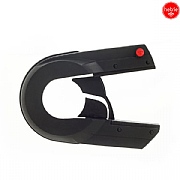 Hebie Chainglider Chainguard for NuVinci N360 16-22T - Rear - Black
£20.99 Inc VAT
Quick view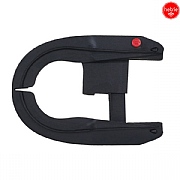 Hebie Chainglider Chainguard for Bosch E-Bike Generation 2 - Rear - Black
£23.99 Inc VAT
Quick view
Product Reviews (2)
Overall Product Rating 4 / 5
works well
10 Mar 2021
I recommend this product
Pros
no grit salt water on cosily covered gear oiled chain!
After fitting an old Raleigh metal chaincase to my 50s Humber sports and feeling better riding in the recent snow ,salt,and road lakes, I wanted to see whether I could do similar to my Nexus 8(SJS bargain!) utility/day ride parts bin special.I am using a TA cyclotouriste ring 44t ,4mm thick ,1/8in chain .22t SA spocket.Hebie s leaflet says change dished to flat sprocket on Alfine but a retailer told me above 15t ,they are dished.A bit noisy initially,but quietens as" beds in".Fit back bit as instructions, ie smaller bit between inner parts of
chainglider prior to rearmost outer cover.(Initially I did other way round was concerned with poor fitting espec with issue of dished cog and trimmed approx 3mm of the bit where this inner part of the rear section covers the bare cog-Probably unnecessary!)

A good Idea, ... but
18 Jan 2019
I recommend this product
Cons
Slight extra drag (no problem on an ebike)
I used one of these on a previous bike (a complete system with a rear sprocket cover) and it worked well. Later in its life I took the rear sprocket cover off, since without being able to see the chain it made tensioning awkward, and in any case the chain picks up hardly any dirt at the rear wheel centre. Hence the purchase of the 'front' guard for a current bike. It works as well as it should (i.e. very effectively), but the tail ends are too close together. With my 38T front and 18T rear sprockets the tails squeeze on the chain, rather than just rubbing lightly. I have cut back the top arm to reduce the problem. The angle between the 2 arms need to be less for a 38T sprocket.
Which chainglider would I need for an Alfine 8 with 39T chainring and 18T sprocket? Thanks.
23 Nov 2020
Hi, we would usually say the 42T however as we have not fitted this to a bike with your exact configurations i cannot confirm.

Thanks,

JK 23.11.20
Is there a combination that would would work with an Alfine 8 45T front/ 20T rear?
05 Nov 2020
A google search turns up a 2012 Hebie page than indicates a requirement to replace both the chainring with 44T and the sprocket with a non-Alfine version- but I think that the Chainglider has been revised since?
Hello, I'm afraid we cannot confirm this.

JK 06.11.20
49t?
12 May 2020
Hi is see 46t chainring can be used with the 48, would a 49t fit?
No I don't think so, going a little smaller is one thing, but bigger?? I'm pretty sure not RT
What is the outside width of the glider at the front of the chainring?
12 Nov 2019
Hi there,

The width if this is approximately 15mm.

Thanks.
Can this be used with a Thorn tandem Rohloff
16 May 2019
The front 'rear' chain-ring is a 42T
Yes but note the instructions: Please pay attention to a sufficient smooth gap between CHAINGLIDER and Speedhub body (no contact allowed!).Attention: If the CHAINGLIDER touched the Speedhub body, the hub gear may be damaged. This results from a misassembly of the CHAINGLIDER and does not lead to warranty claims towards Hebie and/or Rohloff .
Will this Hebei Chainglide work with a Shimano Nexsus 7 speed hub
14 Sep 2018
Yes this should work fine a Nexus hub.

Thanks
I Have A 46T Chainring. Would The 48 Model Work?
23 Feb 2017
Hi,

Although there may be a small amount of additional play you should be fine using this with your 46T chainring.

Thanks.