TA Pedal Washers - Per Pair
Manufacturer :
SJS Cycles part number :
Manufacturer part number :
Details
Very thin spacer, fits between crank and pedal
Related products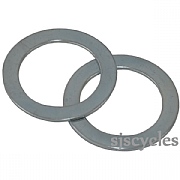 Jtek Titanium Pedal Washers - Per Pair
£5.99 Inc VAT
Quick view
Product Reviews (2)
Overall Product Rating 5 / 5
15 Feb 2021
I recommend this product
Perfect ! Cheap...
Very Thin Pedal Washers.
21 Nov 2016
I recommend this product
Cons
That bit more expensve than Wheel Manufacturing..but noticeably thinner.
Pros
Stops damage to your crank arms when fitting pedals.
Needed for Campagnolo Centaur Cranks for fitting pedals.Noticeably thinner than Wheels Manufacturing pedal washers,but thats TA Specialities for you!!
spacer width
19 Jan 2022
hi how thick are the TA washer please
Thank you for your enquiry, they are 1mm thick

WD 20/01/22
What is the Outer Diameter in mm?
03 Oct 2017
Hi,

These pedal washers have an outside diameter of 19.8mm.

Thanks.
Are These Washers Titanium?
10 Aug 2014
Are these TA washers made of Titanium?, it does not say but as they are called TA pedal washers I thought maybe the TA could stand for Titanium Alloy?, which I guess is the same thing as Titanium?...or am I wrong!.

Also when will you be getting more of the KCNC Titanium washers in stock please?

I can not find Titanium pedal washers anywhere for sale!..for some reason I believe I must get some Titanium pedal washers for my new build, they are really important but I don't know why, maybe just my OCD playing up again.

Thanks for any info?, much appreciated.


Hi

No, these are just standard alloy washers. The TA is part of the manufacturers name which is Specialites TA, apologies for any confusion.

Regards Jamie