Kiddy Crank Seat Tube Attachment Block 28.6 / 31.8 mm - Black
Manufacturer :
SJS Cycles part number :
Manufacturer part number :
Details
Fits 31.8mm seat tube or 28.6mm with the shim provided. Handmade, allows a childs crankset to be fitted part way up the rear seat tube. Powdercoated and lacquered. Suggest 102mm cranks (our item # 24133). Supplied with a 122.5 mm Sealed B/B Bearing.
Related products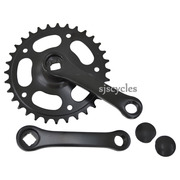 Steel Single Chainring Chainset 32T 3/32" - 102 mm Cranks
£19.99 Inc VAT
Quick view
Product Reviews (2)
Overall Product Rating 4.5 / 5
Kiddy Crank
30 May 2012
I recommend this product
Pros
It works and I've now got a kiddy tandem
This really could do with a torsion bar along the back with an eye each side so that it will stay square. Setting the chain tension for a long run the the captain's right side crank is tricky. I improvised with a brake cable run between the bolts on the right hand side. It works but as SJS recommend the 102mm crank with the chainwheel on the right, they should really allow for chain tensioning in the design. Once fitted it's fine. Tensioning the chain when it wears will give me all that fun all over again.
Kiddy Crank
12 Oct 2010
I recommend this product
Cons
you need to be a proficient mechanic to fit
Good piece of kit now that they have made one that fits 31.8mm tube (as on my aluminium framed Dawes). Fits easily. Could do with a note to the installer that alignment adjustment might be aided with a different length shaft. I bought and fitted a 131mm shaft.

Much cheaper than similar offered anywhere else


Please could you confirm the configuration to work on aThorn tandem with a Rohloff hub
08 Oct 2018
Would you pick the drive up from the lhs of the stoker chainset or from the pilot as per the picture images ?
Yes you can use this with a Rohloff,we would suggest speaking directly to Thorn Cycles about the options for fitting.

Thanks - 08/10/18
What Parts Dwould You Need To Fit This To A Tandem?
26 Mar 2014
Hi,

Exact parts you need are going to vary depending on the tandem in both the general design and the way in which the current drivetrain runs. The basic parts you will need are: a set of cranks to fit to it, pedals (we usually recommend with toe straps), a length of chain (how many chains are needed will depend upon the bike and how you're fitting it) and a way to connect the opposite end of the chain to the drive system. The easiest way to do this is on a standard cross over drive tandem is to fit a normal drive side crank in place of the right hand captain chainset and fit a chainring to do this which will match the ring on the child's crankset, then use the new lengths of chain to connect the two. This is the system in use in picture 3.

Thanks.