Manufacturer :
SJS Cycles part number :
Manufacturer part number :
Details
Fits all cranks which use 8mm bolts (tapered square axles) 170mm or 175mm.
Fully adjustable from 98mm to 154mm (if fitted to 170mm cranks).
Manufactured from alloy (anodised) with stainless and plated fittings.
This design does not damage host crank.
If you have flat cranks such as TA Cyclotourist, Stonglight 49D, 99 and SR Apex then you will need replacement bolts (part # 4212).
Does not fit Shimano splined or external bearing type chainsets.
NB can be fitted to shorter cranks (with some difficulty) but adjustability reduced, min host crank 140mm, when fitted to this it offers a single reduced crank length of 95mm. No hardware is available for fitting to cranks down to 140 in length.
Related products
M8 x 1 x 30 Replacement Crank Bolts for Crank Shortener M8 Fine
£10.99 Inc VAT
Quick view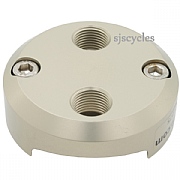 Fietsen op Maat Crank Shortener - Universal Left or Right Fitting - Each
£69.99 Inc VAT
Quick view
Product Reviews (20)
Overall Product Rating 4.7 / 5
Super job
26 Oct 2023
I recommend this product
Cons
Just a well made product
I found this product very well made, if a bit "chunky " having said that it does inspire confidence in its durability. The fit was very good as was all the threaded parts cleanly made.
Absolutely brilliant infinitely adjustable
30 Aug 2023
I recommend this product
Cons
None, just a brilliant product
Pros
Easy to fit and adjust, no steps, you can move them a millimetre at a time if you wish
My partner needed to shorten her cranks on our tandem following hip and knee surgery. We looked at a variety of shorteners but these are by far the best. Easy to fit and super easy to adjust.

The range of lengths available with no incremental steps is amazing, you could fit a small child and adjust as they grew.

We have them.different lengths and often stop on the road for fine tuning as her joint mobility is variable, you just need an 8mm hex key.
SJS Customer Service:
Hello & thank you for your product review, much appreciated.
Kind regards, pc 30/8/23.
A well designed and well made piece of kit
07 Jul 2022
I recommend this product
Cons
I haven't found any problems
Pros
Very well made, the picture doesn't do them justice
I recently had a replacement knee which means that I can't bend my leg enough to pedal a full circle with a normal crank. These crank shortness provided the ideal answer. They are very well made and easy to fit (I only fitted one) and as my knee gets more flexible I can just adjust the shortner to gradually provide a larger turning circle. I'm very pleased with them as they've allowed me to get back on my bike after my operation. For anyone who has a problem similar to mine I can thoroughly recommend them.
These are brilliant
28 Apr 2022
I recommend this product
Pros
Easy installation, fine adjustment, good price compared to inferior competitors
My partner has knee replacements and was struggling with knee flexion. She rides in the recumbent stoker seat of our Hase Pino. We had short (150mm) drilled cranks but she needed something shorter.
There are other crank adjusters but these are the only ones with infinitely variable length, the others give a couple of alternative holes some distance apart and nothing in between.
These were easy to fit, cleverly designed to fit a wide variety of cranks and very east to adjust. We were able to make very fine adjustment to the crank length and boom extension (think saddle height on an upright bike) and reach a perfect compromise.
But once we are on the road we'll be able to continue to fine tune them (just needs a 6mm hex key) and the exercise will probably help improve flexion so we can gradually adjust the length to suit. Absolutely brilliant and she is thrilled.
Perfect for adapting a tandem or bike to a growing child as well as helping people with short legs or joint problems.

Brilliant
18 Jan 2022
I recommend this product
Pros
have to buy in pairs. Makes them a little expensive.
Looking for crank shorteners several times and I looked at these more then once and past them over as being too flimsy, I was wrong these shorteners are very robust !
Easily fitted to bike and very pleased with them.
Fast service and had a quick delivery.
Excellent- simple to fit and adjust
18 Jan 2018
I recommend this product
Cons
Increases Q factor significantly (common to all crank shorteners)
Pros
Simple, easy to fit, quick to adjust, large range of adjustment
I used this on a tandem to adjust the stoker cranks- they have been very effective. Fitting is very easy and only requires a couple of basic tools. The only issue is that they do increase Q factor by a fair amount (maybe 12mm or so each side), however the same problem arises no matter which crank shortener you use- so these are still a clear winner.
First rate
20 Oct 2017
I recommend this product
Cons
Expensive, but that is how we buy the best.
Pros
Very simple effective design. Easy to fit. Very adjustable.
Well designed and well engineered. Good finish and fully adjustable to any crank length within the published parameters. I looked at several different designs and these are by far the best design I found and very simple to fit.
sehr gutes Produkt
29 Aug 2017
I recommend this product
Pros
stabil, flexibel, gut
flexibel einstellbar, gut zu montieren, stabile Ausführung
Excellent Product Quality And Value
21 Feb 2017
I recommend this product
Cons
adaptors for different bottom brackets
Pros
well made, adjustable, smart looking
Bought this to enable my daughter who is disabled to reach the pedals on her trike. Easy to fit and adjust (had to make a spacer to convert M10 to M8 using an M8 threaded rod joiner to fit the crank lower bracket fixing for her trike) Works a treat
Well Made, Straightforward To Fit
30 Nov 2016
I recommend this product
Bought for partner following knee replacement as bend now restricted. Well made, easy to fit. A plus is that it length is continuously adjustable. Not just for tandems.
Crank Shorteners
20 Mar 2013
I recommend this product
Good simple well engineered product. Not cheap, but it will be a small volume product. Ideal when a child is too big for kiddy cranks, but too small to ride an unaltered bike.
Thorn Crank Shorteners
03 Nov 2012
I recommend this product
Quality product, easy to fit, works great. My children, 7 and 9 years old, can now fully enjoy our tandem rides.
Probably The Best Solution For People With Knee Replacement
03 Sep 2012
I recommend this product
Pros
continuously adjustable
Precise machined with a nice finish. Needed longer M8 (i recommend 12.9) bolts and some extra washers to fit the shorteners to Simano cranks with large offset. Easy to assemble and supposedly indestructible.
Half Biken Buddies
07 Jun 2012
I recommend this product
Pros
Works, cheaper,than,new,crank
Easy install and setup. Make 11 year old a better stoker. Some concern about Q angle but did not present a problem. Replaced pedal blocks that made it difficult to mount. Very adjustable, but limited future options on a 170 crank, Can also adjust for leg length difference.
Thorn Crank
29 May 2012
Nach einer Keiminfektion im Knie kann ich nach Prothesenwechsel
mein Knie nur noch ca 90 Grad abbiegen. Durch die Kurbelverkürzung
kann ich wieder Fahrradfahren. Danke und schöne Grüße.
New Lease Of Life - Cycling Again!
17 Apr 2012
I recommend this product
Cons
Quite heavy (BUT WORTH IT!)
Pros
Adjustable,easy fit,removeable,sellable.
These crank shorteners arrived so quickly & in 10 minutes I had them fitted to my Halfords Carrerra Kraken 18" MTB. I had a new right knee in January & could not peddle around fully with the ball of my foot on the peddle. Once the shortners were on & adjusted I had full circular peddling ability. I have just reyturned from a week riding in the Lakedistrict & it was fantastic. I am only 70 as well GREAT THANKS TO SJS CYCLES
Thorn Crank Shorteners
23 Oct 2011
I recommend this product
Good to get on the bike so my daughter can get stoking on the way to school! promptly delivered and easy to fit, happy days!
Thorn Crank Shorteners
21 Jul 2011
I recommend this product
Yes a beautiful quality product that enables my 6 year old daughter to be stoker on our Viking tandem.
The man in my bike shop fitted them and commented that the bolts were only just long enough. I was surprised as I thought our tandem to be standard. If I find they come loose I will buy the longer bolts.

Knee Replacement Op
02 Jul 2011
I recommend this product
Cons
only able buy as a pair
Pros
well made and plenty of adjustment
got these to allow me to get back on my bike soonest. easy to fit, well made and simple instructions. i would have liked to buy one side only as opposed to the pair so will probably sell the other side on ebay (anyone interested?)
Thorn Crank Shorteners
14 Jun 2011
I recommend this product
One word, brilliant!
My 7 year old son was rapidly outgrowing the tag a long used for the school run on a daily basis. The crank shorteners mean that he can act as stoker on my tandem and grow into it as his legs get longer.
It is a quality product,beautifully machined and with everything included to fit them.
Can these be fitted different way around?
11 Apr 2022
Can these be fitted a different way around so the original pedal hole slot can be used at the square taper end and vice versa? So that it can make the cranks really short?
Thanks
For any information or advice on any of Thorn bikes, frames and forks or parts, please contact our dedicated Thorn bikes sales team either on 01278 441505 or
[email protected]
and they'll be able to provide you with all of the information you need.
Will these crank shorteners fit a 1980's shimano crankset please?
02 Feb 2022
Hi, please see question above, I can provide a photo if this helps
Thank you

For any information or advice on any of Thorn bikes, frames or forks please contact out dedicated Thorn bikes sales team either on 01278 441505 or
[email protected]
and they'll be able to provide you with all of the information you need.
Can this be used with a peloton?
06 Oct 2021
Pelton comes with 170mm cranks, but I can't find specs on them besides that.
Sadly we cannot confirm as we have not yet had a chance to test these with a Peloton bike.

JK 07.10.21
Will these fit to Bafang BBS-01B 170mm cranks?
19 Jan 2021
while i cannot confirm that they will fit your exact cranks- they fit most square taper style cranks.

Thanks, 20.01.21
Will the Thorn crank shorteners fit a Carrera CrossCity folding electric bicycle? Thank you.
30 Jun 2020
Without knowing the specifications of the cranks we cannot confirm that these will fit, however from looking at photos of your bike it is likely that this product will work for you.
Thorn crank shorteners
14 May 2020
Are the Thorn crank shorteners compatible with a crank arm with a slight curve on it? Are spacers supplied or are they not needed? Many thanks
Yes and yes, you can see the details on the instructions download RT
Can I use crank shorteners on 2015 CoMotion Carrera tandem stoker cranks?
27 Apr 2020
Can I use the Thorn crank shorteners on 2015 CoMotion Carrera tandem stoker cranks? It has FSA Gossamer 170mm crank arms and triple cogs.
Sorry no, these need "normal" bolt on tapered square cranks, you need 2 of Fietsen op Maat Crank Shortener - Left or Right - Each (SJS Cycles part number : 41952) RT28/04/2020
Coming loose
06 Aug 2019
Received mine, they are excellent, but. My left hand side keeps coming loose. Any advice. The right side not a problem. My cranks do have a 'rubber ' coating.
Hi, we suggest trying a threadlock such as our part 45512. Thanks 07/08/19
How can I get the peddle off my simmohnsohn karlstad to fit the shorteners ?
15 Oct 2017
Have a basic socket set, but doesn't seem strong enough. Any ideas ?
Hi,

It will depend on what fittings your current pedals have, but you should not require too high an amount of force. Also don't forget that the left hand pedal will be the opposite thread.

Thanks.
can i use these on my trek 1.1 road bike
11 Jul 2017
Hello,

Unfortunately as we do not stock your bicycle we cannot say for definite. If your crank arm is 170-175mm and uses M8 bolts it should work ok.

Thanks.
Can I Fit The Thorn Crank Shortners To A Land Rover Ladies Samara Purchased About 2007
20 Jun 2017
I am not sure on the crank types you state I.e hollow type
Hi, We don't know the exact spec of the 2007 Samara but from looking at pictures on the internet they will fit. Hollow type refers to a modern Shimano axle design, the pictures we have seen show Land Rover using a tapered square axle. The chainset is secured to the axle using an 8mm bolt or allen bolt sometimes hidden by a plastic cap. This bolt is replaced with a spacer included in the kit when you fit the Crank Shorteners. Thanks.
Would The Crank Shorteners Fit The Cranks On Our Thorn Raven Discovery Tandem?
03 Apr 2017
Hi,

These crank shorteners should be fine for use with the cranks on your Thorn Tandem.

Thanks.
Can It Work With A Shimano Bb-6500?
19 Feb 2017
I have a 2002 Co-Motion Robusta with a Shimano BB-6500 bottom bracket and a Ultegra Triple crankset. Can these shorteners be adapted to fit my setup?
Hi,

Due to the size of bolts required with your bottom bracket and chainset these crank Shorteners cannot be used unfortunately. There is no way of adapting them either I'm afraid.

Thanks.
Will Those Fit A Shimano Nexus Fc-Nx75 170Mm?
05 Feb 2017
Hi,

Although we have never fitted a set of these crank shortners to your cranks we cannot see any reason as to why they wouldn't fit so you should be fine to do so.

Thanks.
Is There Adaptator To Fit Shortener On Hollow Axle ?
17 Sep 2015
A lot of cycle are now in hollow axle so why thorn do not develop an adaptator or crank shorteners for this kind of crank axle?
Hi,

It would not be physically possible to produce a crank shortener of this design that could fit to a crank with a hollow axle as there is nowhere on the drive-side of the cranks that is threaded to allow fitting too. Although cranks with hollow axles have become very popular there are still more bikes being produced with solid axle bottom brackets like squares taper bottom brackets. This style of bottom bracket is still very popular on touring bikes as well, which is what we specialize in as a shop.

Thanks.
Does The 239 Crank Shortener Fit A L/H Shimano Xt ?
22 Jan 2015
Are there any extra items required for this fit?

Please advise, many thanks
Hi,

This will not fit any modern Shimano XT crank sets as they use a hollow axle, if you have one of the really old sets with a square taper bottom bracket then this will fit without any extra parts required.

Thanks.
Will Thorn Crank Shorteners Fit On Truvative Firex
25 Sep 2014
Hi I need to shorten the crank length on my tandem for my son.
Hi,

Unfortunately not, these crank shorteners require a crankset with two crank bolts where as your cranks use Truativ's GXP system, which uses a hollow axle and a single locking bolt on the non-drive side.

Thanks.