Thorn 104/64 PCD Triple Crankset MK2 - Black
Size
Manufacturer :
SJS Cycles part number :
Manufacturer part number :
Details
Alloy forged crank arms
BCD: 104/64mm
Sand blast black finish
JIS Square Taper
110mm bracket required to get a 51mm chainline on middle ring, 107mm can be used if only using a single ring in the outer position.
Weight: 565g (150mm)
Related products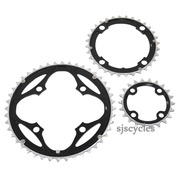 Thorn 104/64mm BCD 4 Arm Triple Chainring Set with Bolts - 44/32/22T
£89.99 Inc VAT
Quick view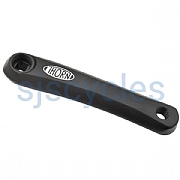 Thorn Left Hand Crank Arm - Black
£19.99 Inc VAT
Quick view
Product Reviews (6)
Overall Product Rating 5 / 5
Best crank for kids dh & enduro
16 Jun 2022
I recommend this product
Cons
Square taper (but had no issues)
Trying to get my boy on a proper small adult bike but the adult cranks were too long and kids cracks were steel or made of cheese! The se are tough and light. Take the hits and look good on his BMC. Job done at a great price.
A great choice
20 Oct 2021
I recommend this product
Pros
Cost, weight, strength,
I suffer from occasional knee problems and quadricep tendonitis so the the ability to fit shorter cranks at a price that doesn't make you cry is a great advantage.
Price worthy
06 May 2020
I recommend this product
Strong robust stiff cranks. I really recommend this product
Well made, good product
18 Jun 2019
I recommend this product
Pros
Good value, good choice
It's good that these cranks at various lengths are available, with the emphasis now going onto compact doubles etc. I fitted shorter cranks, and my knees feel the difference. Well made, and only marginally heavier (with the cartridge bearing) than the Deore / EBB set they replaced. Excellent value - where sub 170mm cranks are available, they are often v expensive, great to see a wide range available here.
Fits Perfect The Purpose
02 Apr 2017
I recommend this product
High quality and good finish.

Unfortunately the BB screws where not included!
Excellent
04 Nov 2016
I recommend this product
Pros
Looks good, rides nice
Strong build so not the lightest but this seems a very well made crank for the money.
Is this compatible with shimano 9spd 105 flight deck STI shifters?
16 May 2022
I'm thinking of using this on my Thorn audax mk3 to set it up for touring/light gravel riding. I currently have a Shimano 105 9spd triple setup with Flight Deck STI shifters. Will the chainring spacing on these work with those shifters and front derailleur? And is there a bottom bracket that you would currently recommend? Thanks!
For any information or advice on any of Thorn bikes, frames and forks or parts, please contact our dedicated Thorn bikes sales team either on 01278 441505 or
[email protected]
and they'll be able to provide you with all of the information you need.
What spindle length BB do i need with this crank and a Rohloff chainline of 57mm (splined)?
10 Nov 2021
https://www.rohloff-au.com/new-products
For any information or advice on any of Rohloff, Thorn bikes, frames or forks please contact out dedicated Thorn bikes sales team either on 01278 441505 or
[email protected]
and they'll be able to provide you with all of the information you need.
Hey! Will this fit a 73mm/122.5mm square tapered BB?
10 Nov 2020
Thanks!
Yes as long as its a JIS type square taper.

JK 11.11.20
Which Thron chain ring to use if I set up as single speed crank.
02 Sep 2020
If I install Single chainring at outer position. Which Thron chainring shall I order?

Any Thorn 104 BCD chainring will suit fine for this application.
What crank length are these
17 Jul 2020
I am resurrecting an older Raleigh Firefly MTB, and I think I need to go longer Crank arms. 34" inseam, I'm reckoning 185mm crank length. Would you know what else I would need to swap on the Firefly, or could I just order these and swap over?
Hi, these cranks are available in 150 through to 185 mm. 185 is long for a 34 inch leg, few manufacturers make cranks that long for that very reason. I would have gone for 175 with 34 leg. We don't know enough about the Firefly to be able to comment on the ease of swap. Thanks
Can I use with 2019 GT Fury Expert
22 May 2020
Will this set fit the Gt Fury Expert 2019 as I need to replace the original Raceface Chester ones as the arm has bent and I can't get the original replacement anymore
Hi there,

These would be completely unsuitable; they are designed for touring, leisure cycling etc - not off road.

Thanks - 28/05/20
crank extractor tool
19 May 2020
which crank extractor tool should I use with this? I have bought a Parktool CCP44 tool but think it is the wrong thing
Hi, you need a Park Tool CWP-7 Crank Puller for Square Taper & Splined Cranks or Shimano TL-FC10 Crank Extractor / Puller. The tool you have is for splined bottom brackets. Thanks
Follow up to query re using Shimano Alivio FC-M430-8 items with this
13 May 2020
Thank you for your response to my query on using Shimano Alivio FC-M430-8 chainrings, nuts & bolts with this.

Yes, I want to end up with a double chainset. My existing guard is fitted instead of an outer chainring, so I have 32T in the inner position, 44T in the middle position, and chainguard in the outer position. I want to end up with I have 22T in the inner position, 32T in the middle position, and chainguard in the outer position.

Thanks again for your help.
Can I use Shimano Alivio FC-M430-8 chainrings, nuts & bolts with this?
12 May 2020
I want to change my setup from 175mm cranks with 44/32 (and chainguard in the outer position) to 150mm cranks with to 32/22 (keeping exisitng chainguard).

Would the following chainrings, nuts & bolts work with the Thorn 104/64 PCD Triple Crankset MK2 150mm (SJS Cycles part number 31813L150)
* Shimano FC-M540 Double Gear Fixing Bolt & Nut Set - M8 x 8.5mm - Y1FM98020 (SJS Cycles part number 17954)
* Shimano FC-M540 Inner Chainring Fixing Bolts - M8 x 8.5mm - Y1FM98030 (SJS Cycles part number 17955)
* Shimano Alivio FC-M430-8 104mm BCD 4 Arm Middle Chainring - Silver - 32T (SJS Cycles part number 28750)
* Shimano Alivio FC-M430-8 64mm BCD 4 Arm Inner Chainring - Silver - 22T (SJS Cycles part number 28752)

Thank you!
So these components will all fit together, but you seem to want to end up with a double chainset(?) your existing guard is fitted to your existing 44t (?) chainring surely? RT
Can I use these with a 122mm bottom bracket?
10 May 2020
I have a mountain bike with 175mm cranks and looking for much shorter cranks. It currently has a 122mm bottom bracket. Would this be a problem? If so would it be possible to install a 110mm bracket into the bike I have (old cannondale F4). My last resprt would be drilling the existing crank arms lol.
These cranks need 110mm bracket required to get a 54mm chainline on middle ring, 107mm can be used if only using a single ring in the outer position. Fitting this to a 120mm B/B would push the pedals and chainring futher out than would be ideal. Drilling and tapping the cranks CAN be a solution IF there is sufficient material RT
What type of bike is this crankset for ?
21 Feb 2020
The min chainline for this crankset seems unusually outboard, is it designed for a touring triple or MTB triple?
54mm chainline is for Rohloff, which is what we commonly use these for on Thorn bikes.

Thanks - 21/02/20
chainring clearance recommendation
26 Oct 2019
I installed these cranks with a 110mm bottom bracket on my nephew's new Diamondback Line. I'm using a 32t narrow wide ring on the middle position. Chain line seems good but there is very little clearance between the chainring and the chainstay. What would be a recommended amount of clearance?
Without seeing the bike it is hard to determine, we would advise around 5mm of clearance would be ideal.

Thanks - 28/10/19
Can I get an acceptable Chain Line with a Road Hub
12 Jul 2019
Using this crank with 2x setup on inner and middle, could I get an acceptable chain line to a Shimano 105 5800 rear hub with a 10 spd cassette?

Many Thanks.
Hi,

the smallest achievable chain line would be 52mm, 45mm is recommended for a triple on the road so it is doubtful that this would work.
Replacement, shorter, cranks for Marin Wildcat Trail 3 or 5
26 May 2019
Hi, I'm looking to buy a Marin Wildcat Trail 3 or 5. I would want to replace the cranks with 155 mm or 160's.

The WT 3 comes with 170 mm cranks Shimano FC-TY301, 42/32/22T. The WT 5 with 170 mm cranks, Marin Forged Alloy 1x10, Hollow Spindle, Steel Narrow-Wide 32Tchainring, 76mm BCD.

Would you be able to suggest alternative 155 or 160 mm cranks that would fit either bike please.

Thanks, Nick.
The WT3 will require new cranks and rings such as - SJS Cycles part number : 31814 and 31813.
The WT5 would just require those cranks.
Both bikes would require a Square taper BB.

Thanks - 29/05/19

Cold forged or hot forged?
13 Feb 2019
Hi there,

Unfortunately we do not have access to that kind of information im afraid.

Thanks.
Can I use this crank set with a Shimano Chainring and bash guard?
13 Feb 2019
Shimano Saint SM-CR81 104mm BCD 4 Arm Single Chainring & Bash Guard - 40T
https://www.sjscycles.co.uk/chainrings/shimano-saint-smcr81-104mm-bcd-4-arm-single-chainring-bash-guard-40t/

104BCD 4 arm - seems to mutch, though we never tested it in our workshop.
Many thanks
13/02/19
Difference between inner and middle
10 Sep 2018
Hey I have in my hands this crank along with a Shimano ZEE 104 BCD 34 tooth chainring, both just arrived in the post from you. I am surprised the find that the chainring does not fit onto the middle position of this crank... its not going to fit without removing a small amount of metal. It fits perfectly on the outer position.

I have an older 104 BCD crank and chainring here for comparison, and on that crank I can place the chainrings equally well on the middle or outer positions.

Is it expected that the middle position is ever so slightly smaller than the outer position on this crank?
Hi, yes sometimes the are small manufacturing intolerances. We recommend filing the chainring to fit. Thanks
Can I use with - SR Suntour CW-NEX-208 28/38/48T Chainset
22 Aug 2018
Due to arthritic knee, I need to reduce the length of the crank arms from 170 to 160mm. Are other options/products available?
Hi, Thank you for your enquiry, this crankset could be used as a direct replacement for your Suntour original & all you would need to do is swap the chainrings as they have the same BCD. There are a few alternative options & these do not need a change of crankset as they attach directly to the existing chainset. Both of these products can be found on our website by using the part numbers 239 & 41952 in the search box facility. Regards
Would. 113mm BB be okay?
01 Aug 2018
I was planning on using his crankset with a 113mm BB (I already have one so don't want to make another purchase) and 30t narrow/wide chainring in the middle position. The chainring has a slight offset, so I am hoping the extra 1.5mm of BB length either side will not be a problem. Please could you confirm this?
Despite how it appears this isn't an exact science, all I can say quite probably, you could almost certainly add some 2mm spacers (our part # 18595) if it was so wrong.
Can i use this with Shimano XT Kurbelgarnitur FC-T8000 Hollowtech II
10 Jul 2018
I will the Chainrings from Shimano XT FC-T8000 change to
Thorn Crank, is this ok?
BCD 104/64 is the same.

MfG

Theo
Hi

Thank you for your enquiry, I can confirm that the chainrings from the Shimano Deore XT FC-T8000 chainset will fit our Thorn crankset with no issues.

Kind Regards
Do you sell 135mm cranks?
07 Jul 2018
Do you sell any road bike cranks around 135mm in length (for my young son)?
Hi there,

We offer 125mm cranks here - SJS Cycles part number : 237
140mm cranks here - SJS Cycles part number : 1673L140

Thanks
Q-Factor in 165 mm
10 May 2018
Hello !

I think the Q-Factor is 180mm in 165mm and with a 110mm bbun ? Is it exact ?

Thank you to the team ! :)
Hi there,

We would say the Q factor is 182.5mm

Thanks
Can this fit onto my existing crankset?
03 Apr 2018
Hi. I have a SR suntour super power flow crankset. The crankarms are too long for my height and it is hurting my knees (I have prior knee injuries). I was wondering if these arms would fit onto my existing crankset. Thanks!
Hi there,

Please contact our sales team with some photos of your current chainset, we do not have it in stock so do not have the information required to confirm compatibility.

Thanks
crankset and bottom bracket for long haul trucker 26
07 Jan 2018
Still looking for a square taper crankset i can use with 22/34/44 chainrings in a long haul trucker (26"). My main problem is I cannot be sure what should be the chainline for the middle ring (47.5 or 50?). Would the 107 BB be too short for a 47.7 chainline?
Also - can you see any reason why the chainrings Alivio M430 (BCD outer and medium rings 104, inner 64) would not work with this crankset?
Many thanks!
Hi there,

Using a 107mm bottom bracket with this chainset and triple rings will likely mean there is very little clearance if any. It is designed for a 110mm with triple and 107mm with a single,

Often Shimano rings have some profiling around the bolt section to fit their cranks perfectly, we would need to test fit to confirm compatibility.

Thanks
Is this a suitable replacement for a Hollowtech FC-M510 crankset ?
20 Aug 2017
I've got a Thorn Adventure circa 2002 from new, derailleur gears, hollowtech FC-M510 cranks. A small amount of play has developed between the spider and crank on one of them. Can you still get hollowtech M510 cranks or do you have to getv this one now ? The BB's are still good (UN52's) but these don't seem to be available now either, is the UN55 a direct replacement?
Hello,

Unfortunately you can not get hollowtech M510 cranks any more so you would have to get this one. Also the UN55 should just be a direct replacement.

Thanks.
What Bb Length For Nomad Mk2
15 May 2017
I have a Nomad MK2 with Rohloff. Can you tell me the BB length I would need for a 54mm chain line please? Sorry if this question has been answered before but I thought the 73mm BB shell on the Nomad may make a difference.
Hi,

It is still the 110mm length bottom bracket you need to get a 54mm chainline in the middle ring position, the overall length of the bottom bracket is not effected by the width of the shell.

Thanks.
Crank Length
03 Aug 2016
My daugther is 8 years old and she is 132cm tall. Wich cranklength should i use?
And is a singlespeed 30T (104bcd) a good option with a 12-27 or 11-32 9sp?

Hi,

Crank length is as much personal preference as it is a recommended length based upon height. Based on a quick calculation from a bike fitting company would give a 130mm crank length which is unfortunately not available, because of this we'd probably recommend just going for the 150mm option which will be suitable for a longer period anyway. A 1x9 set up would be a good option as well.

Thanks.
Can This Crank Used With Double Chainring? What Is The Compatible Bb With Double Chainring?
06 Jun 2016
None
Hi,

You could use this crank with just two chainrings if you wanted to. The suitable bottom bracket will depend on the chain line you're looking to achieve and if you are going to mount the two chainrings on the inner and middle position or the middle and outer position.

Thanks.
Are These Compatible With My Chain Rings And Bb
18 Mar 2016
I want shorter cranks on my road bike (originally shimano gears). Would these be suitable with 30/42/52 chainrings and a BB UN26 (113)

cheers!
Jx
Hi,

This crank set can only take 104BCD 4 arm chainrings, most of Shimano's road chainsets use 110BCD or 130BCD and have 5 bolts meaning that the chainrings won't fit with these Thorn crank arms.

Thanks.
Do These Cranksets Come With The Spline Or Are They Just Crank Arms?
15 Mar 2016
Hi,

These are just the crank arms, as they are designed for a square taper bottom bracket the axle that connects them is part of the bottom bracket.

Thanks.
I Am Building A Rohloff/Gates Drive Touring Bike With 68 Mm Bb. Will Y
22 Jan 2016
Will your MK2 triple give me the critical 54 mm chain line with a shimano Un 55 with 107 spindle if I use the outer position on the crank. I do not intend to use a chain guard

Thanks for your help

Mark fishler
Hi,

When using a 107mm bottom bracket the outer ring position does have a 54mm chainline required for use with a Rohloff.

Thanks.
Q Factor And Narrow Bb?
17 Dec 2015
What would be the Q factor (outside to outside) on a 107mm BB?

It is mentioned 107 is the minimum recommended with 1 ring in the middle position, is that due to frame clearance or some other reason?
Hi,

With a 107mm bottom bracket and the 170mm version of the cranks, the Q-factor measures at 180mm. When run with a 107mm bottom bracket you can only fit a chainring to the outer position because of frame clearances.

Thanks.
Chainline (Again)
24 Oct 2015
Hello, I've read previous questions and responses on this but am still confused. You've written that the lowest (smallest?) chainline possible is 52mm using a 107mm BB in a 68mm BB shell. But is that 52mm counting on using one, two or three ring? I am building a 26" wheel bike for my son using a standard 135mm Deore rear hub and a 10 speed XT cassette. Does that info already decide what chainline I need?
I want to set up the bike with a single chainring, either a 28T on the 64 and bash on the 104, or a 30T on 104. Is this going to work properly? As you can probably tell, I'm using my son as a guinea pig for my first ever build!
Hi,

This 52mm chainline would be for a chainring mounted on the middle ring position. This would be a suitable chainline if you had the chainring in the middle position, if you do mount the chainring on the inner position they you may require a slightly longer bottom bracket but this is not something we have ever tried so i can't say for sure I'm afraid.

Thanks.
Compatibility
10 Oct 2015
Hi
I'm build thorn nomad mk2 with s&s. Just want to make sure that is this crankset compatible with the frame above and this chainring ? #11054s40

and also with one chainring bolts do I need to get for this set?

Thanks for help
Hi,

This thorn crankset is indeed compatible with the MK2 Nomad ad will happily accept that chainring. Any single ring specific chainring bolts will work with that chainset and ring, the basic Cr-Mo steel ones are SJSC part 27234.

Thanks.
10Speed?
16 Sep 2015
Are these cranks compatible with 10 speed chain rings?
I'm guessing the distances between chain rings should be a bit smaller on 10 speed?
Hi,

There is nothing stopping you putting 10spd rings on this crankset, these cranks are perfectly compatible with 10spd chainrings. Most chainsets use chainring tabs that are a standardized size, the difference between 9 and 10spd would be taken up within the rings themselves although there is actually very little difference between 9 and 10spd rings.

Thanks.
Please Can You Recommend A Bottom Bracket For This Crank
09 Sep 2015
i am building up / assembling parts for a bike for my daughter. the frame is an on one inbred, bb spec = 68mm, English threaded . i guess i am looking for a 68 / 110 mm with a JIS square taper? am i on the right lines? looking for something lightweight + good value.
thanks



Hi,

You are correct, a 68/110mm JIS bottom bracket would be the one that you require. We normally recommend the Shimano units, the 68mm versions are SJSC part 26972, just select 110mm from the drop-down menu.

Thanks.
Would This Be Compatible With A 7 Speed?
21 Aug 2015
Do These Come With Self Extracting Bolts? Can I Buy Spar
06 Aug 2015
Hi,

These cranks come as pictured so do not include self extracting bolts, so these will have to be purchased separately.

Thanks.
Hi
09 Sep 2014
If a 110mm bracket is required to get a 54mm chainline, which lenght do i need to get a 50mm chainline?
thank you
Hi,

The shortest bottom bracket we do would be a 107mm, but that would only drop the chainline to 52mm which is as close as you'd get with these cranks.

Thanks.
Hi. Which Bb Of Yours Do You Recommend With This Crank?
09 Sep 2014
And is it ok for 9 speed?

Thank you
Hi,

You could use any square taper bottom bracket providing you used the 110mm length. We would however recommend the Shimano UN55. Yes this crankset would be fine for use with 9spd chainrings.

Thanks.
What Else Do I Need?
01 Apr 2014
I just bought a second hand 2006 Gary Fisher Tassajara to my son and I am thinking of getting shorter crankarms. Currently DEORE hollowtech II crankset is fitted. Do you see any compability problems (frame/cranks/current chainrings) with getting these crankarms, and a UN55 73 mm/107 mm BB (current chainline seems to be 50 mm). Also I might suggest for him to convert to 1*10 by getting a 10 speed 11 36 casett and a new shifter. Would then the Thorn reversible single chainring 32T be appropriate?
Hi,

These crank arms will be perfectly compatible with that bottom bracket and that sounds like it should be fine for your frame also. If you convert it to 10spd the Thorn reversible chainring won't work as it a much thicker gauge, the 10spd chain would not fit onto it. You're better off going for a 10spd compatible chain ring, either the Race Face or the E13 rings would be suitable.

Thanks.
Chainring Bolts
28 Jan 2014
Do these cranks come with chainring bolts or not?
I'm matching them with #11054s36
Hi,

No I'm afraid this crankset does not come with chainring bolts.

Thanks.