Thorn Tandem Crankset for X-Over Drive - Front
Size
Manufacturer :
SJS Cycles part number :
Manufacturer part number :
Details
Takes 110 pcd chainring, needs 113mm bottom bracket
Related products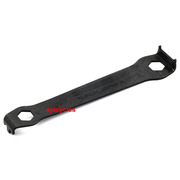 Shimano TL-FC21 Chainwheel Peg Spanner
£5.99 Inc VAT
Quick view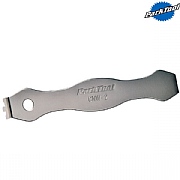 Park Tool CNW-2 Chainring Nut Wrench
£5.99 Inc VAT
Quick view
Product Reviews (3)
Overall Product Rating 4.3 / 5
Rare item at a great price
25 Jun 2020
I recommend this product
Pros
Rare item, good choice of crank length, price
If you want just one crankset for left sided chainrings (e.g. tandem front) this is one of the few on offer. Quality appears good and there is a wide choice of crank lengths.
Work Fine
31 Jul 2016
I recommend this product
Cons
A bit pricey for what they are...
Pros
Fit for purpose/one of the few options around...
These front tandem cranks were required in the shorter 160mm length that Thorn cater for which make the comfort on the front of my Voyager improved. Straight forward fit and usage.
Thorn Tandem Xover Crank Front
28 Mar 2015
I recommend this product
Expensive for the quality of finish (back of spider). But a perfectly functional budget crank in a good selection of lengths, which is why I needed it.

If you need shorter cranks then there is little choice of supplier please lift the quality or drop the price though.
Does the BB have to be 113 mm in width?
25 May 2020
My tandem currently runs with two 122.5 mm bottom brackets housed in 68 mm shells. Would it be possible to fit this to the existing BB of 122.5 mm or do I have to buy and fit a couple of 113 mm BBs as your description implies?
to get a correct chainline 113mm b/b are needed.RT
Can I use a 28124 Thorn 155mm right crank with this one? Are they the same?
20 May 2020
Hi, they are not the same. On this chainset the ring is on the left hand side of the bike, on 28124 the ring is on the right. If you use 28124 on the left the pedal threads will be wrong. If you fit a R/H pedal to a R/H crank on the left of the bike it will unwind as you are cycling. Thanks
My tandem has the timing chain on the left on a single chain ring.
17 Apr 2020
Does this take a single chain ring? Looking for my left sided timing chain. Thanks!
Hi, yes this is a front crankset, for a single chainring on the left side. Thanks. 22/04/2020
Can i use it on a single speed
30 Jul 2018
I have a single speed that has a square taper want to convert my crankset to a 110mm BCD could it do it (purpose it to mount then with a chainring from absoluteblack for gravel)
These cranks are designed for a tandem with the chainrings on the left hand side, so probably not suitable for your bicycle.

Thanks
4 arm 104mm BCD version
22 Jan 2018
So what I really need is a 4 arm 104mm bcd version of this with 165mm cranks and gxp compatible... Am I asking the impossible? Oh, and preferably in black LOL.
Hi there,

Sram do not offer a suitable chainset for those specifications, I would suggest looking to change your bottom bracket type and you will be able to find more options available.

Thanks
GXP to square taper BB to use these?
18 Jan 2018
Hi, we have a Dawes Discovery Twin and I'm looking for 165mm cranks for the front. It currently has a GXP bottom bracket. Can I replace the GXP BB with a square taper style and then use this crankset? Any recommendations for a suitable BB? Thanks.
Hi there,

Yes no problem,

Use SJS Cycles part number : 26973S113 for 73mm frame or SJS Cycles part number : 26972S113 for 68mm frame.

Thanks
What Would I Need To Fit This To My Bike?
09 Mar 2016
I have a BBUB26 (spindle 113mm), and a triple chain ring set with ratios 32/42/52 all shimano components.

Cheers
J
Hi,

This is for the front of a tandem with the cranks with the spider being on the left hand side so although you could fit 3 chainrings there would not be much point as the front derailleur would not work as they'd be on the wrong side of the bike.

Thanks.