Shimano 105 RD-5701 10 Speed Rear Derailleur - Black
Cage
Manufacturer :
SJS Cycles part number :
Manufacturer part number :
Details
- 10 speed 105 wide link rear derailleur
- Advanced Wide Link design increases rigidity and shifting performance
- Super stiff for fast and accurate changes across the cassette
- Large 11 tooth pulleys increase service life and reduce noise
- Super light shift action
- Compatible with 8, 9 and 10 speed drivetrains
- Maximum low sprocket 32T with double chainset (GS)
- Maximum low sprocket 30T (SS)
- Maximum front difference 22T, total capacity 40T (GS)
- Maximum front difference 16T, total capacity 34T (SS)
- Average weight: 232 grams (GS) / 221 grams (SS)
Related products
Shimano 105 RD-5700-A Inner Plate - SS Cage - Y5XH08000
£11.99 Inc VAT
Quick view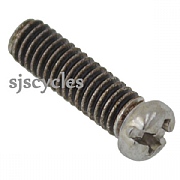 Shimano Dura-Ace RD-7900 B-Tension Adjusting Bolt - M4 x 13.5mm - Y55625080
£3.99 Inc VAT
Quick view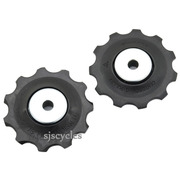 Shimano 105 RD-5700 Tension & Guide Pulley Unit - Y5XH98120
£10.99 Inc VAT
Quick view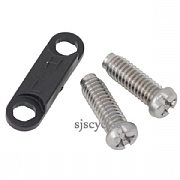 Shimano Ultegra RD-6700 Stroke Adjust Screws & Plate - M4 x 11.5mm - Y5X998020
£2.99 Inc VAT
Quick view
Product Reviews (1)
Overall Product Rating 5 / 5
Good quality
25 Sep 2020
I recommend this product
Cons
One day they will stop making them.
Pros
Good quality, compatible with wide range of setups
Bought to replace a broken Ultegra RD-6700, this 105 mech works flawlessly with Ultegra shifters and cassette. Shame to have to drop down a groupset level but in the real world I can't tell any difference in shifting quality. Jockey wheels are maybe slightly noisier, compared to the ceramic bearings of Ultegra, but that's it. If this is compatible with your setup then you can't go wrong with one of these. Long may Shimano keep making them, and keep our 10-speed bikes on the road!
46/36 chainset with a 11/32 cassette? Would i require a medium ( GS ) cage ?
27 Jun 2022
Yes a medium cage mech will be required for this,

JK 27.06.22
Can I use a SS Derailleur.
21 Jun 2022
Hi, can I use a ss 5701 to replace a rd 4601 tiagra 10 speed..
Front 50/34
Rear 12/30



This would be fine,

JK 22.06.22
Compatibility with Tiagra 4600?
13 Jun 2022
Thank you for your enquiry, yes this will be fine with 4600

WD 13/06/22
Shimano 5701 GS 10 speed rear derailleur availability?
31 Dec 2021
Are you expecting to get any more stock of this rear derailleur
ETA is mid June 2022.

JK 31.12.21
Compatability
13 Oct 2021
I have a Giant Rapid 2 from 2014 with 9-speed Shimano Tiagra. Triple 50/39/30 chainset and 11-28 teeth rear cassette.
Is this compatible with above ?
If yes, would I need the short or medium version or would either fit ?

Thank you for your enquiry, yes it will be fine, for a triple you will need a medium version

WD 14/10/21
Is this mech, RD 5701, compatible with ST 5600 sti shifters?
21 Aug 2021
Thank you for enquiry, yes will be fine

WD 23/08/21
is this compatible with 50-34 12-28 set up
24 Jun 2021
Thank you for your enquiry, yes will be fine.

WD 24/06/21
Is this compatible with a front chain set 50t and 34t?
19 Jun 2021
Thank you for your enquiry, yes will be fine.

WD 21/06/21
Triple set up
13 Dec 2020
I'm building up a tourer using a triple set up. I have 105 levers and 105 chainset 30-39-50. I'd like to use a 105 rear mech and cassette. Could you advise which would give me the greatest range please ? 10 speed. Thank you.
Any 10 speed 105 Long Cage (GS) rear mech will suit- the maximum sprocket size of the cassette will be dictated by the specific model and variant of derailleur you choose.

Hope this helps

JK 14.12.20
Compatibility
11 Nov 2020
Can I use this mech with an old tiagra 4600 10 speed shifter?
YES, this part should be compatable with Tiagra 4600 shifters.

JK 12.11.20
Can I directly replace my Tiagra RD 4601 with RD 5701 GS?
30 Apr 2020
Compatibility
27 Apr 2020
Is this compatible with a Shimano Tiagra ST-4700 front derailleur and Shimano Tiagra ST-4703 shifters?
No, 4700 is different to earlier 10 speed, you HAVE to use Shimano Tiagra RD-4700 10 Speed Rear Derailleur - GS / Medium Cage (SJS Cycles part number : 41213) RT 27/04/2020
Compatible with 3x 8-speed?
By
Niels Christian Pedersen
10 Nov 2019
Would this be compatible with older sora shifters, 8-speed?
Yes, any shimano REAR mech will work with any Shimano shifters up until road to 10 and MTB to 9 speed except Shimano Tiagra 4700 10 speed shifters and rear derailleur
1 * 10 transmission
27 Sep 2019
I have a 1 * 10 transmission. In front there are 44 teeth, in the back there is a cassette (11 * 32)
Which rear derailleur is suitable for me SS or GS ?

For 32t cassette you need GS.

Thanks - 30/09/19
Compatibility
13 Aug 2019
I have a 50 34 crankset and would like an 11 34 cassette to give a slightly lower gear than my 11 32 . I see this is technically out of the range of this mech. Will it work if I avoid cross chaining ? Thanks
I would not risk it, although marked as 9s the Shimano Deore RD-M591 9 Speed Top Normal Rear Derailleur - Silver - SGS / Long Cag (SJS Cycles part number : 39048) will work with 10s STI and cassette.
Can I use this with my older 105 RD 5700 GS Shifters ?
03 Sep 2018
I have a 2013 bike that came with (as far as I can tell) earlier 10 speed 105 RD 5700 GS. It was specced at the time with a 11-30T rear cassette. Can you confirm the older levers pull ratio will be compatible with this newer rd 5701 derailleur ?
Yes, all 10 speed Shimano components are compatible except Tiagra 4700.

Thanks
Is this compatible with a 7-speed cassette?
18 Aug 2018
specifically, the Shimano CS-HG200 12-32T you are currently advertising. Front spread is 52-39. Thanks
No this will not work with 7 speed.

Thanks
Can I use this with Ultegra 10 spd levers ?. Would buy Ultegra but can't wait for stock arrival.
29 May 2018
Want to run 34-52. 12 up 32 cassette.
Hi there,

Yes this will work perfectly with 6700 shifters.

Thanks
Can I use this part with a 52-32 triple chainring set and 9 speed 11-32 cassette?
08 Oct 2017
Hi,

Your set up would be beyond the range that Shimano recommend using this derailleur for so although this does not mean a straight no it won't work it will just mean that if you do use it on such a wide range you will need to be very careful about your gear choices and not cross the chain to much.

Thanks.