Cinq5 Smart Power Pack II
Manufacturer :
SJS Cycles part number :
Manufacturer part number :
Details
- Simple installation on the bike
- Tough anodized aluminium body
- Waterproof Electronics
- Optional buffer battery for The Plug
- Chargeable by The Plug, PC or USB power supply
- Standard USB connector

Charging cable & Handlebar mount NOT included. SJSC part 32696

The 2nd Generation Smart Power Pack is the perfect addition for mobile cycling globetrotters and travelers. It is equally suitable for recharging your tablet computer, mobile phones or GPS devices. Plenty new features make it the perfect multi-purpose device for outdoor activities.

Unique FLEXCHARGE system
- Charging during the ride by The Plug also at very low speeds
- Fast-charging on a power outlet with a standard USB charger
- Acts as a buffer between a device and The Plug. This is greeat if you are using a power-hungry device that requires user input in stop-and-gi traffic
- Latest generation rechargeable battery cells provide over 10Wh power capacity which result in approximately 4 hours of discharging at USB specification

OUTDOOR PLUS system with smart functions
- Useable as LED flashlight and therefore reduces your equipment while on the road
- Integrated backup bicycle rear light assures visibility in darkness
- Optical SOS flash-function enables you to send rescue signals in an emergency situation

The rugged aluminium housing withstands external impacts as well as corrosion due to its anodized surface. The rubber cover protects it against water and humidity while traveling on the road.

The easy and flexible installation on handlebar or stem makes it very universal and minimizes the "clutter" on your cockpit. Without screws, cable ties or similar, it is dismantled in seconds if you need it off the bike.

- Weight: 85g
- Length: 95mm
- Diameter (Max/Min): 30 / 25mm
- Capacity: min. 3000 mAh
- Output: 5V / 500mA
- Input: 100 mA / 500 mA / 900 mA
- Connector (In/Out): USB Micro Type-B / USB Type-A

NOTE: Not for Export - Mainland UK Only
Related products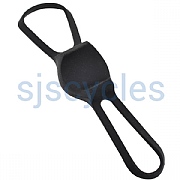 Cinq5 Smart Power Pack Universal X Handlebar Mount
£23.99 Inc VAT
Quick view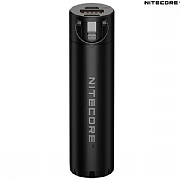 Nitecore NPB1 Waterproof 5000mAh Power Bank
£35.95 Inc VAT
Quick view
Product Reviews (2)
Overall Product Rating 5 / 5
13 Jul 2017
I recommend this product
I am using this in combination with an SP-8 hub, and a cycle2charge usb charger that fits on the top of the steerer tube.

I initially tried to use an Anker battery pack, but was unable to charge it because the current from the dynamo hub was too low.

This has solved the problem, and works very well.

It appears to be well made. It is expensive in comparison to cheaper non- bike specific external battery packs- however it is made in Germany with quality battery cells, and almost certainly should work.

In my experience, it takes all day of riding (8 hours?) to charge it from empty.



Well Made Bit Of Kit
31 Jul 2016
I recommend this product
Cons
Need to buy a separate rubber bracket if you ant to install on your bicycle
Pros
Charge anything anywhere
A must have device if you want to run your gps and dynamo light at the same time.

The settings take a little getting used to but overall a good product.
Can I use this with SON hub Sinewave Beacon?
13 Jun 2022
I have tried various other batteries but they just pass-through the power from the dynamo means no power when stopped (eg at traffic lights).
This will suit fine for this,

JK 14.06.22
Cing & Klite
06 Jun 2022
Does this battery have USB C, pass through charging capability and low power mode?

Would it be suitable to connect to the Klite USB charger to power the Klite Qube...without there being a hub dynamo in the circuit?
No USB C, its micro USB input only, and we have not yet tested it with a Klite Qube to confirm compatibility.

JK 08.06.22
What warranty does this come with please?
27 Feb 2020
These are covered by a 2 year warranty against manufacturing defects and failures.

Thanks - 28/02/20
Why is this item not for export?
06 Mar 2019
Why is this item not for export? Is there any technical restriction during shipment?
Hi there,

Unfortunately, we cannot export this as it contains a Lithium battery.

Thanks.
07/03/19
Can it be charged through a Luxx70 plus headlight USB port?
16 Feb 2019
Hi there,

Unfortunately, we would have no idea whether this would work as we do not stock that particular part so we cannot test it I'm afraid.

Thanks.
21/02/18
Does the Cinq5 Smart Power Pack II support pass-through charging?
21 Jun 2018
HI there,

We believe that it does allow pass through charging, however we have never tried this so we cannot say for certain.

Thanks.
trouble charging the pack
10 May 2018
Hi there. im having trouble charging this power pack through ac. The battery charging light flashes green but the charge colour never changes. All my ac chargers are rated higher than the low 900mah max stated in the inadequate instructions. Not tried charging from the dyno hub yet, but if ac charging isn't possible using standard usb chargers then it seems like this isn't really as useful as I hoped. Any thoughts or experience? Is it possible its a faulty item?
Hi there,

All you need to do, is leave it to charge for longer!

Thanks
Cinq 5
27 Oct 2013
Could this be used with an Ewerk?
Hi,

Yes it should be perfectly compatible as it is just standard USB used for the charging.

Thanks.