Sinewave Cycles Reactor USB Dynamo Powered Charging Device - Black
Manufacturer :
SJS Cycles part number :
Manufacturer part number :
Details
The Sinewave Reactor takes the performance of Sinewave Cycles' Revolution dynamo-powered USB charger and shrinks it into a package that fits above the star-fangled nut in a threadless steerer tube, with a pass through for the 6mm bolt. The only visible part is a custom CNC-milled stem cap holding the USB connector. The cap is only 9.8mm tall and available in silver, black, red and blue. The Reactor is compatible with 1" and 1 1/8" threadless systems. The Reactor is made in the USA.

Unlimited Power For:
- Cell phones
- GPS
- Battery packs
- Rechargeable headlights
- Rechargeable speakers
- Any USB-powered device!

Features:
- Best in class efficiency
- High speed overload protection
- Easy installation
- Shock and vibration toughened
- Waterproof
- Gold-plated USB connector won't rust or corrode

Specifications:
- Starts charging at 3.5mph (5.5km/h)
- Full charging at 9mph (14km/h)
- Max current: 1 Amp
- Also works with DC input up to 52V
- Weight: 43 grams (35g Reactor; 8g wire)
- Stack height: 9.8mm
- Wire Length: 36" (91cm)
- Wire Ends: Stripped wire (for hub connection), Reactor pins (for Reactor connection)
- Warranty: 1 Year
Related products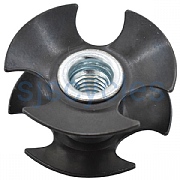 Jtek Star Nut with Cut Out for Brake/Dynamo/Hose
£1.99 Inc VAT
Quick view
Product Reviews (3)
Overall Product Rating 3.7 / 5
Stops working after few years
22 Sep 2020
Cons
Fragile not built to last
Had 2 of these and 1 stopped working after 2 years and another one almost not used after 3.5
I think the rain kills it easily - not waterproof at all!

Second issue it takes forever to charge anything with it. Whole day to charge an iphone? Give me a break
Essential accessory
28 May 2020
I recommend this product
What a difference 20 years make! I visited SJS 20 yrs ago & swore i would never return (sales assistant was rude & didn''t appear to to give a damn), until a friend (in the cycled trade) suggested I give SJS another try. Helpful, responsive, prompt & query was answered quickly etc. I guess SJS wouldn't still be trading if poor service was the norm. The product, easy to install, and seems to do what it's meant to, although haven't tried it in the wet yet. No instructions or spec came with it, but there is an excellant link which is eay to follow. Lesson learned, 1 bad xperience doesn't necessarily reflect on the whole business (shame about the intervening 20 years). Thanks SJS & Ed.
Compact Charger
21 Jun 2018
I recommend this product
Pros
Compact, Light, High Quality
I have fitted one of these to my Nomad because my latest GPS & Phone won't accept my E-Werk.
Fitting is quite straightforward, you just need to take your time threading the cable through the Star Nut & down the steerer. Once fitted it charges at the quoted speeds & is a very neat & tidy installation. My Phone, GPS & Kindle all charge fine.
Compatible with Compression Plug/Carbon Fork?
30 May 2019
Hi, m looking for a USB charger Compatible with a compression plug / carbon fork. Could this work somehow? If not, what system would work?
Hi there,

Unfortunately, we do not currently have anything that would be suitable im afraid.

Thanks
What if it's rainy day?
06 Mar 2019
WHat if it's a rainy day? Is it waterproof? or does the manufacturer provide some kind of protector from rain?
Hi, yes the unit is waterproof and the connector is gold plated so there is no corrosion. Thanks
Do we need any extra cable?
05 Mar 2019
Do we need to buy any extra cables to connect it to the hub?
No, all the required items are included.

Thanks - 05/03/19
CAN YOU AT THE SAME TIME RECHARGE AND THE LIGHT ON?
03 Dec 2018
CAN YOU USE AT THE SAME TIME RECHARGE AND THE HUB DYNAMO FRONT LIGHT????!!!!

BEST REGARDS
michalis aretakis
The item is more than capable of charging at the same time as using lights, but it is dependant on the hub.

Thanks - 03/12/18
Anyone know if this works with iPhone 8 or X ? I have a
30 Aug 2018
This should work will all smart phones.

Thanks
Does Part No. 43659 (Sinwave Reactor) Includes Also The Dinamo?
12 Apr 2017
Hi,

This is just the charging device, you will need to connect it to a separate dynamo hub to provide power too it.

Thanks.