Brompton Eazy Wheel Rollers with Fittings - 6 mm Holes - Per Pair
Manufacturer :
SJS Cycles part number :
Manufacturer part number :
Details
A nice upgrade from the stock rollers with bushings. These large, 60mm, wheels are fitted with smooth and long lasting cartridge bearings. Great for the user who likes to roll the bike when folded.

Suitable for Frame or Rear Rack post 2016.

Weighs 122 Grams ( Pair ).

Please note Brompton have selling restrictions to some countries who have their own dealers. If you are unsure please contact our sales team.

- Please Note these will not fit the new P Line bikes (2022)
Related products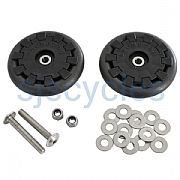 Brompton Eazy Wheel Rollers with Fittings - 5 mm Holes - Pair
£12 Inc VAT
Quick view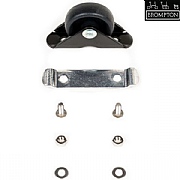 Brompton Mudguard Roller Assembly & Screws - L Version - Black
£10 Inc VAT
Quick view
Product Reviews (6)
Overall Product Rating 4.8 / 5
Big Improvement
26 Jun 2021
I recommend this product
Replacements for the original small plastic rollers on my 2006 "mongrel". Work well.
Should be standard
24 Jun 2021
I recommend this product
Cons
An essential upgrade that you pay for
Pros
Extra clearance, quiet, roll better
The main advantage of these, since I rarely roll the folded bike, is the extra calf clearance. The standard rollers, which are hard and sharp-edged, catch my calves and flay the skin - very painful. These wheels are easy to fit, roll nicely and just clear my calves when pedalling. Brompton should really make these the standard part.
Good
15 Oct 2020
I recommend this product
Very good product, a bit pricy but that I guess is Brompton for you. Having said that sjscycles was the cheapest i found.
Definite improvement
05 Oct 2020
I recommend this product
Pros
Extra heel clearance. That annoying rattle is gone.
I had two aims in fitting these:
1. Gain a bit of heel clearance
2. Get rid of the rattle from the OE cheap plastic conical rollers. It had bugged me since I bought the bike in 2009.
Results:
1. Gained 15mm overall. Perfect.
2. Silence. Bliss.

TBH, no 2 was the most important to me. And yes I realise now that giving the plain bush bearing a good coat of grease would have damped down the vibration and achieved the same result. But the extra heel clearance is good too. And yes, the folded bike rolls better too, but that wouldn't be worth the cost to me.
Good upgrade
29 May 2020
I recommend this product
Cons
Fitting takes 10-20 minutes
Pros
Much easier to roll when the bike is in part folded position
The product comes with clear instructions to swap these over from the standard Brompton wheels. You use some of the original washers. A definite improvement, and they are narrow enough that you do not hit your heels when pedalling.
Better rolling than the stock rollers
11 Oct 2018
I recommend this product
Pros
Improve rolling, industrial bearings
I have a M6L with the stock rollers. These are a definite improvement.
Larger diameter and fitted with sealed bearings.
Will I need to sets of Easy Wheels or will 1 set be fine?
08 Jan 2022
Thank you for your enquiry, these are sold as a pair