Brompton Rear Frame Clip Retro-fit Kit
Manufacturer :
SJS Cycles part number :
Manufacturer part number :
Details
Brompton innovation!

Retro-fit able to older bikes - except early 90s models.

Over the years, countless Brompton owners have come to appreciate the way the Brompton's rear wheel folds under, the ease of parking generally far outweighing any inconvenience in carrying the unfolded bike. However, some consumers remain unconvinced by a bike that is not fixed under them as they ride, while others, who regularly carry luggage on the rear rack, would benefit from having their loads secured to the mainframe when lifting the bike over obstacles or up stairs.

The RFC, described as a development in the best Brompton tradition, aims to offer the best of both worlds the rear frame can be fixed or allowed to fold under as the rider chooses; the additional weight of the latching mechanism is almost entyrely offset by the new lighter seat clamp, the whole package being just 1g heavier than a pre-July Brompton.

How does it work? Quoting the data sheet which will be supplied with it, the RFC can be set in latch mode or non-latch mode. In latch mode, the clip automatically engages with the rear frame when it's unfolded, so that the rear frame/wheel doesn't fold when the bike is lifted. In non-latch mode, the clip can't engage, leaving the rear frame free to fold, and allowing easier parking. To switch between the two modes you rotate the suspension block using an indicator mark as a reference.

Suspension rubber block not supplied, simply re-use your origional.

Weight: 128g .

Please note Brompton have selling restrictions to some countries who have their own dealers. If you are unsure please contact our sales team.
Related products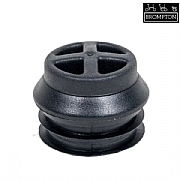 Brompton Press-Fit Replacement Seat Post Bung
£6 Inc VAT
Quick view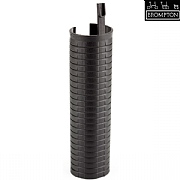 Brompton Saddle Height Insert
£6 Inc VAT
Quick view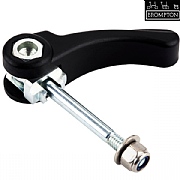 Brompton Seat Clamp Quick Release
£19 Inc VAT
Quick view
Product Reviews (20)
Overall Product Rating 4.7 / 5
Keeping up to date
06 Oct 2023
I recommend this product
A useful update to my older Brompton. Instructions were clear and and easy fix
Clever design, very effective
21 Sep 2022
I recommend this product
Cons
Pricey and poor instructions
Pros
Fits very neatly and work easily
It is amazing that Brompton managed to design this clever upgrade to old bikes that fits so neatly and works so easily. It is a bit pricey but the one real drawback is the instructions printed in small print on brown card with one section obliterated where the bag of parts was glued on! I downloaded instructions from the Brompton website which ran to 4 sides of A4! After careful study fitting was then straightforward.
Form follows function
21 Apr 2021
I recommend this product
As I have fitted one of these retro-fit kits to my first Brompton (the T5) I already know that it does the job well and is an accessible way for Brompton owners to upgrade the frame and prevent the rear end of the bike unexpectedly folding!
18 Nov 2020
I recommend this product
Top item good service and will be purchasing again with thanks
Great addition. Works perfectly.
22 May 2020
I recommend this product
Pleased with this useful adaptation. Fairly easy to fit if you follow the guide carefully. Bit overpriced like most Brompton bits but seems a quality item.
Identifying Parts And Which Way Round.
04 Jan 2017
I recommend this product
Cons
Need more instructions. Still a little play when lifting bike up - is this normal?
Pros
Once assembled, great
Great product but I should have made a video when installing as it was hilarious! Had trouble identifying washers especially and which way round spring had to go. Also had quick release clamp wrong way round! Also did not realise there was a washer in my suspension block which had to come out to fit new washer. Watched Brompton video but also need a leaflet with more detail re above. Also not clear about where to twist suspension block so that clip locks or does not lock. At first I thought I had fitted it wrong when it did not lock. Just had to turn suspension block until two lines on the buffer disc were at the top. Works perfectly now!
Small Points About The Spring And Shim Washer
20 Aug 2016
I recommend this product
Pros
Genuinely useful improvement
Quick release and frame clip: I feel the instructions, whilst correct, would be improved if they made clear that the right-angle bend in the spring has to bear against the notch in the latch.
Suspension block: no shim washer provided but it seems unnecessary so far.
25 Year Old Brompton Upgrade
17 Jul 2016
I recommend this product
Pros
Makes handling the bike much more easy
Ordered the frame clip retro kit for my 1991 Brompton together with a new suspension block and all were fitted 2 days ago .
My eternal thanks to Brompton & SJS .

Worthwhile Enhancement For Early Bromptons
18 Jan 2013
Pros
eases the carriage of bike up/over kerbs
A little fiddly to fit and perhaps a little more pricey than it could be but more than worth the effort.
Brompton Retro Fit Clip
18 Jan 2013
I recommend this product
Easy to fit and very convenient for occasional bike lifting.
Brilliant Addition For Older Bromptons
02 Jul 2012
I recommend this product
The retro kit is perfect for older Bromptons. I can now carry the bike up the stairs at the station and wheel it to the end of the platform as opposed to folding and carrying.

Very easy to fit, the only snag is, as always with premium products, the price. But dont let this put you off, it will revolutionise your bike.
Muy Buen Accesorio, Imprescindible En Un Brompton
17 May 2012
I recommend this product
Muy facil de instalar por ti mismo, un buen y practico accesorio que te facilitara la vida a la hora de cargar tu Brompton en diferentes niveles.
Un poco injusto en el precio, pero quien tiene un Brompton quiere lo mejor para su bici...no es asi?
Muchas gracias por su pronto envio, de UK a US en solo una semana.
Does The Trick
02 May 2012
I recommend this product
Pros
Easy installation, well made
A well made addition that lets me pop my brompton saddle on my shoulder and carry the bike unfolded up and down the train station steps. As with all Brompton extras though, it's a bit overpriced in my opinion.
Useful Add-On
16 Nov 2011
I recommend this product
Cons
No installation instructions supplied - had to google.
Once I'd found & downloaded the excellent installation instructions from Brompton, fitting was a breeze. Very useful to be able to lock the tail end from flopping down, especially when carrying a load on the rear rack.
The kit came with a full set of options for older (like mine) and newer variants.
Worthwhile
21 Jun 2011
I recommend this product
Not really necessary but nice to have for lifting a Brompton up and down steps or over fences when on paths. I have now had it for a few weeks of daily use and I never disable it. I can see why it is now part of the standard cycle. Very easy to fit to my early LWB.
Nice And Fast Service
22 Mar 2011
I recommend this product
but no wonder why no international free ship when up to some amount
Easy Install
13 Feb 2011
I recommend this product
Cons
Can catch on something
Very easy to install with the added instructions.
With the clip installed, you still have the choice whether or not to use it.
Excellent From Sjs Cycles And A Good Product To Boot!
22 Oct 2010
I recommend this product
The dialogue with Shelley Bennett made buying from New Zealand simple. The goods arrived in good time and with a bit of tweaking the frame clip fits and works a treat. My brompton is now a different bike and better for the kit. Maybe it is because my frame is not new, but I had to trim suspenson rubber to get the gear aligned correctly. In my view this item should be standard issue on all Brompton's bikes.
Brompton Rear-frame clip
17 Apr 2008
Best item for every brompton owner.I highly recommended this. You will not be disappointed.
Nice bit of kit, but...
11 Sep 2007
Cool bit of kit, let down by self tapping screw to hold the plastic lever on which stripped any grip it might have had instantaneously when tightened up. I substituted a nail, bent over at the end. Take note Brompton! :-)
Brompton Rear Frame Clip Complete Retrofit Kit
26 Oct 2020
I've read that pre-2007 models this item won't fit. Is there any advice you can offer to me on this please?
No, these fit pre 2007 fine, its the early 1990s models that sometimes are not suitable.

Thanks - 26/10/20
I have a 2004 Brompton - will this fit my bike? Thanks...
24 Oct 2020
Do you ship to Germany?
15 May 2019
Hi, yes we can ship Brompton spare parts to Germany. If you add the parts you need to your basket it will tell you the shipping cost. Thanks 15/05/2019
SJS Cycles part number : 14659
06 Dec 2018
I want to buy this part. No Brompton dealer here in Qatar. Can you ship? Last year you shipped parts to me in Qatar. Please advise.
Hi there,

Unfortunately due to selling restrictions we cannot send this to you im afraid.

Thanks.
Do You Ship It To Thailand?
18 Jun 2014
Hi,

I'm afraid not, Brompton have set their own selling restrictions in which all European dealers cannot send any parts to any countries outside of the EU.

Thanks.