Matumura Kohki Scrowave Suspension Spring
Type
Manufacturer :
SJS Cycles part number :
Manufacturer part number :
Details
Matumura Kohki Scrowave Suspension Spring is the best suspension upgrade for Brompton bicycle, it replaces the standard rubber bumper with a scrowave spring. Fits perfectly the standard Brompton mount, makes the suspension much more stable and active.

Firm Type:
- For Riders: 70-100kg
- Spec: Triple layer scrowave spring
- Weight: 88g

Soft Type:
- For Riders: Under 70kg
- Spec: Double layer scrowave spring
- Weight: 78g
Related products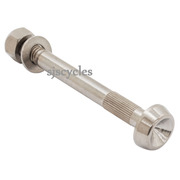 Ti Parts Workshop Suspension Block Titanium Nut & Bolt
£13.99 Inc VAT
Quick view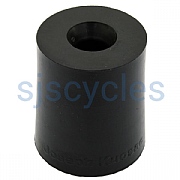 Joseph Kuosac Suspension Block for Bromptons - Super Firm - Black
£19.99 Inc VAT
Quick view
Product Reviews (8)
Overall Product Rating 4.8 / 5
Very compliant
22 Sep 2021
I recommend this product
Been only a lightweight the stock Brompton shock just refused to move for me. The Soft version of this shock overcame that problem, the ride is certainly more noticeably plush.
Looks amazing, very well engineered and finished
03 Jul 2019
I recommend this product
Cons
Well worth the money, Im a taller heavier rider and it suits me better than the standard Firm block
Pros
Could be deemed an expensive upgrade
Pricey, but definitely worth the investment.
Excellent!
26 Jan 2019
I recommend this product
Just takes that hard edge off the ride, makes such a difference! I'm 75kgs, just over the advisable upper limit, any more and you'll certainly need the harder one, I might just try it myself!
Looks lovely, super stiff
27 Dec 2018
I recommend this product
Pros
Effective. Great look. Easy upgrade.
A very well made upgrade. Looks fantastic on the bike.
I am just over 70kg and have the firm version (3 spring). The ride is very firm - no discernible bounce at all, making the ride very positive.
Really easy to fit.
A great upgrade , makes a BIG difference
17 Dec 2018
I recommend this product
This is simply a must for any Brompton ,it makes the ride far better , reduces bob and bounce and allows the bike to corner better and is easy to fit
Mostly very good
17 Oct 2018
I recommend this product
This spring is good, with a caveat: Its aluminium end cap doesn't compress around the upper suspension plate's brazing beads as the Brompton polymer suspension block does. The cap sits on top of the beads - on my Brompton, too far from the USP to hold the flanged white nylon washer firmly in the USP hole. With 10 months use, the unshrouded bolt thread has slightly enlarged the hole on one side. I've fabricated a plastic spacer 15 mm Ø x 1.25 mm thick to sit in the end cap's recess beneath the white washer, holding the washer hard against the USP.
Out of curiosity, I recently greased the interfaces between the spring's three leaves. Unexpected result: the bike seems to want to go faster! Can't be buyer's euphoria - I've had it 10 months.
I can only speculate that the greased spring may be helping the rear wheel track the road surface better, transmitting power more efficiently.
Recommended - but make sure the white nylon flanged washer is held firmly in its hole in the USP.
If you buy one thing for your Brompton, buy this...
10 Oct 2018
I recommend this product
This is the single best upgrade for Brompton performance, bar none, it cures so many issues with the weak rear axle on the bike. The improvement in ride is dramatic.

I bought the Firm as an 81kg rider, but I'm now also tempted to try the Soft. It is vastly better than the stock Brompton part and very easy to fit (10mm socket only, if I remember correctly).

The more compliant rear axle helps to overcome the inherently weak rear axle due to the very rearwards rider centre of mass and the small tyres. Not only does ride improve, making it more comfortable, the increased stability allows for more aggressive braking and cornering, and some ride can be cashed in for higher tyre pressures.

There are no negatives to this parts. It is also the best value for money Brompton upgrade.
Good, but softer than expected
31 Aug 2018
I recommend this product
I went for the harder version. The spring looks amazing. Certainly adds a more bling to the Brompton. The ride is good, but a little softer than I expected.
Hi, do I need any other parts like bolts and nuts with this?
17 Mar 2021
Thank you for your enquiry, it uses all the standard fixings

WD 18/03/21
there is 2 of us
11 Dec 2020
Hi, my husband is 75kg and I am 58- should I go for hard or soft one? I use the bike most of the time but i wouldn't want him to damage my fancy suspension when he uses the bike. Thank you.
Depends on who is riding it the most, we would say go for the correct spring for the primary rider.

JK 11.12.20
Another weight question about the Scr.owave suspension
19 Mar 2020
Hi
I'm a lightweight (64kg).
But what about the weight my clothes en especially my sometimes heavy backpack add?
Do you think the soft suspension will still be sufficiant for me? Or should I get the firm version?
I now ride with the old standard Brompton suspension and the 'pumping' really bothers me, especially when pedalling faster.
Thanks
We would probably still go with a soft for yourself.

Thanks - 20/03/20
Are you supplying version 2 of the Scrowave suspension block?
30 Dec 2019
Yes, we offer a Firm and Soft as well as multiple colours.

Thanks - 30/12/19
Scrowave spring
16 Sep 2019
If the Scrowave spring is made from mild steel, surely it must be treated in some way in order to prevent corrosion ?
Hi there,

It probably has been treated in the manufacturing process, unfortunately we don't have access to that kind of information im afraid.

Thanks.
How would this perform if it was fitted on a Brompton Electric. Would there be any advantage ?
17 Aug 2019
It is stiffer and plusher, whether fitted to electric or normal Brompton it is a higher quality product.

Thanks - 19/08/19
What materials is the spring constructed from?
11 Aug 2019
Hi,

it is made from general carbon steel.
what's the max weight it can handle :(
05 Jun 2019
Im 120 kg at the mo, slowly shrinking lol
Hi, it will probably compress too much with 120 kg to be effective as suspension. Thanks 07/06/2019
Does this item require any routine maintenance, e.g. lubrication ?
13 Dec 2017
For example where the hops of the "waves" rub against each other when the springs are under load.
Hi there,

No maintenance really needed, mine is about 700 miles old and working perfectly even with the classic English weather!

The best upgrade I made to my Brompton!

Thanks
Firm or Soft?
31 Oct 2017
Hello, I am 97 kg. Can i buy soft or i must wait for firm one?
Hello,

We would recommend getting the firm one.

Thanks.
I'm 71 Kg, which should I get, soft or firm?
11 Aug 2017
Hello,

You do fall in to the category of the firm one, so we would recommend that one. However if you wanted to go for the soft one it should be ok as it is on a couple kg over, but we have not tested this so we can not say for certain.

Thanks.
What is the weight saving on original?
05 Aug 2017
Hi, there is no weight saving. The Scrowave is 54g heavier than the standard and 57g heavier than the firm Brompton rubber bumper. However there is an improvement in ride quality. Thanks.
Is This The New Version 2 Stocks?
06 Jun 2017
Hi,

This is the newest most up to date version of this product.

Thanks.