Matumura Kohki Scrowave Suspension Spring
Type
Manufacturer :
SJS Cycles part number :
Manufacturer part number :
Details
Matumura Kohki Scrowave Suspension Spring is the best suspension upgrade for Brompton bicycle, it replaces the standard rubber bumper with a scrowave spring. Fits perfectly the standard Brompton mount, makes the suspension much more stable and active.

Firm Type:
- For Riders: 70-100kg
- Spec: Triple layer scrowave spring
- Weight: 88g

Soft Type:
- For Riders: Under 70kg
- Spec: Double layer scrowave spring
- Weight: 78g
Related products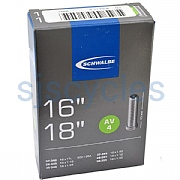 Schwalbe AV4 Schrader Tube - 400a/16"/18" Tyres - 37-340 28-349 to 37-349 & 28-355 to 35-355
Now from

£4.99

Inc VAT
Typical RRP: £7.99
Quick view
Product Reviews (6)
Overall Product Rating 4.8 / 5
Excellent upgrade
29 Sep 2023
I recommend this product
Cons
Not cheap, but you get what you pay for.
Pros
Great ride quality, fun cornering ability improvement
This is a great addition to the Brompton. I have a B75 and it could feel harsh at times. I weigh just under 70kg so was unsure which spring to go for, but went for firm in the end as I like a responsive ride. I have no regrets - the bike is so much better over bumps now, with seemingly better grip as a result. Cornering is also a lot more fun as I guess that's when the spring really comes into action. I've touched down with the pedals a few times as a result as I must be leaning further. Well worth it if you can afford it.
Its an upgrade and not essential but if you have the cash its well worth it.
18 Dec 2022
I recommend this product
Cons
Its an upgrade not an essential
Pros
Significantly improves the handling
Having done a 1000km on my 2 speed Ive just changed to this. There is a night and day difference to the feel of the bike. As said by others already it makes the ride plush, removes all the bob and sharpens up the handling - cornering is particularly improved. I weigh 85kg so obviously got the firmer version.
Looks lovely, super stiff
27 Dec 2018
I recommend this product
Pros
Effective. Great look. Easy upgrade.
A very well made upgrade. Looks fantastic on the bike.
I am just over 70kg and have the firm version (3 spring). The ride is very firm - no discernible bounce at all, making the ride very positive.
Really easy to fit.
A great upgrade , makes a BIG difference
17 Dec 2018
I recommend this product
This is simply a must for any Brompton ,it makes the ride far better , reduces bob and bounce and allows the bike to corner better and is easy to fit
If you buy one thing for your Brompton, buy this...
10 Oct 2018
I recommend this product
This is the single best upgrade for Brompton performance, bar none, it cures so many issues with the weak rear axle on the bike. The improvement in ride is dramatic.

I bought the Firm as an 81kg rider, but I'm now also tempted to try the Soft. It is vastly better than the stock Brompton part and very easy to fit (10mm socket only, if I remember correctly).

The more compliant rear axle helps to overcome the inherently weak rear axle due to the very rearwards rider centre of mass and the small tyres. Not only does ride improve, making it more comfortable, the increased stability allows for more aggressive braking and cornering, and some ride can be cashed in for higher tyre pressures.

There are no negatives to this parts. It is also the best value for money Brompton upgrade.
Good, but softer than expected
31 Aug 2018
I recommend this product
I went for the harder version. The spring looks amazing. Certainly adds a more bling to the Brompton. The ride is good, but a little softer than I expected.
I'm about 70kg - should I go for firm or soft?
11 Sep 2023
My weight fluctuates between about 68kg and 72kg. I usually carry front luggage. I like to ride quite fast :)

Should I choose the firm or the soft option?

Thanks!
It would depend on the feel you want, I would err on the side of caution and go for the firmer spring. SK 13/09/23
Will it work for B75 ?
06 Jul 2023
Thank you for your enquiry, yes it will be fine on a B75

WD 06/07/23
Can I use this with a pre 2017 S2L. I am 95 kg so I presume I will need the stiffer version?
13 May 2023
Hi
Thank you for your enquiry, yes this will work with a Pre-2017. We would recommend the Firm option based on your weight.
Kind Regards. JP 15/05/23
Can i use this with T line? Version type?
28 Mar 2023
Is this compatible with T line? What's the latest version that you guys are offering?
Thank you for your enquiry, no sorry this is not suitable for the P or T line as they use a completely different design of suspension spring.

WD 28/03/23
Do you have it in black?
22 Jan 2023
Thanks!
Thank you for your enquiry, yes please see SJS Cycles part number : 51296

WD 23/01/23
Can I use this with a P Line series ?
14 Aug 2022
I purchased this to go on my p line Brompton, However, when I am trying to install it, the nut just doesn't seem to be able to catch the thread. :/
Also, when installing it I tried to compress it by folding it into the Brompton, and still I couldn't
Sadly this part will not suit the P line Brompton,


Hi, do I need any other parts like bolts and nuts with this?
17 Mar 2021
Thank you for your enquiry, it uses all the standard fixings

WD 18/03/21
Scrowave spring
16 Sep 2019
If the Scrowave spring is made from mild steel, surely it must be treated in some way in order to prevent corrosion ?
Hi there,

It probably has been treated in the manufacturing process, unfortunately we don't have access to that kind of information im afraid.

Thanks.
How would this perform if it was fitted on a Brompton Electric. Would there be any advantage ?
17 Aug 2019
It is stiffer and plusher, whether fitted to electric or normal Brompton it is a higher quality product.

Thanks - 19/08/19
What materials is the spring constructed from?
11 Aug 2019
Hi,

it is made from general carbon steel.
what's the max weight it can handle :(
05 Jun 2019
Im 120 kg at the mo, slowly shrinking lol
Hi, it will probably compress too much with 120 kg to be effective as suspension. Thanks 07/06/2019
Firm or Soft?
31 Oct 2017
Hello, I am 97 kg. Can i buy soft or i must wait for firm one?
Hello,

We would recommend getting the firm one.

Thanks.
I'm 71 Kg, which should I get, soft or firm?
11 Aug 2017
Hello,

You do fall in to the category of the firm one, so we would recommend that one. However if you wanted to go for the soft one it should be ok as it is on a couple kg over, but we have not tested this so we can not say for certain.

Thanks.
What is the weight saving on original?
05 Aug 2017
Hi, there is no weight saving. The Scrowave is 54g heavier than the standard and 57g heavier than the firm Brompton rubber bumper. However there is an improvement in ride quality. Thanks.