Joseph Kuosac Suspension Block for Bromptons - Super Firm - Black
Manufacturer :
SJS Cycles part number :
Manufacturer part number :
Details
Super firm! - harder than Bromptons Firm suspension block.

Gives a very precise and firm ride feel, great for putting the power down.
This is designed to be stiff and will not absorb shock like the Brompton Firm or Standard blocks.

Block only, does not include bolt or nut. - These can be used from existing suspension.

Weight 47g
Related products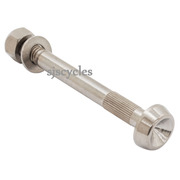 Ti Parts Workshop Suspension Block Titanium Nut & Bolt
£13.99 Inc VAT
Quick view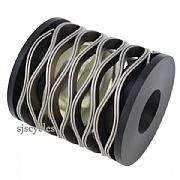 Matumura Kohki Scrowave Suspension Spring
£74.99 Inc VAT
Quick view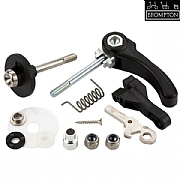 Brompton Rear Frame Clip Retro-fit Kit
£32.50 Inc VAT
Quick view
Product Reviews (2)
Overall Product Rating 5 / 5
Useful improvement
06 Oct 2020
I recommend this product
Pros
simple swap. slight improvement
Easy to install with a 10mm spanner. Difference to the current (2020) Brompton damper isn't vast, but this 80kg rider noticed a stiffer ride and more power transfer. No real difference in vibration, etc (but then I do have a TI seat post.
Fantastic Rear Damper
12 Nov 2019
I recommend this product
Having tried multiple rear "shocks" for my Brompton, I was a bit dismayed that I would always have a disheartening bob during pedaling...

The Kuosac damper is the only solution I have found that actually provides a small amount of damping but prevents the annoying pedal-bob.

It's not sexy, but its not expensive and it works a treat.

For reference I weigh 70kg and would consider myself a smooth pedaler with an average cadence of 90rpm.
For a heavier rider
27 Mar 2021
Would you recommend this or the Matumura Kohki Scrowave Suspension Spring block for a rider around 100kg?
This is personal preference, both would be a good upgrade, these are slightly stiffer.

Thanks
How does this compare with the standard block?
01 Sep 2020
Since Brompton added a standard suspension block last year, replacing the soft/firm options, does this feel noticeably different? Is it similar to the CHPT3 block for example?
This is far stiffer than the Brompton OE block. This makes the bike feel like a fast stiff road bike.

Thanks - 01/09/20
is this better than the atumura Kohki Scrowave Suspension Spring
21 Aug 2020
What is the difference between the two please?
Thank you
This is a rubber block, the other is a spring - the Kohki will offer a slightly more active suspension. Both are very good.

Thanks - 21/08/20
Will it make a difference?
17 Aug 2020
Hi there

I have a 9 year old Brompton M3L. The original standard suspension is too soft for me - but I am not sure whether that is because of deterioration over time, or because of the standard setting. It does become very noticeably wobbly especially when pedalling at high cadence in 3rd gear.

What would be your recommendation: Should I just try installing the new Brompton standard suspension (which I understand to be firmer than the old one) or should I just go straight for this Joseph Kuosac one? I weigh 96 kilos

thanks

/hc
We would suggest this or SJS Cycles part number : 51768

Thanks - 17/08/20