Milian Pere Child Seat Mount Only for Brompton Bike
Manufacturer :
SJS Cycles part number :
Manufacturer part number :
Details
- For kids from 2 and a half to 5-6 years old
- Compatible with Brompton models from year 2004 onwards
- Compatible with all handlebar models
- Weight: 800g
- Does not affect the bike's normal use. When the bike is folded the edge protrudes about three centimetres from the left hand side
- You SHOULD fit an "approved" top tube child seat, many customers however choose to fit a normal bike seat, depending on your country this may not be legal.
- Footrests (but without straps) and allen keys to assemble are included.
Related products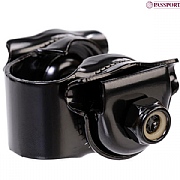 Passport Standard Saddle Clamp
£2.99 Inc VAT
Quick view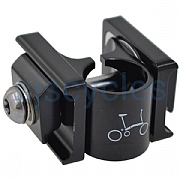 Brompton Penta-Clip for Rail-Frame Saddles - Black
£35 Inc VAT
Quick view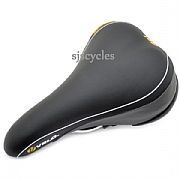 Velo Plush Junior Gel Saddle - Black
£19.99 Inc VAT
Quick view
Milian Pere Replacement Footrest for Child Seat Mount
£9.99 Inc VAT
Quick view
Product Reviews (3)
Overall Product Rating 5 / 5
Lovely
28 Nov 2020
I recommend this product
Great design, simple to use and remove. Grandchild loves it.
Perfect!
14 Nov 2020
I recommend this product
Delivery was fast and the product is excellent.
Changed my life
05 May 2018
I recommend this product
Cons
Expensive, but then it is a custom made niehe part
My current commute is cycle 1 mile, drop off at nursery, jump on train, cycle 1 mile. Evening reverse. This handy gadget has knocked 15 minutes off of that each way by safely stowing my 4 year old on the brompton. It has foot pegs (which don't fold). The ride is stable until the boy wants to steer. M type handle bar sharing is a bit of a squeeze, P type bars would be better. With child on board you cycle slightly bow legged to clear their bum, solo and my knees clear the extra saddle. Fold time goes up to a round a minute, you just have to be careful, so drops a star there. Yes it is expensive but as a working parent it is buying me invaluable time back and putting a smile on all or faces. We use it for local trips to the park, shopping etc... I wish I had bought one sooner.
Can this be used on a Brompton B75?
12 Oct 2021
Thank you for your enquiry, yes will be fine
What child seat fits?
27 Jul 2021
Hi,

Can you please tell me what specific models of child seats fits this item?

Thank you.
It is not for a child seat but for a seat clamp like the Pentaclip or SJS Cycles part number : 23606

Thanks - 27/07/21
I have a 2004 SWB..
17 Apr 2021
Does this really not fit that older bike? Would the clasp not brace at the front?
This is only for 2004 onwards bikes
What is piece PER 05
04 Feb 2021
On the instructions, there is an item referenced as PER 05 but it is nowhere on the figure with mount instructions - what is it supposed to be
Thank you for your enquiry, we having spoken to our supplier following a product improvement part PER05 has been deleted and is no longer required.
Regards WD 05/02/2021
Has this got feet rests?
17 Apr 2018
Thanks
Yes, the footrests are supplied, see photo.