Ventura 7 Speed Freewheel - 14-28T
Manufacturer :
SJS Cycles part number :
Manufacturer part number :
Details
- 7 Speed
- 14-28T - 14/16/18/20/22/24/28
- HG-copy
- Index

Requires a Shimano type splined freewheel removal tool. (Shimano's own is SJSC Part # 870)
Related products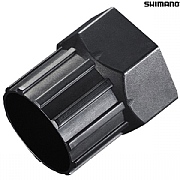 Shimano TL-FW30 Multiple Freewheel Remover
£17.99 Inc VAT
Quick view
Product Reviews (2)
Overall Product Rating 3.5 / 5
OK while they last
02 Apr 2019
You kinda get what you pay for, which we should all know by now.

I buy these because I like the gear ratios. I'm on my fourth one. The first two wore out normally (if a little quickly), the third became a bit noisy in the bearings and the last one fell apart while I was riding this morning – there weren't even that many miles on it, so it came as quite a surprise.

Caveat emptor. For this price you can afford to get two for when the first one fails.
Works a treat
21 Apr 2018
I recommend this product
Cons
Slightly more fiddly to set up
Works a treat.
Use on my commuting bike. Runs perfectly okay use on my commuting bike. Runs perfectly okay
Screw on ?
05 Aug 2020
Hi, is this a screw on freewheel ?
Hi, yes this is a screw on freewheel. Thanks
Do you sell the tool to tighten the face plate?
16 Jul 2018
The face plate has come undone, so the cogs are all loose. My local bike shop have told me that they're put together at the factory & not designed to come undone - I can't believe this, as the face plate has teeth for a tool to fit into
Hi, the assembly tool is not available to buy. Normally they do not become loose in use, your local shop is correct they are not designed to be disassembled or serviced. We would recommend replacing your freewheel assembly.
Hi, Do You Have Shimano Mf-Tz21 Replacement Product Which Gear Ratio Could Be 12-28T?
15 Jun 2016
14-28 is too short..11-28 or 12-28 wouul be good for me.
Hi,

Any of the freewheels we stock could be used as a replacement for your Shimano freewheel. Freewheels usually only come with 13 or 14T smallest sprocket as the don't have the space for smaller sprockets.

Thanks.