Brompton DR Gear Shifter with Integrated Brake Lever - Left Hand - 2 Speed - Silver / Black
Manufacturer :
SJS Cycles part number :
Manufacturer part number :
Details
New style integrated gear and brake lever.

Fits all S and P type handlebars but is only compatible with 2017+ M and H handlebars, will not fit pre-2017 M and H type handlebars.

Weight: 133g .

Please note Brompton have selling restrictions to some countries who have their own dealers. If you are unsure please contact our sales team.
Related products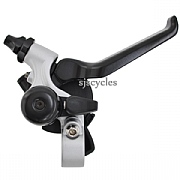 Brompton Hub Gear Shifter with Integrated Brake Lever - RHS - 3 Speed - Silver / Black
£37.50 Inc VAT
Quick view
Product Reviews (2)
Overall Product Rating 5 / 5
25 Oct 2017
I recommend this product
Cons
£80 for everything but still not bad, no instructions in the 2 speed changer
Pros
Looks so much better and shifts better
I fitted the new under bar shifters to my 2008 m6 titanium and they're great, why do they say they don't fit? You need the new cables and the 2 speed adapter.
Great Update
15 Mar 2017
I recommend this product
I just upgraded my 2013 H6R Brompton to use the new integrated derailleur gear/brake lever.
It was straightforward, I fitted new cables (you could probably use the old brake cable) and reused my handlebars and grips.
You will need a new DR gear cable and DR Cable Anchorage & Spring Set - I found this the fiddliest part to fit and connect.
The 2013 H handlebars worked - it is a close fit and my max grip length is 110mm.
Delivery To Germany?
31 Dec 2016
Is it possible to deliver to germany?
Thanks
Rüdiger
Hi,

We can indeed ship this to Germany, for a shipping quote just add all of the items you are looking at to your basket and the website will calculate the postage costs for you.

Thanks.
What Else Do I Need?
29 Dec 2016
Do I need new cables for gear shifter and brake?
Now I use the old 2-gear shifter and the 2013 break levers...
Thanks!
Hi,

You do not require new brake cables as these new levers use the same cables, you will however require a new set of gear cables for them.

Thanks.
Is It Shifter 2017 ? Is It Including With Brake Lever And Compatible With Bell 2017 ?
11 Dec 2016
How is the process to buy this component ?I'm in Indonesia (nearby Singapore)
Hi,

This is the new 2017 shifter and it does come with the brake lever as well as being compatible with the new 2017 bell. Due to selling restrictions put in place by Brompton, as a European dealer we are not able to ship any Brompton parts to any country outside of the EU.

Thanks.