Brompton Hub Gear Shifter with Integrated Brake Lever - RHS - 3 Speed - Black / Black
Manufacturer :
SJS Cycles part number :
Manufacturer part number :
Details
New 2017 integrated gear and brake lever.

Fits all S and P type handlebars but is only compatible with 2017 M and H handlebars, will not fit pre-2017 M and H type handlebars.

Weight: 158g .

Please note Brompton have selling restrictions to some countries who have their own dealers. If you are unsure please contact our sales team.
Related products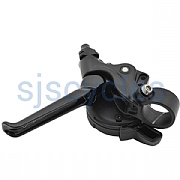 Brompton DR Gear Shifter with Integrated Brake Lever - Left Hand - 2 Speed - Black / Black
£32.50 Inc VAT
Quick view
Product Reviews (2)
Overall Product Rating 3 / 5
Great shifter
27 Mar 2018
I recommend this product
Cons
would appreciate to be able to go from 1 to 3 gear in one single push
Pros
easy to install, adjustment simple, great functionality
Was wondering why the previous review was so negative but decide to order this nevertheless

Mounting it was absolutely easy at all You just have to pass the wire through a little hole and it's done I works great!! totally pleased with it
The nastiest thing from Brompton ever
31 Oct 2017
Cons
Hard to set up, impossible to keep indexing correctly, zero build quality
Pros
I cannot think of one positive about it
I am a big Brompton fan, but this is nasty.. It is a cheap construction but over priced nasty lump of plastic that isn't fit for purpose. I thought the old gear changer was bad, but this makes it look good. After 3 days I took it off and replaced it with a Sturmy Archer shifter. It was hard to set up, impossible to keep working.
When will the matching left hand brake lever be available?
12 Nov 2019
Hi there,

The part that you need can be found under part number 43732.

Thanks.
Will this shifter work with 3sp Cassette
29 Oct 2019
Will this 3sp shifter for an internal hub work with the 3sp cog set I.e. your Ti Parts cog set (36535T258). Thanks
We have seen this used yes, we favour a friction shifter.

Thanks - 29/10/19
Is there a matching left hand brake lever (only) in black to match this?
15 Aug 2019
Great question, we don't list it, this is an error and will be addressed, should be in stock and online by 28/08/19, thanks for pointing this out to us!
Does this work with the BWR hub?
22 Jun 2019
Yes this shifter works for BWR, BSR, SRF3 and some others!

Thanks - 24/06/19
Can I use this on a Joseph Kuosac full rise bar?
31 Jan 2019
I have a 2005 M6L so this integrated shift lever wont fit on my current (pre-2017) handlebar. Is the Joseph Kuosac full rise bar that you sell wide enough for the integrated shift levers to fit? And is the a direct replacement (height-wise) for my pre-2017 M-type handlebars
Yes, you can use them with Joseph Kuosac full rise bar

many thanks
01/02/19
Uprade shifter and cable
By
François (a french customer)
03 Oct 2018
Hello,
I want to upgrade my Brompton ML6 with the new shifters and the new handlebar
So I also want to change my gear/brakes complet cables set, so can you tel me exactly wich parts I have to buy for this upgrade

Have a nice day


Hi there,

It would be difficult to do a straight swap as when Brompton introduced the new type handlebar in 2017, it came with a longer stem, so all of the measurements will be different.

Thanks.
Does this work with both SRAM and Sturmey 3 sp Gears?
06 Jul 2018
Hi there,

Yes this should work for SA and SRAM 3 speed hubs.

Thanks
Can I use this with the Ti Parts Workshop 2/6 Speed Titanium Rear Sprocket Set
29 May 2018
Is the 2017 Brompton 3 speed Hub Gear Shifter with Int. Brake Lever compatible with the Ti Parts Workshop 2/6 Speed Titanium Rear Sprocket Set?
Hi there,

This shifter is for 3 speed, the internal gears. You will need a 2 speed shifter, to run with the DR and then yes you can use the TPW sprocket set.

Thanks
Is the shifter available as spare an its own ? (without the brake lever)
17 May 2018
The shifter is only available as a part with the brake lever.

Thanks
Fitting (Or Not) For A M Or H Handlebar
22 Apr 2017
Hello. you mention this can't be fitted on an M or H handlebar, i don't understand why. Can you inform what are the restrictions? Could it be fettled to fit?
Hi,

It is not recommended by Brompton due to the reduced clearance offered by the shifter. This means that the lever clamp has to sit further outboard on the handlebars reducing the space for grips. The pre-2017 M-type grips are already as small as Brompton want to make them so they don't recommend the new shifters.

Thanks.