Brompton Hub Gear Shifter with Integrated Brake Lever - RHS - 3 Speed - Silver / Black
Manufacturer :
SJS Cycles part number :
Manufacturer part number :
Details
New style integrated gear and brake lever.

Fits all S and P type handlebars but is only compatible with 2017+ M and H handlebars, will not fit pre-2017 M and H type handlebars.

Please note Brompton have selling restrictions to some countries who have their own dealers. If you are unsure please contact our sales team.
Related products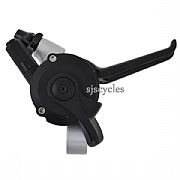 Brompton DR Gear Shifter with Integrated Brake Lever - Left Hand - 2 Speed - Silver / Black
£27.50 Inc VAT
Quick view
Product Reviews (1)
Overall Product Rating 5 / 5
Great Update
15 Mar 2017
Brompton Hub Gear Shifter with Integrated Brake Lever - RHS - 3 Speed - Silver / Black
I recommend this product
Pros
Much easier to change gear
I just upgraded my 2013 H6R Brompton to use the new integrated hub gear shifter/brake lever.
It was straightforward, I fitted new cables (you could probably use the old ones) and reused my handlebars and grips.
The 2013 H handlebars worked - it is a close fit and my max grip length is 110mm.
Shifter
09 Sep 2019
Hi is it possible to use brompton hub gear shifter 42922 with Joseph kuosac bars 46142 thank you
Yes, we have fitted many!

Thanks - 09/09/19
Part 42922
06 Sep 2019
Hi can I use the 3 speed gear change/brake lever on the new m bar b75 brompton ? Thanks alan
No, you would require different handlebars.

Thanks - 06/09/19
Can I use this with TPW 3 spd cassette?
11 Apr 2019
I want to upgrade my S2 to 3 speed, will this shifter work with the Brompton mini derailleur and cable to shift across the ti Parts or similar 3 sprocket cassette? I guess 9 or 10 speed chain too?
Yes, this will shift, but you need to change the chain to 10/11 speed, and use a straight through gear cable routing like the pre 2017 anchorage.

Thanks - 12/04/19
Can I use this with SJS part nos 24458SIL and 19009
06 Apr 2019
I'm thinking of pairing this brake lever and gear shifter combination with both a Tektro front brake and a SA 3-spped hub (with drum brake). Would the levers be compatible with both drum brake and the calipers? Would the shifter be compatible with the 3 speed hub?
As these brake levers are short pull, yes this combination should work. The shifter will also be suitable with the 3 Speed internal.

Thanks - 08/04/19
compatibility and fit
12 Nov 2017
why won't these work with older M bars as they are 22.2 apart from the centre ..is it because of the bend shape ?
Also ..are they compatible with the sram /sach 3 speed hub ? I see they work with the SA from a previous question but the SA and sram hubs have different shifters which i believe have slightly different pull distances. thanks!
Hi,

It is to do with the bend as well as the length of the grip section, the older type M bars have a much shorter section before the bend than the new M bars meaning that these shifters unfortunately don't fit. You are correct in that they use a different cable pull so these shifters will not be compatible with the Sram hubs.

Thanks.
Will This Fit Joseph Kuosac Mid Riser Handlebar?
23 Jan 2017
Hi,

Providing your handlebars are 22.2mm in diameter where the levers fit (like most flat/riser handlebars including the Brompton original bars) then this will fit fine.

Thanks.
Will This Brake & Gear Changer Work On My Older Sturmey Archer 3 Speed Hub ? On My Brompton Thanks
13 Dec 2016
Hi,

These use the same standard cable pull as all Sturmey Archer 3spd hubs so will be fine for use with your older hub. Please be aware that these levers will not fit the pre-2017 M type handlebars.

Thanks.