Shimano Dura-Ace SL-BS77 9 Spd Bar End Shifters
Manufacturer :
SJS Cycles part number :
Manufacturer part number :
Details
Inc cables & frame stops. Precision-engineered Dura-Ace 9-speed index bar end shift levers
Superior Dura-Ace quality means reliability and durability
Easily fit into bar ends and secure firmly for assured shifting
Fully compatible with Mega9 precision 9-speed drivetrain
Clear-coated aluminium finish
Can be used with double or triple chainsets
SIS indexed system compatible
Switchable between 9 speed SIS indexing and friction.



Weight: 178g
Associated Components
Part Number
Description
Availability
Related products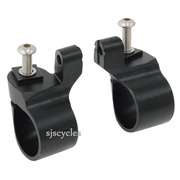 Jtek Special Thumb Shifter Brackets for 22.2 mm Bars - Black
£29.99 Inc VAT
Quick view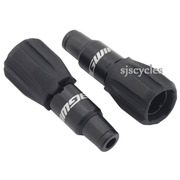 Jagwire Rocket II Cable Adjusters for Fixing to Plain Frame/Headtube Boss - Per Pair
£3.99 Inc VAT
Quick view
Product Reviews (2)
Overall Product Rating 4 / 5
Perfect
24 Mar 2021
I recommend this product
Cons
£££, esp. as thumbies
Pros
Better than any click-shift system x1000
Been using these with Paul adaptors as thumbies for 10yr , many many thousands of Km. No problem, indexing perfect, reliable, tough, convenient.
Great bonus with Paul thumbies is they can easily be removed from bars for packing bike on planes / busses - vulnerable shifter tucked out of harms way.
Work OK. Some service issues.
22 Jul 2017
Fairly easy install but supplied cable outers and inners may be too short. Cable stops didn't fit one bike. Work OK. Grey caps fall off or wear through and no spares. Awkward to lube but seize up if not.
Hi, when on indexed mode, are these compatible with shimano road or MTB rear derailleurs?
06 Jul 2022
I'm wondering what RD's I can use this with. Alivio and Deore ok? (Both 9spd) and would be running 1x
Thankyou!
As they are 9 speed they will work with 9 speed MTB and ROAD since they use the same cablepull.

JK 07.07.22
Could this shifter be used for Brompton 2/3 speed
12 Jun 2022
We have not tested this so we cannot confrim.

JK 13.06.22

Can these be used as replacement downtube shifters on 9 speed Shimano bike
13 Mar 2022
Thank you for your enquiry, yes they will be fine


Can I use this in friction mode with any 10 speed road or MTB RD?
08 Jan 2021
Yes you can, but only in friction mode.

Thanks! 08.01.21
Can you get replacement grey caps?
13 Jul 2020
One of mine fell off recently which is a bit of a bummer - would be great if it was possible to get a replacement cap. Any chance?
Cheers!

No replacement part is available- i would recommend using grip tape, Sugru or silicone heat shrink as a fix.

Indexing problems
11 Nov 2019
Hi,

Having recently bought a pair of these, I've found that, since removing and then refitting them (I had to replace the brake levers), the indexing on the right shifter no longer works, but it does in friction mode. Can you help?

Thanks.
We can only advise taking the shifter to a local bike shop to refit. We could not really offer much help without seeing them in person. Sorry!

Thanks - 12/11/19
Compatibility with Shimano SLX M670 10 speed rear derailleur and triple chainset
15 Jun 2019
Hi, will this work with a 10 speed MTB (Shimano SLX M670 long cage) rear derailleur in either friction or indexed (preferable) mode? Also, will the front shifter work with a triple chainset? Thank you.
Hi,

yes, this will work with a triple chainset and may work with 10spd although we have never tried this so wouldn't be able to say for certain.

Thanks.
Can I buy the fixing kit parts?
27 Apr 2019
does anyone know the part number for the clear looking outer cable(that sits under the bar tape)
HI, are you looking for our part 20270 ? Thanks 29/04/2019
Can this work with 10 speed campy?
29 Nov 2018
1. What is total cable pull (one end of travel all tne way to other end?
2. Will this length of travel be sufficient for the 9 speed shifter to work in friction mode with campag comp triple rd and 10 speed centaur cassette 13-29?
3. If not which model of friction shifter will work with thiis comnination
We do not have these shifters set up to measure the cable pull I am afraid, we would expect the shifters may work with the 10 speed stuff, but again, we have not tested this.

Thanks - 30/11/18
Spares?
24 Jun 2018
Are there spares available for these. I have an older pair of these, that are missing the plastic ring that's held by the screw on the RH shifter.
You require - SJS Cycles part number : 28414

Thanks
Can I use these (in friction) with SRAM X.9 9 speed rear mech
12 Apr 2018
Hi there,

Friction shifters will work with anything as there is no indexing!

Thanks
Do the frame stoppers include barrel adjusters?
25 Mar 2018
The down tube cable stops do have built in barrel adjusters yes.

Thanks
Would These Work For 8 Speed Cassette To? Thanks
26 Oct 2016
Hi,

Although the shifter is indexed for 9spd it can be used with an 8spd derailleur as well.

Thanks.
Friction Setting As Well?
25 Oct 2015
These have been known for a long time to include a friciton setting as well. Does this model have this, too?
Hi,

The left hand shifter is permanently friction and the right hand can be switched between 9spd indexed or friction shifting.

Thanks.
Are The Covers For These Shifters Available As Spares ?
17 Dec 2013
Plastic (Rubber?)cover/sleeves on the bar end shifters stolen while my cycle was parked unattended.
Now not quite so cumfortable to use. Can you help please?
Hi,

I'm afraid that the covers you are after were never made available as spares.

Thanks.