Sunrace M90 8 Speed Thumbshifter - Right Hand
Manufacturer :
SJS Cycles part number :
Manufacturer part number :
Details
Works with Shimano 7 ot 8 speed index, road or MTB
NOTE: Right hand side only (does not include left hand side)
Related products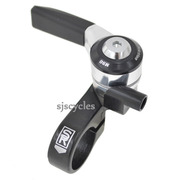 Sunrace M90 Friction Thumbshifter - Left Hand
£24.99 Inc VAT
Quick view
Product Reviews (3)
Overall Product Rating 4 / 5
Mediocre
27 Apr 2019
I bought these to replace a tired set of rapid fire Shimano shifters, I wanted a set of Paul's bar end shifters but couldn't justify the cost.

The biggest problem I find with these shifters is the mount itself. Unlike Paul's, VO and other mounts the Sunrace mounts are in two parts - bar clamp and shifter mount. I find this causes the shifter mount to twist slightly when you're shifting, causing some indexing issues and a general sloppy feeling. You can address this by tightening the Allen bolt, but to eliminate the twisting you'd need to tighten that bolt so much it would be very hard to shift gears.


A very useful shifter
29 Nov 2017
I recommend this product
Pros
Smart looking, mechanically simple, reliable and very fairly priced.
This is a great little shifter that works perfectly with Shimano 7/8 speed drive trains. I've just fitted one of these to a friend's 7-speed bike, as she couldn't get on with the trigger shifter her bike came with, and it works perfectly. The shifts are crisp and the operation is simple. The design and finish is very smart looking and compared to some thumb shifter alternatives is a bargain. Mechanically simple so, with a squirt of lube now and then, should last for years. I have a 7 year old 5-speed SA version that has never had any problems.
14 Jun 2017
I recommend this product
Works perfect. Easy to set up. Its a good solid piece of kit.
Compatibility with 7 speed Shimano cassette
28 Feb 2023
You say this works with both 7 and 8 speed Shimano but I thought that Shimano 8 speed cassettes had slightly smaller spacing (4.8mm compared to 5.0mm) so how does it index properly on 7 speed, please? Thanks
The spacing is close enough for shifting to be compatible, however you will need to precisely set up the limit screws to prevent over shifting. SK 28/02/23
Shimano Alfine 8 Compatible?
06 Jan 2023
Will this work with Alfine 8 speed IGH?
Thank you for your enquiry, no sorry it is not suitable, please see SJS Cycles part number : 49852

WD 06/01/22
Does it work with the Sram X4 8-speed rear derailleur
24 Jul 2021
Thank you for your enquiry, no sorry as this is Shimano shifting ratio

WD 26/07/21
Hi is this compatible with shimano sis.
24 Jul 2021
Thank you for your enquiry, yes this is suitable for Shimano

WD 26/07/21
can i use this on dura-ace 7400 rear derailleur?
11 Jan 2020
Works with Shimano 7 or 8 speed index, road or MTB

Thanks - 13/01/20
Will this shifter work ok with a nexus 8 speed hub?
30 Dec 2019
No, this wont work, but the Jtek one will - SJS Cycles part number : 49852

Thanks - 31/12/19
Hi, does this lever come with a cable and what about a barrel adjuster for it?
06 Oct 2019
These come with an inner cable, no outer. There is no barrel adjuster, you can use the one on the derailleur or failing that use an inline adjuster - SJS Cycles part number : 47368

Thanks - 07/10/19
I suppose this shifters is indexed. Will it alsof work with a campagnolo rear derailleur?
04 Oct 2018
Hi there,

This will no work campagnolo and the cable pull will be different.

Thanks.
23.8 handlebars
19 Aug 2018
Hi, how can these levers be adapted to 23.8 to 24mm dropbars? Do you sell larger clamps?
thanks!
There are no options to make these fit a larger clamp.

Thanks
Shimano 6 speed compatible?
24 Jul 2018
Will this shifter work with a 6 speed Shimano system. 6, 7, 8 speed spacing are the same right? Just a case of setting limit screws?
Hi there,

You should be able to use this on a 6 speed system, however as we have not tried this we cannot say for certain im afraid.

Thanks.
what diameter is the handlebar mounting
03 Nov 2017
will this fit on the Modolo Gran Fondo Ergonomic Drop Handlebars?
Hi,

These shifters have a bar clamp of 22.2mm so are suitable for use with most flat and riser style bars. They will not be compatible with your bars though as drop bars use a larger diameter of tubing usually 23.8mm.

Thanks.
Sunrace M90 8 Speed Thumb Shifter
10 May 2017
Hi, May I Know This Sunrace M90 8 Speed Thumb Shifter If I Take Out The Shifter And Change It To Shimano Dura-Ace Sl-Bs79 10 Spd Bar End Shifters?? Thank You
Hi,

Unfortunately this would not be possible as this shifter bracket uses a different fitting to that of Shimano's bar end levers.

Thanks.
Will This Work With A Shimano Altus 8 Speed Derailleur
27 Feb 2017
Hi,

This shifter uses the same cable pull as Shimano unit so will be fine for use with the Altus derailleur.

Thanks.
Index Or Friction
20 Jun 2016
Does this lever work on friction or index only
Hi,

This shifter is indexed only I'm afraid.

Thanks.